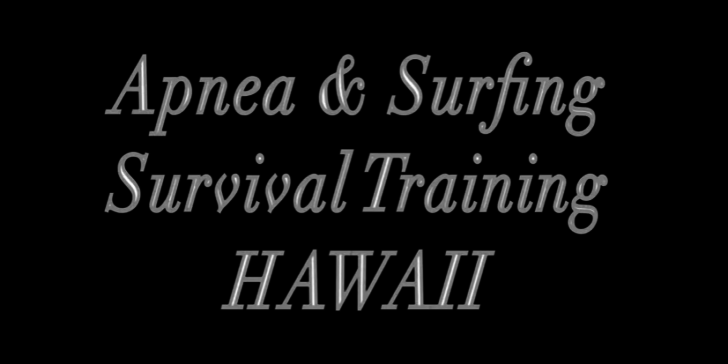 I can tell you after taking this course, Ricardo is passionate and superb. He's in his element. You'll be surprised how much there is to learn…and how long you can hold your breadth. And with all the BIG swell we've had and coming now's a good time. Good luck! Aloha, Gary 'GQ' Kewley SNN.

Aloha Surfers,
It's so nice to have al these swells going on at the moment. Things are looking really good now!   I just want to let you know that I will be having a class Monday and Tuesday, Jan 23rd/24th. I still have lots of space on the first day (pool). If you want to come for a great day of apnea training let me know.
APNEA & SURFING SURVIVAL TRAINING 
This course is designed with only one goal in mind; to increase your breath hold ability in tense situations underwater, while remaining calm and in total control of your mind.  In this training, you will learn different techniques of apnea and breathing exercises to strengthen and increase capacity of the lungs . The class is designed to help you spend more time underwater through lectures, intense breath hold training and multiple breathing and swimming exercises. It's purpose is to aid you in dealing with extreme situations where the mind control and calmness are the main factors for your survival. In addition to apnea theory and breathing techniques to maximize breath hold, we will be emphasizing High Surf Risk Management in order to recognize, minimize or avoid unnecessary risks found in the surf zone. We will also cover the importance of providing CPR and Rescue Breath skills to victims of drowning.
This training is divided in three parts:
THEORY (4 hours)
We will study in depth the physiology of apnea through academic information. This information is very significant when we push our body to the limit. Understanding what causes our body to black out during breath hold training exercises, and how to identify signs and symptoms of hypoxia is crucial in order to train safely. You will also learn different breathing exercises in order to engage, strengthen, and properly use our diaphragm (lower part of our lungs). In addition we will learn how to provide primary and secondary care to unconscious and injured victims. CPR and Rescue Breath will be taught in this class.
SWIMMING POOL (6 hours)
At the pool, we will put into practice proper ventilation or breath ups, in order to begin the static apnea, dynamic apnea and apnea under stress exercises in a controlled setting. We will present and practice rescue skills and survival exercises related to big wave surfing.
OCEAN (6 hours)
On the third day we will execute the exercises learned in the pool, however, the execution of these skills will be conducted in the open ocean. We will present new situations related to " wipeouts " suffered by surfers, but with the intention of applying the information from the two previous phases of the course. The goal here is to apply practical application and install a sense of calmness in the most critical situations. During this open ocean session, we will complete exercises in the three forms of apnea; the static , dynamic and stress tests in open water as well as recue scenarios and breathing exercises.
You will be provided with a self studying manual that must be read entirely prior to the beginning of the class. You must complete the knowledge review and bring the answers to the first day of the training
These are the main aspects of the training;
– Physiology of Apnea
– Proper breathing exercises to improve ventilation and strengthening of the lungs
– Safety
– Static Apnea
– Dynamic Apnea
– Stressed Apnea
– Risks and dangers of training apnea
– Surviving a massive wipe out
– Risk management and emergency action plan
– Surfing Rescue skills
– CPR and rescue breath
Price $350.00
Videos of previous training.
https://www.youtube.com/watch?v=9kZROMKLIQw
Some of the North Shore surfing community took the apnea training.  This group included Jamie Sterling, Nathan Fletcher, Trevor Carlson, veteran Eddie Aikau competitor and Master Shaper Dennis Pang, City & County lifeguards Paul Smith and Ian Masterson (who is also a High Surf Risk management professor at Windward Community college), regular Waimea Bay and Sunset Beach surfer Tracy Yamato, Finn Masterson and a few other resident and local surfers.
https://www.youtube.com/watch?v=O56Sm8MH5lk
Billabong team manager Rainos Hayes was also another professional surfer who benefit from Hawaii Eco Divers Apnea course on a previous training.  Rainos organized a class for some of the members of the Hawaiian Junior Surfing Team including the Moniz brothers. Mike and Chris Latronic also took the course and created a video for their TV show.
https://www.youtube.com/watch?v=upb6cjZyZ3A
Big Waves Surfers Pato Teixeira, Silvia Nabuco, Guto Gutemberg, FBI agent Carlos Ozzy and more…
Day 1
Meeting location 7:30 am at the Veterans Memorial Aquatic Center in Aiea at 7:30 am.  We will be done training at 5:00 pm.
Address
: 94-801 Kamehameha Hwy, Waipahu, HI 96797
PS; Bring plenty of heathy food to provide you with energy all day long.  We wont be leaving the training site to get lunch.
Day 2
Meeting location 8:00 at Waimea Bay. We will be done training around 3:00 pm
What to bring;
Watch
Fins
Mask n Snorkel
Warm Wetsuit
Surf leash
Hat
Sunglasses
Sunscreen
I am looking forward to have you on our next training.
Mahalo
Ricardo Taveira
Padi Master Diver Trainer/Apnea Instructor