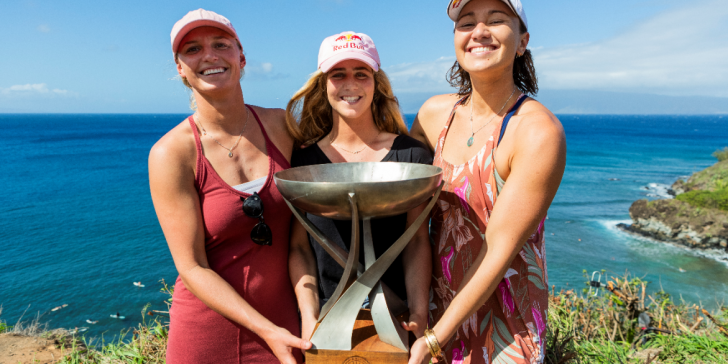 lululemon Maui Pro: World Title Showdown Awaits Moore, Peterson and Marks
Will it go midday Wednesday? Thursday all events off. Friday's has possibilities.
Carissa Moore, Lakey Peterson, and Caroline Marks Ready for World Title Battle
WSL Rising Tides Celebrates One Year, lululemon and Malia Manuel Lead Rising Tides Meditation and Surf Sessions
More Available at WorldSurfLeague.com
Pictured: Lakey Peterson, Caroline Marks, and Carissa Moore ready for 2019 World Title showdown at the upcoming lululemon Maui Pro. Credit: © WSL / Cestari
HONOLUA BAY, Maui, Hawaii/USA (Sunday, November 24, 2019) – The holding period for the lululemon Maui Pro, the final stop on the World Surf League (WSL) Women's Championship Tour (CT), will officially open tomorrow, Monday, November 25, and run through Friday, December 6, 2019.

World Title contenders Carissa Moore (HAW), Lakey Peterson (USA), and Caroline Marks (USA) gathered at Honolua Bay ahead of the event's opening day for the luluemon Rising Tides event, and to speak about the upcoming World Title battle and the race to provisionally qualify for the Olympic Games Tokyo 2020.

Three-time WSL Champion Moore leads the World Title race going into the lululemon Maui Pro with Peterson in second and Marks in third. The race for the 2019 World Title is extremely close as less than six-thousand points separate 17-year-old Marks from 27-year-old Moore.
The World Title scenarios ahead of the lululemon Maui Pro:
If Carissa Moore wins Maui, she clinches the World Title;
If Moore gets a 2nd, Lakey Peterson needs a 1st to take the World Title from Moore;
If Moore gets a 3rd, Peterson needs a 2nd & Caroline Marks a 1st;
If Moore gets a 5th/9th/17th, Peterson needs 3rd & Marks a 2nd to force a 3-way Tie Surf Off for World Title decision in Maui
Despite the pressure of being the Jeep Frontrunner, Moore is embracing the excitement and closeness of the World Title race. Moore is very familiar with the famed venue as a three-time event winner (2018, 2015, 2014). Her relationship with this wave is a major advantage against the field in her run to clinch her fourth World Title and defend the event title.

"I love Honolua Bay," said Moore. "It is one of the most beautiful, challenging, powerful but high-performance point breaks I've ever surfed and it is home for me, which makes it extra special. Hawaii is the place where you want to show up and show that you can surf and perform because this is the birthplace of surfing and where some of the best waves in the world are. I am so excited for this last event. How cool that I am in the World Title race with Lakey and Caroline. There is so much on the line."

Marks, who could be the youngest CT surfer to ever win the World Title pending her performance in this event, is feeling excited about the season's finale after an incredible year that witnessed her win the first event of the year and the Roxy Pro France last month.

"I am super excited," said Marks. "It is so rad to be in this position. My goal this year was to be in the Top 5 and to win an event, and now I am in the Top 3, I've won two events, and am still in the running for the World Title and the Olympics, so I am excited. It has been an incredible year and I am looking forward to this week. I know everyone is super hard to beat but I am going to try my hardest and surf my best."

Peterson was in a similar position last season chasing her maiden World Title but was eliminated early, giving Stephanie Gilmore (AUS) her seventh World Title. This time, against two Americans, Peterson again has the opportunity to clinch her first World Title, but now also has the chance to provisionally qualify for the Olympic Games Tokyo 2020.

"Just to have another year here and to finish here with the World Title race is so special," said Peterson. "When there is so much going on with myself and Caroline and Carissa, and the Olympics, it deserves a good venue to finish at. I am happy to be here and excited to get going. It is anyone's game to win this contest…I do not want to lose, nobody wants to lose. I want to win and that is a lot more fun, but I think it is remembering to have perspective. If you have perspective, you are going to enjoy life way more and generally, that is when you do better anyways."
WSL Rising Tides Celebrates One Year, lululemon and Malia Manuel Lead Rising Tides Mindfulness and Surf Sessions
The WSL Rising Tides event today marked one year since the program's inception in Maui last season. Since then, Rising Tides has traveled around the world with the WSL Championship Tour, connecting the next generation of young girls to the world's best surfers.

With the support of lululemon at this session, Malia Manuel and lululemon ambassadors led a mindfulness session with a guided meditation focused on rest and recovery prior to the surf with the professionals. The young girls were joined by two-time Big Wave Champion Paige Alms, five-time World SUP Champion Izzi Gomez, Faith Lennox, and Darian Haynes.
Pictured: Scenes from WSL Rising Tides at the lululemon Maui Pro.
Credit: © WSL / Cestari (Top, Bottom Left), Miers (Bottom Right)
The first call for the lululemon Maui Pro will be tomorrow, Monday, November 25, at 7:30 a.m. HST for a possible 8:05 a.m. start. The event will be broadcast LIVE on WorldSurfLeague.com and the free WSL app. Also, check local listings for coverage from the WSL's broadcast partners.
lululemon Maui Pro Seeding Round 1 Matchups:
Heat 1: Caroline Marks (USA), Nikki Van Dijk (AUS), Macy Callaghan (AUS)
Heat 2: Lakey Peterson (USA), Silvana Lima (BRA), Tyler Wright (AUS)
Heat 3: Carissa Moore (HAW), Coco Ho (HAW), Summer Macedo (HAW)
Heat 4: Sally Fitzgibbons (AUS), Brisa Hennessy (CRI), Paige Hareb (NZL)
Heat 5: Stephanie Gilmore (AUS), Malia Manuel (HAW), Keely Andrew (AUS)
Heat 6: Tatiana Weston-Webb (BRA), Johanne Defay (FRA), Bronte Macaulay (AUS)
SURFLINE FORECAST
MON 25th: Small WNW swell and marginally contestable. Possible run day.
TUE 26th: Flat surf. Off day.
WED 27th-THU 28th: Small WNW swell and marginally contestable. Possible run days.
LONG RANGE: Late November-early December holds more promise.