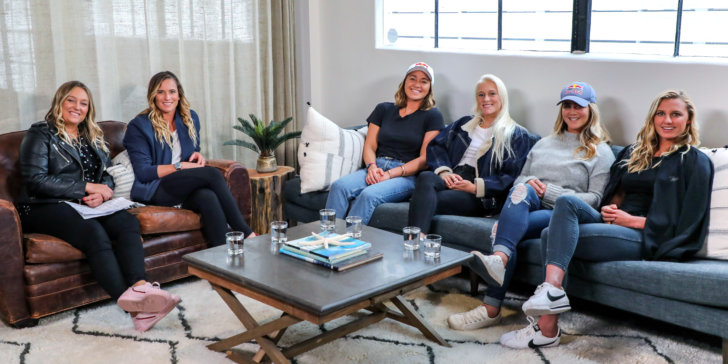 World Surf League (WSL) Celebrates International Women's Day With Athlete Round Table to Lead the Conversation on Equality
2019 Championship Tour Season Kicks-Off Equal Pay, Unveils "Every Wave for Everyone," and Brand Campaign
"Rising Tides – WSL Girls Program" to Take Place at Every Tour Stop to Inspire Young Athletes
Pictured: (From L to R) WSL Women's Commissioner Jessi Miley-Dyer, alongside CT surfers Courtney Conlogue, Carissa Moore, Tatiana Weston-Webb, Caroline Marks, and Lakey Peterson. 
Credit: © WSL 
LOS ANGELES, California/USA (Thursday, March 7, 2019) – The World Surf League (WSL) today announced several major initiatives to continue the discussion on equality and celebrate International Women's Day.

The International Women's Day discussion, which launched today, is led by Deputy Commissioner Jessi Miley-Dyer and features WSL athletes Lakey Peterson, Courtney Conlogue, Carissa Moore, Tatiana Weston-Webb, and Caroline Marks.  The candid dialogue focuses on a new season with equal pay, the competitive drive to prove themselves, body image, and how much the WSL has done to change competitive surfing in the past few years.
"Body Image has been the hardest thing, and I think it has come a long way," said Carissa Moore, 3x World Champion. "We are really appreciated for our athleticism and performances more than ever now.  There are 'hot lists' and it's hard when you don't make them, but I think it comes with maturity realizing you're not defined by those social things and the definition of beauty comes from within."

"I feel being female and surfing you need to be authentic to yourself no matter what happens with the highs and lows," said Courtney Conlogue.  "(At the start of my career), you had to win to really make a living, and if I didn't win, I was going to go back to college."

The WSL's global brand marketing campaign, "Every Wave for Everyone," will showcase many inspiring female surfers and launch this summer, with advance content released starting March 7.  The content will appear across WSL and athlete social channels with surfers sharing a personal equality moment.
"I've been supportive of WSL's decision to pay equal prize money to men's and women's competitors and I believe it sends a great message of equality," said Kelly Slater, 11x World Champion. "The WSL viewing everyone as an equal adds to the value of this tour. I see that as a win for all and makes 'Every Wave for Everyone' easily relatable. I'm pleased to see stronger support for women by our governing body than ever before."
The first Championship Tour (CT) event to award equal prize money will take place this April in Queensland, Australia, where the WSL will also launch a global beachside engagement program for girls, called the Rising Tides – WSL Girls Program, which offers clinics at each women's CT stop in order to inspire the next generation of female surfers.  A new content series this year, the WSL Heritage Series, will feature notable women in the sport —  trailblazers, record-breakers and vanguard activists that have helped pave the way.
The series will include well-known figures like Lisa Andersen and Sofia Mulanovich, as well as lesser-known pioneers like Pauline Menczer and Sarah Gerhardt.
"This is an incredibly exciting time for surfing, and the WSL is immensely proud of instituting equal prize money across all our owned and controlled events and becoming the first US-based global sports league to do so," said Sophie Goldschmidt, WSL CEO. "It's an initiative that has been a long-term goal for the organization and we hope the result of these discussions and the institution of pay equality inspires other leagues and organizations to do the same."
To tune-in to the WSL International Women's Day Round Table go to WorldSurfLeague.com.  To view social images from "Every Wave for Everyone," go to LINK and check out #everywave.  For select images from the International Women's Day Round Table, visit LINK.
Notable WSL Advancements for Women in Surfing:
Announced gender pay equality beginning in 2019, joining other organizations beyond the world of sport to reach this important milestone.
Combined men's and women's Championship Tour events have increased from four to nine since 2013.
Women's Championship Tour prize money has risen by 250% since new ownership took over in 2013 and 38% per event since last year.
64 global women's events scheduled for 2019 – up from 14 just seven years ago.
The addition of two historic women's Big Wave Tour events in Pe'ahi and Mavericks. In 2016, Women in the Big Wave Tour (at Pe'ahi) for the very first time.
Appointment of the WSL's first female CEO in 2017.
Development of the co-ed, region vs. region Founders' Cup, with multiple teams lead by female captains.
About the WSL 
The World Surf League (WSL) is dedicated to celebrating the world's best surfing on the world's best waves through a variety of best-in-class audience platforms. The organization, headquartered in Santa Monica, is a global sport with regional offices in Australasia, Africa, North America, South America, Hawaii, Japan and Europe.The WSL has been championing the world's best surfing since 1976, annually running more than 180 global events across the Men's and Women's Championship Tours, the Big Wave Tour, Qualifying Series, Junior and Longboard Championships, as well as the WSL Big Wave Awards. The League possesses a deep appreciation for the sport's rich heritage while promoting progression, innovation and performance at the highest levels, and in doing so crowns the undisputed Men's and Women's World Champions across all tours.Showcasing the world's best surfing on its digital platform at WorldSurfLeague.com, the WSL has a passionate global fan base with millions tuning in to see world-class athletes like Kelly Slater, Stephanie Gilmore, Tyler Wright, John Florence, Lakey Peterson, Paige Alms, Kai Lenny, Steven Sawyer, Soleil Errico, Carissa Moore, Gabriel Medina, Courtney Conlogue and more battle on the most dynamic field of play of any global sport.For more information, please visit WorldSurfLeague.com