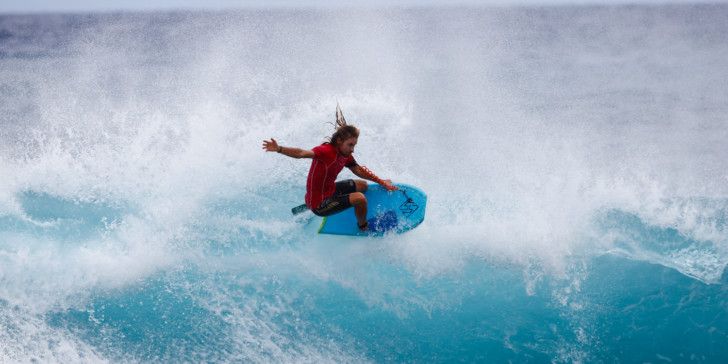 Tom and Marchia Morey planning to attend midday. 
Results thus far: Dave Hubbard wins Drop Knee Division in Hurricane Lester Swell at Sandy Beach
Sandy Beach, Oahu, HAWAII – (September 3, 2016) — The Hawaii Bodyboarding Pro Tour ran the remaining divisions of the Ala Moana Bowls Challenge, an event that was canceled on August 6 due to a sewage spill, in 6-10 foot conditions today at Sandy Beach. The divisions included Drop Knee, Stand Up and Juniors.
"This was a difficult week for contest preparation," said Tour Organizer Norm Skorge. "Forty-eight hours ago, we nearly called the event off due to complications. Looking at the forecast at Sandy Beach, we knew we were going to be somewhere in between epic conditions and having to call the contest off for the day. Luckily, we were closer to the epic side of things."
One of many standouts from today's heats was 15-year-old Kawika Kamai, who not only nailed the highest single wave score of the day – a 9.5 out of 10 – he also surfed in each of the finals with little rest in between, and won the Juniors Division.
"I surf everyday and I think that's enough training to do something like this, mustering the strength to get it through each of the finals," Kawika said.
As each heat took to the water, the maxing, 10-foot sets were a reminder of the storm system that remained just off the coast from the contest site.
"I was excited to hear that we would be finishing the Ala Moana Bowls heats at Sandy Beach," said Dave Hubbard after laying claim to first place in the Drop Knee Division. "We didn't expect this kind of swell, but we were blessed with some pretty large lefts so mahalo nui to Lester for cruising past us, not hitting us and delivering some swell."
"I thought the waves would be 30 feet," said the Stand Up champion Mack Crilley. "I didn't know that Sandy Beach could hold that size of this swell. I just stuck to the inside, and a big thanks to my supporters, my family and sponsors."
"It was a great event today and both Sunday and Monday are shaping up to be even better," said Skorge.
Tomorrow's event – the Sandy Beach Challenge – will commence at 7 am. Drop Knee, Juniors, Masters and Standup Divisions will run, and the contest will wrap up on Monday with the Men and Women's division.
FULL RESULTS:
Stand Up
1 Mack Crilley
2 Sammy Morretino
3 Kawika Kamai
4 Bud Miyamoto
Junior Division
1 Kawika Kamai
2 Tanner McDaniel
3 Cordon Stapp
4 Kellen Yamasaki
Drop Knee
1 Dave Hubbard
2 Cole Hansen
3 Bud Miyamoto
4 Kawika Kamai
Remaining events in the 2016 Hawaii Bodyboarding Pro Tour:
Makapu'u DropKnee Challenge (October 29-30)
Millers Surf Big Island Challenge (mid-November)
SATURDAY: Bowls Day continues. it's a short day. Stand up final 115pm and Awards 2pm.  Surf  be firing with easy 4-6′ ENE Thnks to Lester. NE Winds thus far means offshore. Potential doesn't get much better. SNN.
Photo: Dave Hubbard takes to the air during the 2015 Sandy Beach Challenge. Photo: Heff/Freesurf
Surf News Network-Sandy Beach, Oahu, HAWAII – (August 27, 2016) — Over Labor Day weekend, an international field of competitors will take to the lineup at Sandy Beach to compete at the second stop of the Kellogg's 2016 Hawaii Bodyboarding Pro Tour.
"Bodyboarders are going to be putting on a show, with incredible acrobatics and aerial maneuvers," said Tour Organizer Norm Skorge. "With the sun, the surf, the holiday crowds and the contest vibe, it's going to make for an epic weekend at Sandy Beach."
Over 100 competitors, including nine-time World Champion Mike Stewart, six-time World Champion Guilherme Tamega, the winner of the 2016 Ala Moana Bowls Challenge Jeff Hubbard, and more will battle for $10,000 in cash prizes in 6 divisions: Men, Women, Drop Knee, Junior, Standup and Masters.
"I'm pumped about this event in particular, because there is such great history and tradition at Sandy's. It's been an exciting venue for bodyboarding from day 1 with some of the earliest contests for the sport ever held there in the late 70s and early 80s," said Skorge.
The first day of competition – either Friday or Saturday – will feature the Stand Up, Drop Knee and Junior heats that did not run on the last day of the Ala Moana Bowls Challenge. That contest, which saw action on August 5-6, had day 2 called off due to a sewage spill near the surf zone.
"We're picking up right where we left off," said Skorge. "Whatever heats didn't finish, we will run it on the first day of our holding period, before we start the Sandy Beach Challenge. We're making the best of a tough situation, and everyone gets that it was a strange circumstance. We did the right thing to clear the water and postpone finishing the event for everyone's health concerns. The competitors are stoked to pick things back up again and finish for tour points."
The second and third day of the contest period – September 3-5 – will be the actual Sandy Beach Challenge event.
Although it's too early to tell the exact size of the swell that will be on hand for the second stop on the 2016 Hawaii Bodyboarding Pro Tour, it's local knowledge that the break delivers trade swell on a consistent basis – just one of many reasons to come check out the Bodyboarding Pro's showcasing their skill.
"We're looking forward to a great holiday weekend competition with thousands of spectators on hand," said Skorge.
CONTEST SCHEDULE:
1 Ala Moana Bowls Challenge (Aug 2-7)
2 Sandy Beach Challenge (Sep 2-5)
3 Makapu'u DK Challenge (October 29-30)
4 Millers Surf Big Island Challenge (mid-November)
For media and press inquiries:
Norm Skorge
Contest Organizer
Cash Lambert
Managing Editor, Manulele Media