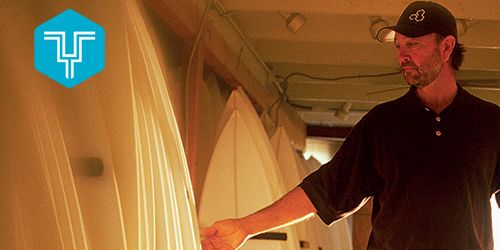 Europe, Brazil, Hawaii, Australia, and California represented
INTERNATIONAL FIELD OF SHAPERS TO HONOR AL MERRICK
Europe, Brazil, Hawaii, Australia, and California representedDEL MAR, CA., February  13, 2017
— Ten international shapers will replicate one of legendary Santa Barbara shaper Al Merrick's classic surfboard designs during the
Icons of Foam Tribute to the Masters Shape-off
presented by US Blanks. One shaper will be judged the winner and will receive $1K and their name etched into the Mike Marshall Perpetual Trophy.The shape-off competition is one of the many events and exhibits taking place during
The Boardroom
International Surfboard Show. Celebrating it's 10th year, the consumer facing surfboard manufacturing trade show showcases the core of the surf industry: surfboards, fins, wetsuits, art, and gear. The Boardroom takes place at the Del Mar Fairgrounds on May 6 & 7, 2017.
---
THE 10 INTERNATIONAL SHAPERS
Nick Palandrani is the defending champion and represents Nor Cal (Santa Cruz, Ca.). Palandrani is the shaper / owner of SOURCE Surfboards.
Gary McNeill hails from Kirra on the Australian Gold Coast. Accomplished surfer/shaper owns an Australian Title and makes boards for Dave Rastovich.
Zack Flores 17 years old, from Encinitas, Ca. Zack joins Taz Yassin as the youngest shaper to ever shape in Icons of Foam Tribute to the Masters.
Wayne Rich from Santa Barbara, Ca. The first shaper selected by the CI crew for this competition. A two time champion (Yater '10; Ekstrom '11).
Matt Kazuma Kinoshita heads up his Kazuma label out of Maui, Hawaii. Mentored by 2014 Icon of Foam honoree Ben Aipa.
Ryan Sakal (ARYSE Surfboards) is a second generation shaper from Leucadia by way of Huntington Beach. The best surfer of the bunch? He's in the conversation.
Chris Christenson represents San Diego and was essential when formulating the shape-off concept / rules; a judge at the first shape-off in 2007 honoring Mike Diffenderfer.
Johnny Cabianca – Brazilian ripper who shapes out of the Basque region of Spain. Builds boards for WCT WSL World Champion ('14) Gabriel Medina among many others.
Jon Pyzel. Originally from Santa Barbara and representing the North Shore of Oahu, Pyzel shapes boards for current WCT WSL World Champion John John Florence.
Rex Marechal. Shaping since the late '70s, Rex moved to Australia from San Diego in 1992 & represents NSW Central Coast. Older Seaside crew still claims him.
"Al Merrick's surfboard designs are above reproach. You'd be hard-pressed to find a surfer that hasn't ridden one of his boards," said The Boardroom's Executive Director Scott Bass. "These ten shapers, although highly competitive, realize their time in the shaping bay honors Al Merrick as well as the sacred craft of surfboard shaping."

"We've selected quite a crew of shapers," said honoree Al Merrick. "They are all talented craftsmen. It's going to be a fun event. I'm quite humbled and I look forward to a great shape-off at The Boardroom in Del Mar."

"Each and every event Scott selects an iconic shaper to honor and Al Merrick is undoubtedly the most recognized name in surfboards," said Jeff Holtby, Vice President of US Blanks. "We're ecstatic to be a part of The Boardroom as the Icons of Foam Tribute to the Masters Shape-off sponsor and look forward to watching this international field of craftsmen display their expertise."
Icons of Foam Tribute to the Masters honoring Al Merrick
presented by US Blanks
Two shaping bays used; 10 shapers total.
Each shaper receives 1.5 hrs strictly timed in the shaping bay.
Shapers bring in their own tools.
A USBlank and template are provided.
The Al Merrick board to be replicated will be revealed on the day of the event.
Each shaper will receive 5 minutes prior to their 1.5hr to take measurements within the shaping bay.
The board will then remain outside of the shaping bay.
Shapers can step out and touch, fondle & look at the board at anytime. They may not re-measure it.
Al Merrick will judge the anonymous finished blanks on Sunday.
The winners check of $1K will be presented on Sunday at 3:30PM.
YEAR – HONOREE / WINNER
2007 – Mike Diffenderfer (Del Mar) / Ricky Carroll
2008 – Bill Caster (Del Mar) / Ricky Carroll
2009 – John Bradbury (Ventura / Marc Andreini
2009 – Dick Brewer (Del Mar) / Pat Rawson
2010 – Renny Yater (Ventura) / Wayne Rich
2010 – Simon Anderson (San Diego) / Matt Biolos
2011 – Doug Haut (Santa Cruz) / Ward Coffey
2011 – Carl Ekstrom (Del Mar) / Wayne Rich
2012 – Mark Richards (Del Mar) / Ricky Carroll
2013 – Rich Price (Orlando) / Stu Kenson
2013 – Terry Martin (Costa Mesa) / Matt Calvani
2014 – Ben Aipa (Del Mar) / Roger Hinds
2015 – Rusty Preisendorfer (Del Mar) / Roger Hinds
2016 – Gerry Lopez (Del Mar) / Ryan Lovelace
2016 – John Mel (Santa Cruz) / Nick Palandrani
2017 – Al Merrick (Del Mar) / ?