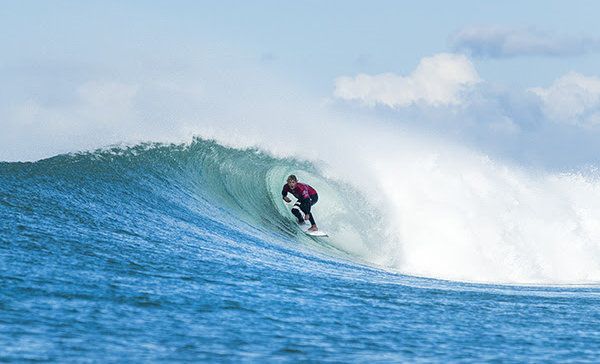 – FLORENCE WOWS WITH NEAR-PERFECT 19.37 HEAT TOTAL

– WSL CHAMPIONS DOMINATE ROUND 1, ADVANCE DIRECTLY TO THIRD ROUND

– COFFIN AND FLORES DELIVER BIG SCORES TO CHALLENGE TOP SEEDS

– SMITH AND WILKINSON RELEGATED TO ELIMINATION ROUND 2
 Reigning WSL Champion John John Florence (HAW) delivered the day's highest heat total, 19.37 out of a possible 20, to win his Round 1 heat and advance directly to Round 3.
Credit: © WSL / Cestari
Location:   
   Jeffreys Bay, South Africa
Event window:
   July 12 – 

23, 2017

Today's call:
Conditions:         5 – 8 foot faces 
JEFFREYS BAY, South Africa (Saturday, July 15, 2017) – The Corona Open J-Bay, stop No. 6 on the 2017 World Surf League (WSL) Championship Tour (CT), got off to an incredible start today running through Round 1 in excellent conditions at Supertubes. The world's best surfers made the most of the overhead surf on offer and the WSL Champions dominated the day's action and each won their opening heat and advanced directly to the third round.
Reigning WSL Champion John John Florence (HAW) was the performer of the day and commanded the lineup in his Round 1 match-up against 2017 WSL rookie Ian Gouveia (BRA)and trials winner Dale Staples (ZAF). The current World No. 2 posted three nine-point rides including a near-perfect 9.70 for two tube rides and two incredible turns. Local hero Staples looked in fine form to finish the heat in second place with a 16.03 heat total while the Brazilian rookie failed to escape combination. The World Champion sealed the win with an excellent 9.67 and a 19.37 heat total (out of a possible 20), the best of the day.
"The waves are firing right now, this is the best J-Bay I've surfed during the contest," Florence said. "Being out there by yourself you can position yourself exactly where you want to take off and then you have this big open canvas in front of you, it's crazy. My board is called the Ghost, I rode a 6'2 at Margaret River, and a 6'0 here and since we've started working on this board I haven't found a wave where it doesn't work. It just gives you so much confidence throughout the practice surfs when you're not trading off boards."
An impossibly deep barrel from 2014 WSL Champion Gabriel Medina (BRA) was rewarded with a near-perfect 9.93, the highest single-wave score of the day, and a confident victory over opponents Stuart Kennedy (AUS) and Caio Ibelli (BRA). With four previous Quarterfinal finishes at Jeffreys Bay, Medina is keen to post a strong result in South Africa to move up inside the top ten on the Jeep Leaderboard.
"I've been watching a lot of heats this morning so I really wanted to get the first big wave," said Medina. "I had so much fun surfing here today and I'm stoked to win that heat. It's really fun to surf out here today. I tried to make sure I found the big waves. It's really hard on your backhand when it's fast, so you have to choose the right waves but you never know what J-Bay is going to do."
Round 1 Heat 5 was another huge match-up and two-time event winner Jordy Smith (ZAF) took the early advantage over Conner Coffin (USA) and event wildcard Michael February (ZAF). Coffin quickly leapt into first place with a technical barrel followed by a series of critical maneuvers and was rewarded with a 9.37. Smith, currently sitting at No. 3 on the Jeep Leaderboard, continued to scour the lineup for the 8.72 required but a final attempt with two minutes remaining wasn't enough and he is relegated to elimination Round 2. Fan favorite February had the crowd on their feet, but didn't have the power to challenge Smith and Coffin and was left in a combination situation.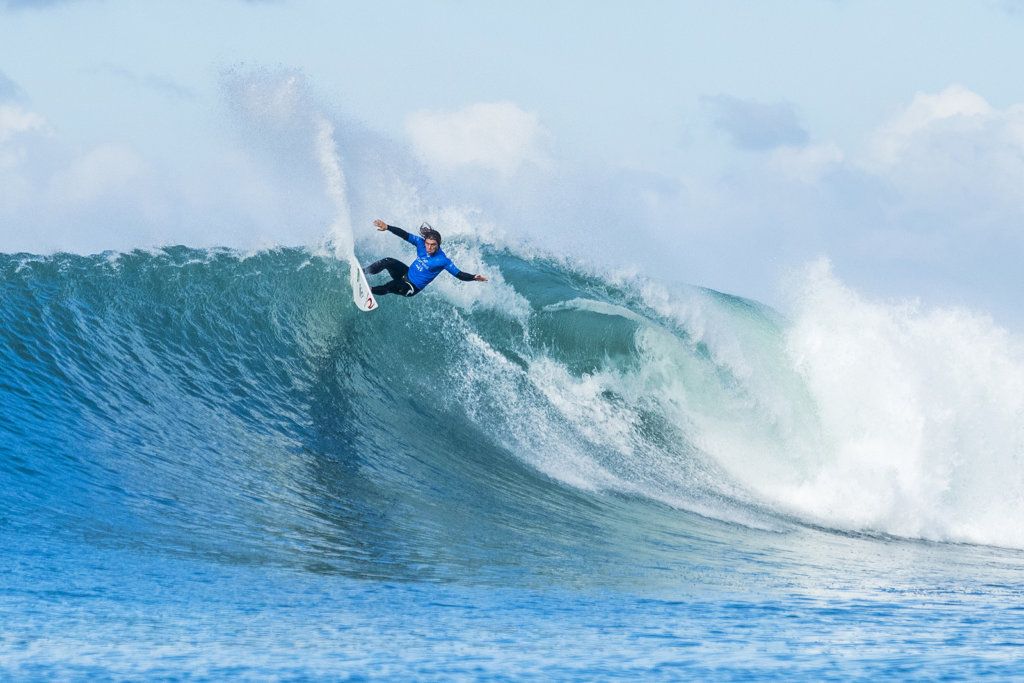 "That was just so fun," said Coffin. "We have so much swell coming and this morning was just pumping. Perfect conditions and just three people out – that's the stuff I dream of. I think I've surfed that wave in my head so many times before. When it popped up I was just so excited so I just had to stay calm and the wave was incredible. I've been here for a while and there's been waves every day so it's been a good opportunity to surf out here. Jordy (Smith) is just my favorite surfer and I really look up to him so I knew it would be a tough battle out here and I would have to surf my best."
Jeremy Flores (FRA) delivered another impressive performance and the first upset of the day in Round 1 Heat 4. Flores took to the lineup in against current No. 1 on the Jeep Leaderboard Matt Wilkinson (AUS) and Ethan Ewing (AUS). The Australian rookie, who has yet to win a heat on the CT in his opening season, came out battling to take an early lead but Flores stormed into first place with a 7.83 and quickly improved his scoreline with an excellent 9.17 for multiple barrels and finished with a 17.00 heat total. Wilkinson and Ewing will surf again in elimination Round 2.
"That wave was so beautiful," said Flores. "When I was paddling I felt a bit of pressure because that was the best wave I've had an opportunity to be on for the past ten days so I knew I shouldn't blow it. I don't usually claim but I couldn't help it – there's so much energy in the crowd here. It's hard to keep composed and really relaxed when conditions are so good. You need to really pace your flow and your speed out here because the rides are so long. This is what we're on this tour for – to surf waves like this – and when we get them it changes everything!"
Three-time WSL Champion Mick Fanning (AUS) opened his Round 1 match-up with a bang and posted an 8.50 for a series of big carves. The defending and four-time event winner improved his lead with another excellent score, an 8.73, to advance easily to Round 3 over Sebastian Zietz (HAW) and Joan Duru (FRA).
"It's really nice out there," Fanning said. "J-Bay is one of my favorite waves and what better place to be. I was really nervous before my heat because I just couldn't wait to get out there. The conditions are pretty ludicrous out there so you just have to calm your nerves and focus on the job at hand."
The 11-time WSL Champion Kelly Slater (USA) powered through his first heat at Jeffreys Bay by opening with an excellent 9.10 for a deep tube ride. A back-up 7.17 sealed the win for the four-time event winner, despite a last-minute attempt from Julian Wilson (AUS), sending the Australian and Kanoa Igarashi (USA) to elimination Round 2.
"This place is so beautiful – brisk weather, great waves, long walls and a lot of speed on the waves," Slater said. "It's such a fantastic place. This is surprising, I didn't think we'd be surfing today but now we've got four or five really good days ahead and we'll have a great contest. Before the heat I said that if I got a good wave I would claim it, so I did."
The opening heat of the day saw two-time event winner Joel Parkinson (USA) take on Brazilians Wiggolly Dantas (BRA) and Miguel Pupo (BRA). The 2012 WSL Champion looked hungry for his third win at Jeffreys Bay. Dantas found an incredible stand-up barrel but wasn't able to complete the ride and the score fell short. Parkinson meanwhile used his experience to find an excellent 8.23 and take the heat win.
"I'm really glad that we're finally underway," said Parkinson. "Wiggolly's barrel was amazing and I really thought he was going to get a nine but accidents happen. He's such an amazing surfer, he's beaten me out here before, so I'm sure he'll bounce back. We're lucky enough in Australia to have a lot of great point breaks so I think that really helps get a good read on this type of wave."
An incredibly close heat between 2015 WSL Champion Adriano de Souza (BRA), 2017 WSL rookie Frederico Morais (PRT) and Jadson Andre (BRA) played out in Round 1 Heat 3 with the trio separated by just 1.26 points. De Souza opened strong with a 7.83 to build his scoreline. The Portuguese rookie chased the World No. 3 throughout the heat but his final ride fell just 0.10 of a point short of the required scored and he will have to surf again in Round 2 along with Andre.
"I'm so happy to make this heat," said De Souza. "Frederico (Morais) and Jadson (Andre) both surfed pretty great out there. I'm stoked with the win and to be back in J-Bay. When I have the chance I always come early. This year I came two weeks early and I got a great swell so it was a great opportunity to get some practice in. Now I'm going to watch the event and try and learn as much as I can from the other guys in the lineup."
Event officials will reconvene tomorrow morning at 7:00 a.m. local time to assess the conditions and make the next call.
Overlapping SW to SSW swells through the weekend will provide fun to mid size surf. Light offshore flow Saturday will become strong/breezy offshore flow Sunday. Monday will see a decreasing trend for the first half of the day as offshore flow likely continues. A new, and potentially strong, SW to SSW swell looks likely to build in through Tuesday before easing Wednesday. Favorable wind looks likely. There is potential for more SW swell for the end of next week. Surfline
For more information, check out WorldSurfLeague.com.
Corona Open J-Bay Round 1 Results:
Heat 1: Joel Parkinson (AUS) 14.32, Wiggolly Dantas (BRA) 13.60, Miguel Pupo (BRA) 10.33
Heat 2: Bede Durbidge (AUS) 13.84, Owen Wright (AUS) 11.16, Josh Kerr (AUS) 9.00
Heat 3: Adriano de Souza (BRA) 13.83, Frederico Morais (PRT) 13.73, Jadson Andre (BRA) 12.57
Heat 4: Jeremy Flores (FRA) 17.00, Matt Wilkinson (AUS) 12.27, Ethan Ewing (AUS) 9.93
Heat 5: Conner Coffin (USA) 17.04, Jordy Smith (ZAF) 14.76, Michael February (ZAF) 12.40
Heat  6: John John Florence (HAW) 19.37, Dale Staples (ZAF) 16.03, Ian Gouveia (BRA) 13.07
Heat  7: Italo Ferreira (BRA) 15.27, Leonardo Fioravanti (ITA), Kolohe Andino (USA) 7.83
Heat  8: Kelly Slater (USA) 16.27, Julian Wilson (AUS) 15.84, Kanoa Igarashi (USA) 8.77
Heat  9: Jack Freestone (AUS) 16.00, Adrian Buchan (AUS) 13.66, Connor O'Leary (AUS) 11.00
Heat 10: Gabriel Medina (BRA) 18.83, Stuart Kennedy (AUS) 14.77, Caio Ibelli (BRA) 9.17
Heat 11: Mick Fanning (AUS) 17.23, Sebastian Zietz (HAW) 9.83, Joan Duru (FRA) 6.17
Heat 12: Michel Bourez (PYF) 16.67, Filipe Toledo (BRA) 15.17, Ezekiel Lau (HAW) 10.60
Corona Open J-Bay Round 2 Match-Ups:
Heat 1: Jordy Smith (ZAF) vs. Dale Staples (ZAF)
Heat 2: Matt Wilkinson (AUS) vs. Michael February (ZAF)
Heat 3: Owen Wright (AUS) vs. Ethan Ewing (AUS)
Heat 4: Kolohe Andino (USA) vs. Jadson Andre (BRA)
Heat 5: Julian Wilson (AUS) vs. Josh Kerr (AUS)
Heat  6: Connor O'Leary (AUS) vs. Miguel Pupo (BRA)
Heat  7: Sebastian Zietz (HAW) vs. Leonardo Fioravanti (ITA)
Heat  8: Filipe Toledo (BRA) vs. Kanoa Igarashi (USA)
Heat  9: Caio Ibelli (BRA) vs. Stuart Kennedy (AUS)
Heat 10: Adrian Buchan (AUS) vs. Joan Duru (FRA)
Heat 11: Wiggolly Dantas (BRA) vs. Ezekiel Lau (HAW)
Heat 12: Frederico Morais (PRT) vs. Ian Gouveia (BRA)