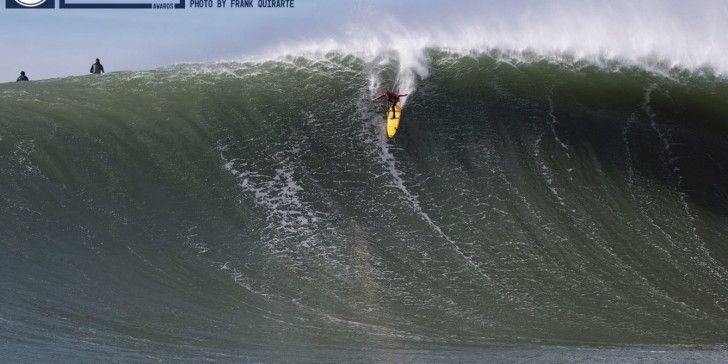 Football game saps Bay Area resources, no Mavs comp in epic surf. So what. Question: Which wave is heavier? Peahi or Mavericks? Or to put it differently, which one would you rather wipe out on?
Thanks to Frank Quirarte Photography for the insane shot of youngster, Kai Lenny who's really been proving himself as a top notch big wave paddle warrior.
Surf News Network, On Thursday 4 February, Mavericks went off with light offshore winds and a beast of a long-interval swell. Some called it "best in five years."
Many fans out there are wondering why the Titans of Mavericks event didn't roll in these epic conditions. It turns out that neighbouring San Francisco and Santa Clara are hosting the Superbowl. Due to this hugely popular, monster event in the United States, organisers had to pass on running the Titans event.
Organizers were ready to call the comp on but a multiple agency blackout prevented  the surf contest from running because resources needed to be on hand for the upcoming NFL Super Bowl.
"We have been closely monitoring this coming week's swell, unfortunately, multiple agencies, which are essential to our event operations, are in a blackout period during Super Bowl week/weekend, so we have no choice but to pass on this swell," said event director Darren Brilhart. "There are still plenty of days left in our waiting period, and we are confident to run the event on the best day still to come."
According to the surf forecasting site Maui's Tyler Larronde scored a rare barrel during the late morning, putting on a display of skillful tuberiding, and former WCT proDamien Hobgood snagged what many are calling the wave of the day in the afternoon – a heavy, deep backside barrel across the reef.