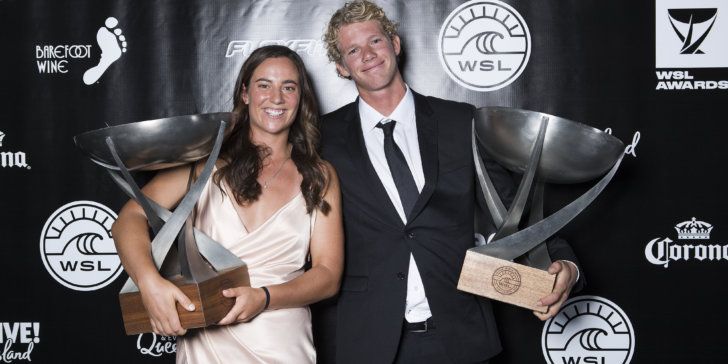 -WORLD'S BEST SURFERS HONORED AT WSL AWARDS
– ACHIEVEMENTS OF 2017 SEASON CELEBRATED AT GOLD COAST GALA 
Back-to-back WSL Champions Tyler Wright (AUS) and John John Florence (HAW) celebrate their wins at the WSL Awards gala.
 © WSL /  Cestari
COOLANGATTA, Queensland/AUS (Thursday, March 8, 2018) – The world's best surfers were honored tonight at the World Surf League (WSL) Awards — the event that celebrates the achievements of the 2017 season and officially opens the 2018 WSL Championship Tour (CT) year.
Recognition was delivered to those who have contributed to the sport, including the Heat of the Year, Move of the Year, and the WSL Champions across all Tours.
Heat of the Year: Lakey Peterson (USA) vs. Carissa Moore (HAW) Quarterfinal at Trestles / Gabriel Medina (BRA) vs. Julian Wilson (AUS) Final in Tahiti
Move of the Year: Carissa Moore (HAW) at Trestles / John John Florence (HAW) at Margaret River
Wave of the Year: Stephanie Gilmore (AUS) in Maui / Filipe Toledo (BRA) at J-Bay
WSL Junior Champions: Vahine Fiera (PYF) and Finn McGill (HAW)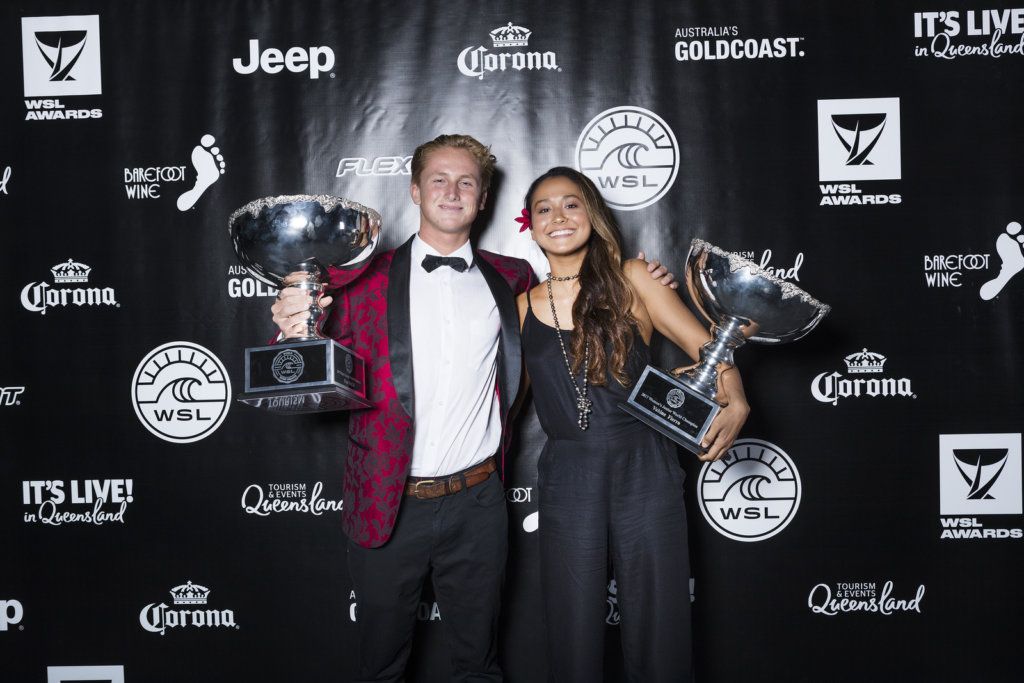 World Junior Champions Finn McGill of Hawaii and Vahine Fierro of Tahiti with their trophies at the WSL Awards on the Gold Coast, Queensland, Australia.  PHOTO: © WSL / Cestari
WSL Qualifying Series Champions: Johanne Defay (FRA) and Griffin Colapinto (USA)
WSL Longboard Champions: Honolua Blomfield (HAW) and Taylor Jensen (USA)
WSL Big Wave Tour Champions: Paige Alms (HAW) and Billy Kemper (HAW)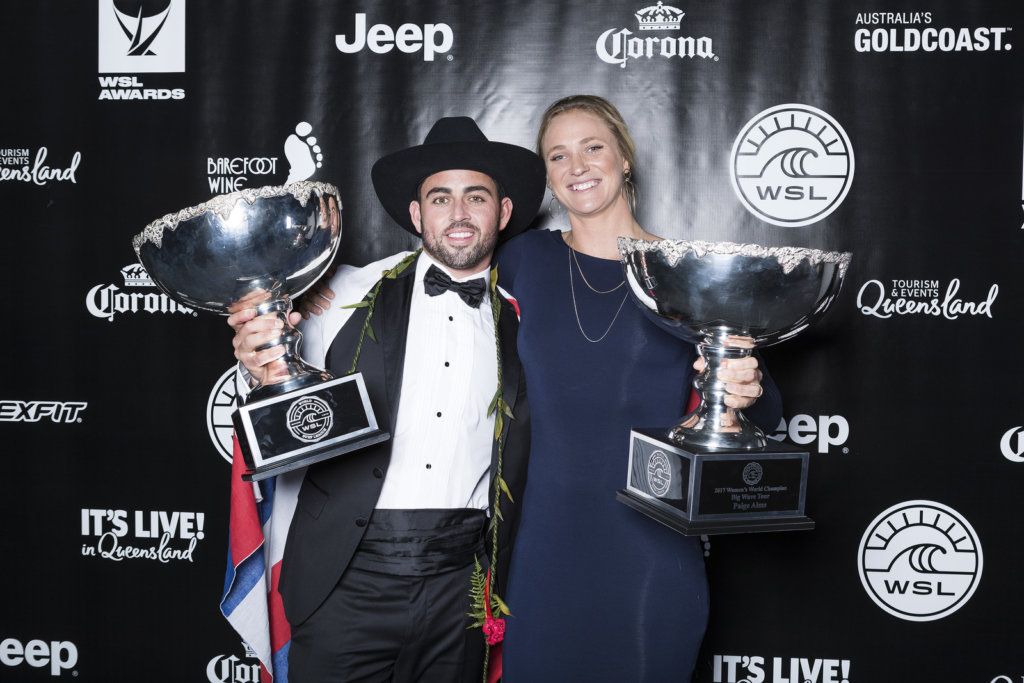 Big Wave World Champions Billy Kemper and Paige Alms celebrating their World Titles at the WSL Awards Night in Queensland, Australia on March 8th, 2018.  PHOTO: © WSL / Cestari
CT Rookies of the Year: Bronte Macaulay (AUS) and Connor O'Leary (AUS)
WSL Women's Runner-Up: Stephanie Gilmore (AUS)
WSL Men's Runner-Up: Gabriel Medina (BRA)
WSL Women's Champion: Tyler Wright (AUS)
WSL Men's Champion: John John Florence (HAW)
"It is fitting that today is International Women's Day as I'd like to thank all of the inspirational women in my life," Wright said. "My mum and my aunties who were in Maui to celebrate with me. To Steph Gilmore and Layne Beachley, you two are my biggest inspirations in surfing. I'd also love to thank my coach Glenn (Hall) and his wife, Jemma (Hall), you two are so important to me and have helped so much in the last two years with everything from surfing to just talking, it means the world. 2017 was so special for so many reasons but one of the best parts was watching my brother Owen (Wright) come back. It was amazing and heart-wrenching all at the same time. Getting over my knee injury at the end of the year was tough but thanks to all of the support I got through it and I am back up here today, so thanks to all of my support crew."
"Accepting this trophy for the second year in a row is so special to me," Florence said. "Last year, I really learned to step back and enjoy everything — the wins, the losses, just everything that we go through on tour — and it really made it a fun year. It is crazy to see the level of surfing that we have on the Championship Tour. Everyone continues to push the boundaries and to be a part of that is amazing. It's so cool to see where surfing is going. I'd like to thank all of my fellow competitors for pushing me. I couldn't do this without that inspiration. I'd love to thank my mom and everything she has done for me and my brothers. I'd also like to thank my crew on tour."
The 2018 WSL CT will commence with the Quiksilver and Roxy Pro Gold Coast starting Sunday, March 11 through March 22, 2018.
For more information, check out WorldSurfLeague.com.