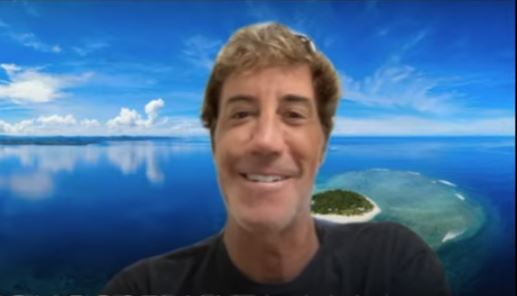 …with David Lee Scales & Jon Roseman…
This 1-hour interview will do the trick…it's timeless.
Before you watch, I have a related story to tell…hope you enjoy. GQ
Back in the Summer of 83′ I went with my cousin Eric on a 3 month 'trip of a lifetime' through Australia, New Zealand, Tahiti, the Cook Islands…and Fiji.
We stayed at Seashell Cove Resort on the coast of the main Island (Viti Levu) and could see surf pounding and peeling on the distant outer reefs. We wanted a surf adventure (we found one).
This was when 'Men at Work' had several #1's including 'Down Under' and 'Who Can It Be Now'…plus, you would still here Eddie Van Halen's inspired lead solo on Michael Jackson's "Beat It" LP.
Eric and I were told we'd take a roughly 40-minute boat ride out to a spot called Navula Reef.
The Seashell Cove Crew mentioned a California guy named Dave Clark setting up a nearby surf camp/resort called Tavarua. We'd heard the rumblings and were pumped to explore this outer reef roughly 2 miles offshore and see what the buzz was about (we found out).
Our boat anchored at Tavarua's infamous reef, 'Cloud Break' before lunch. In this era, most the time no one was around…as world class empty waves reeled down the line 24/7.
Note: I didn't have a board. Just prior to leaving our Australian leg of the journey, I had sold my florescent orange 5'6″ G&S 'MR Twin Fin' model to the Legendary 4X World Champ Mark Richards from Newcastle (he was sponsored by G&S from San Diego). I was on the G&S amateur team and couldn't get over meeting, talking story with, and then getting paid by, my hero Mark Richards. He'd resell my used 'team board' in his iconic shop. Stoked!
Anyway, at 'Navula Reef' now known as Cloudbreak, I had to borrow a board from a fellow surfer from South Africa (he didn't feel comfortable going out in 6′ hollow Cloud Break with nobody out). Fear or no fear, I couldn't help my frothing self. My Cuz Eric courageously took my yellow waterproof Minolta camera -with a full roll of film- plus snorkel gear and fins…and followed me out. No one would be rescuing us. It was sorta sketchy.
With care and caution I surfed insane waves for about an hour. Eric tried to line up for shots, but it was tough. Then out of the blue, an 8′ set reared up and steam rolled over us. I bailed, the leash snapped, and I lost my new SAF friend's board. We got back to the boat just fine… but now what?
We're essentially broke surfers and could hardly afford to pay 200 bucks for a new or used board. We grabbed binoculars and began a seemingly futile search (listen from 27:20 about why Roseman rode a Red Board and wore Red Shorts. You can get lost out there).
I spot a glistening object about 400 yards away on the shelf inside the now legendary Cloudbreak.
I'm going for it. "Bring me the mask and fins!"
My first try getting passed the waves and safely over the fresh, bright, colorful, sharp reef -now called Shish Kabobs- didn't go well: Surf too big, reef too shallow. Back to the boat.
The captain goes further down the reef where waves are smaller…I finally make onto the shallow inside coral reef pass. I look for an occasionally glistening board bobbing in the distant shallows …plus, I must watch where I'm stepping. Nuts.
After about 30 minutes I somehow make it to the lost board and begin the long slow walk -and swim- back to the boat.
Then the revelation: As I'm walking alone…I can't see our boat…I can't see land…I'm just out in the middle of nowhere… walking in the ocean…watching perfect waves… with some guy's surfboard from South Africa!
I witness a really BIG set stacking wave after wave across Cloudbreak with absolutely perfect peeling barrels for hundreds of yards. No one around.
In awe of nature…this place…this moment…I shake my head and ask myself…"where the hell am I, and what wave is this?!" I was alive as I've ever been.
It's the summer of 1983, the same year John and Jeannie Clark opened the Tavarua Resort. I ended up a loyal annual customer back in the day.
I'd find out over the next 4 decades that I had been introduced to -and graced by- one of the Greatest waves on planet earth. Little did I know it could hold 30′ swells!
I had made back to the boat… and land… with the story of a lifetime.
Vinaka Fiji, Tavarua. Thanks to my cousin Eric. And Thank You God.
Aloha and Mahalo for reading our adventure.
Gary 'GQ' Kewley
Jon Roseman on Surf Splendor (Episode 385)
Oct 26, 2021 Quietly and immeasurably influencing the surf world, Jon Roseman's stewardship of Cloudbreak has been cosigned by Fijian tribal leaders and pro surfers alike.
Today he shares stories from over 30 years of swells, why his best surfing is still ahead of him, and how he hopes to convert his experiences into sustainable success for Tavarua's future.
Enjoy!