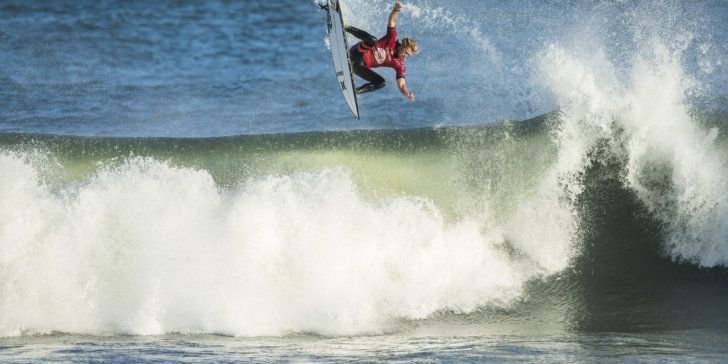 Cover Shot: JJF nails highest heat total via stuff like this. PHOTO: © WSL / Poullenot 
DORA STOPS WORLD NO. 1 FERREIRA
GOUVEIA OUTS TOP SEED SMITH
2018 CT Rookie Yago Dora (BRA) upset the Oi Rio Pro with his win over Jeep Frontrunner Italo Ferreira (BRA).
Credit: © WSL /  Poullenot
Location:   
  Saquarema, Rio de Janeiro, Brazil
Event window:
  May 11 – 

20, 2018

Today's call:
  Men's Rounds 2 (H6-12)  & 3 complete
Conditions:
  4 – 6 foot (1.2 – 1.8 metre)
SAQUAREMA, Rio de Janeiro/Brazil (Tuesday, May 15, 2018) – The Oi Rio Pro, the fourth stop on the World Surf League (WSL) Championship Tour (CT), continued today at Barrinha with pumping four-to-six foot (1.2 – 1.8 metre) waves for the remaining six heats of men's Round 2 and men's Round 3.
Brazilian youngster Yago Dora played spoiler today for World No. 1 Italo Ferreira (BRA) in Round 3 Heat 10. The all-star, goofy-foot showdown was slow to start but heated up in the last five minutes. Under pressure needing just a 4.47 (out of a possible 10), Dora landed a 5.23 air to earn the score and the win. Ferreira's loss leaves him in 13th place and in a difficult position to retain the Jeep Leader Jersey with Julian Wilson (AUS) still in the draw.
"I think I go into my heats with more motivation if it is against someone at the top," said Dora. "I know I am going to have to go big and give my everything, so I just go for it and it has been working out. To make this heat already is really important for me; it is my first time in this round. I am stoked to surf against Italo (Ferreira). It is just awesome. I hope I can do better than last year."
Two-time WSL Champion John John Florence (HAW) delivered the highest two-wave total of the Oi Rio Pro so far, a 17.97 (out of a possible 20), which was made up of a near-perfect 9.80 (out of a possible 10) and an 8.17. The 2016 event winner left no room for injury replacementMiguel Pupo (BRA) to gain ground with three excellent rides in a row. Florence now advances to Round 4 where he will meet rookies Wade Carmichael (AUS) and Dora.
"It feels super good to make those airs," said Florence. "I was looking at the wind and reminding myself to do a couple of turns first. Once I got a couple of mid-scores under my belt, I wanted to try to do some airs and got lucky. I am fired up. I've been fired up this whole event, so I am psyched to be moving on and we will see what tomorrow brings."
Brazilian superstar Gabriel Medina had the crowd going crazy during his matchup against Mikey Wright (AUS). Medina locked in two back-to-back 6-point rides for an early lead over the replacement surfer and spent the remainder of the heat trying to land big airs for his family and fans on the beach. Wright came close to winning with two 6-point rides of his own but fell just 0.46 points short of eliminating Brazil's first World Champion.
"I was trying to get two good waves at the start," said Medina. "And then I saw the wave scores were kind of hard to do turns because the wind was tricky to surf this wave. I saw the wind was really good to do airs. I had two 6s and then I just went for it. Hopefully, I can land them in the next round."
CT sophomore Ian Gouveia (BRA) continued his run of upsets at the Oi Rio Pro by taking down Jordy Smith (ZAF) in the opening heat of Round 3. Smith got the jump on the start, but halfway through the heat, Gouveia wove his way out of a deep barrel for a near-perfect 9.93 (out of a possible 10). This result marks Smith's third-consecutive 13th place result of 2018. Gouveia marches one step closer to his career-best result on the CT.
"I am super stoked on that one," said Gouveia. "After three 25th place results in Australia, I had to do everything here. I have to make heats and I have to make points. It was super incredible to be surfing here in front of this crowd. It is impressive to have these waves. Yesterday I was bummed because I wanted to surf lefts, but today was actually like a real Barrinha, the wave that we want to surf in a CT event."
Julian Wilson (AUS) is now the only yellow Jeep Leader Jersey in the event after Ferreira's elimination. Wilson narrowly took the win over former CT competitor Alejo Muniz (BRA) in Heat 6 of Round 3. The low-scoring heat only saw the Jeep Frontrunner earn a 3.17 and 6.17 for the win over Muniz, who captured a 4.77 and 4.17. Muniz came into this event as an injury replacement after falling off the tour in 2017. Both joining the tour in 2011, Wilson noted that his win was bittersweet due to their shared rookie class and battles over the years.
"That was an emotional heat," said Wilson. "I qualified for the CT the same year as Alejo (Muniz). We finished 9th and 10th our first year on tour and battled through the year. And now, he's just had a little boy and I've just had a little girl. There was a lot of history going into that heat. I think Alejo is an exceptional surfer. He does not have his main sponsor anymore so it is a little bit hard to see those things, and when you win the heat you feel like you are taking a little bit away from him. But, it was nice to be competing against him and so stoked to see him in the contest."
Filipe Toledo continued the winning-trend for the Brazilians in Round 3 by defeating Keanu Asing (HAW) in Heat 3. Toledo has yet to display the flair that made him famous at the Oi Rio Pro in 2015 but will have the opportunity to go big during Round 4 where the top two surfers will advance to the Quarterfinals and the loser will be eliminated.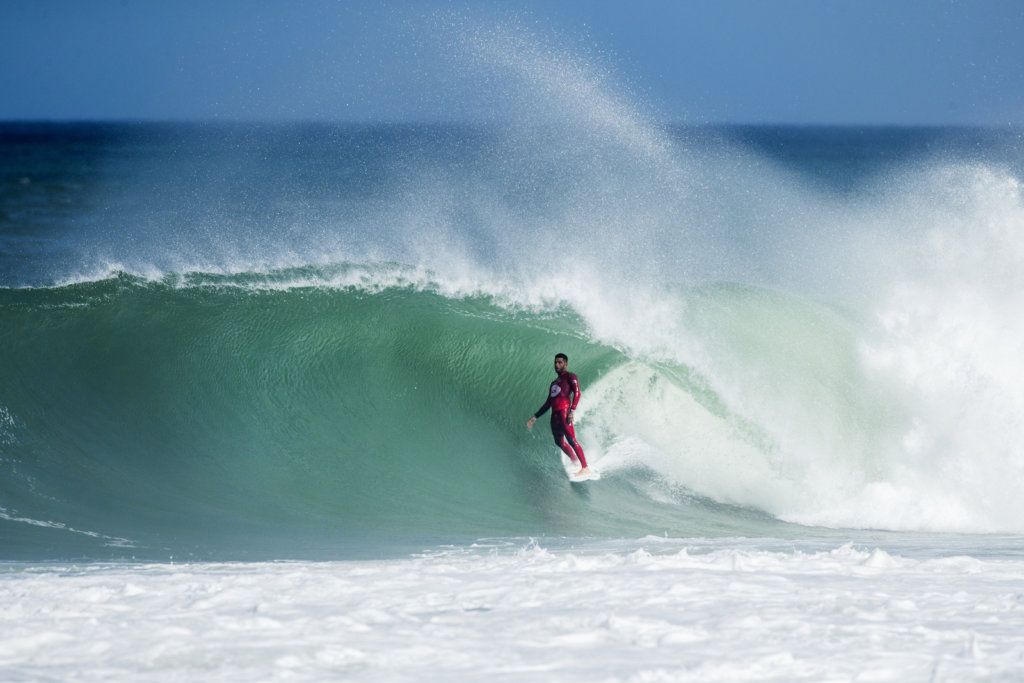 Toledo's style is far more than radical…it's classical, too. Credit: © WSL /  Poullenot
Rookies Dora, Carmichael, and Michael Rodrigues (BRA) are the last three rookies in the draw after the flurry of eliminations today. Rodrigues powered through two elimination rounds today, taking out Matt Wilkinson (AUS) in Round 2 and Frederico Morais (PRT) in Round 3. Carmichael eliminated Jeremy Flores (FRA) in Round 3 Heat 11. Rookie Willian Cardoso (BRA) was unable to join the freshman class in Round 4 after falling to Kolohe Andino (USA)Heat 4 of Round 3.
Round 2 Heat 10 saw one of the most exciting exchanges of the event with Sébastien Zietz (HAW) and Joan Duru (FRA) battling barrel-for-barrel. The matchup produced some of the highest two-wave totals, eventually ending with Zietz securing the win with a 0.19-point lead in the last ten seconds of the heat.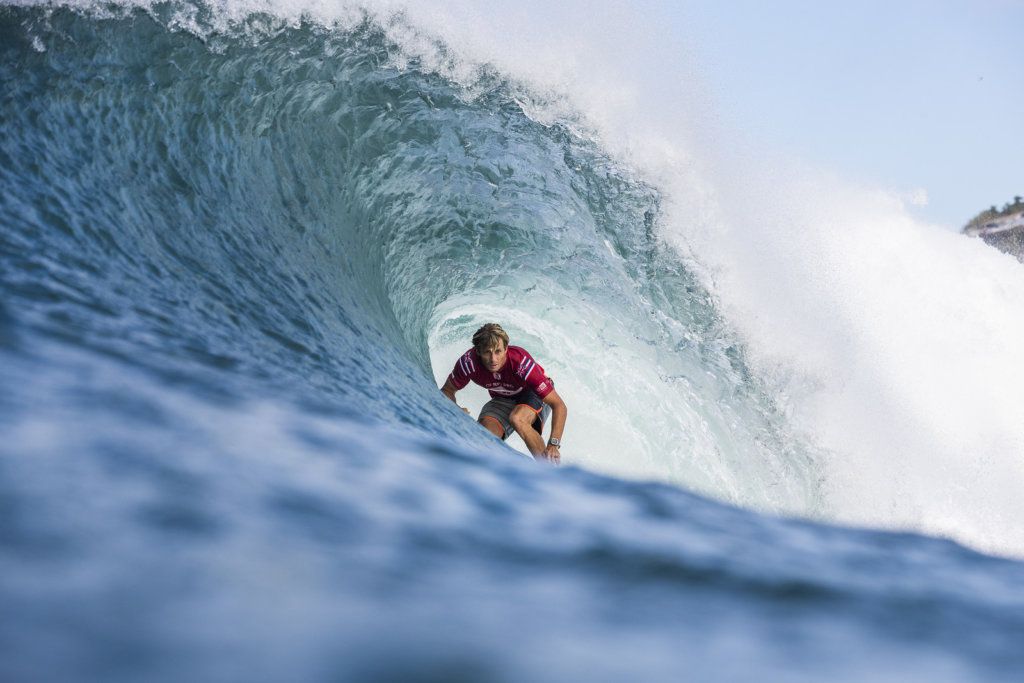 Zietz always gets deep. Credit: © WSL /  Poullenot
"I saw that big set coming and just thought 'Oh man, Joan (Duru) is going to get a good one,'" Zietz said. "As soon as I was paddling for that wave, I heard his score and just thought that I had to get myself deeper. I just tried to bury myself in there. It was an epic heat, we were both just getting pitted."
Zietz went on to defeat Tomas Hermes (BRA) in Round 3. Prior to his elimination, Hermes put on an exciting show for the crowd with a near-perfect 9.07 and win over Conner Coffin (USA) in Round 2 Heat 11.
Kanoa Igarashi (JPN) also locked in two big wins today. First, Igarashi took down Connor O'Leary (AUS) in Round 2. Later, in Round 3 Heat 5, Igarashi was responsible for dispatching good friend and rookie favorite Griffin Colapinto (USA).
"Griffin (Colapinto) and I have been doing heats together, mock heats all the time," said Igarashi. "We've got a good competitive energy between us. I look at him like a little brother, even though he is bigger than me. We grew up competing against each other and it is so good to have someone like that pushing you. He got me at Snapper, so it feels to get one on him this time."
The WSL Commissioner's Office will reconvene tomorrow morning at 6:45 a.m. local time to assess the conditions and make the next call for a potential 7:05 a.m. start at the main competition site at Itaúna Beach.
The Oi Rio Pro will be broadcast LIVE on the WSL's Facebook page, WorldSurfLeague.com, and the WSL app. Also, check local listings for coverage from the WSL's broadcast partners.
Strong SSW swell continues Tuesday morning with favorable wind, with the surf easing through the day. The swell mix trends down on Wednesday but still offers fun/rippable waves during the morning. The next run of SSW/S swells shows on Friday and likely continues over the weekend, with the most favorable wind currently expected for Fri-Sat.  Surfline
For more information, please visit WorldSurfLeague.com.
Oi Rio Men's Pro Remaining Round 2 Results (H6-12):
Heat 7: Michael Rodrigues (BRA) 8.67 def. Matt Wilkinson (AUS) 5.80
Heat 8: Frederico Morais (PRT) 9.04 def. Patrick Gudauskas (USA) 6.73
Heat 9: Jeremy Flores (FRA) 13.66 def. Jesse Mendes (BRA) 10.60
Heat 10: Sebastian Zietz (HAW) 15.86 def. Joan Duru (FRA) 15.67
Heat 11: Tomas Hermes (BRA) 14.24 def. Conner Coffin (USA) 5.13
Heat 12: Kanoa Igarashi (JPN) 10.57 def. Connor O'Leary (AUS) 10.20
Oi Rio Men's Pro Round 3 Results:
Heat 1: Ian Gouveia (BRA) 14.26 def. Jordy Smith (ZAF) 10.90
Heat 2: Michael Rodrigues (BRA) 13.70 def. Frederico Morais (PRT) 11.07
Heat 3: Filipe Toledo (BRA) 6.90 def. Keanu Asing (HAW) 6.37
Heat 4: Kolohe Andino (USA) 12.40 def. Willian Cardoso (BRA) 2.57
Heat 5: Kanoa Igarashi (JPN) 12.84 def. Griffin Colapinto (USA) 11.40
Heat 6: Julian Wilson (AUS) 9.34 def. Alejo Muniz (BRA) 8.94
Heat 7: Gabriel Medina (BRA) 13.10 def. Mikey Wright (AUS) 12.64
Heat 8: Sebastian Zietz (HAW) 14.27 def. Tomas Hermes (BRA) 9.17
Heat 9: Ezekiel Lau (HAW) 8.33 def. Adrian Buchan (AUS) 7.44
Heat 10: Yago Dora (BRA) 10.56 def. Italo Ferreira (BRA) 9.70
Heat 11: Wade Carmichael (AUS) 13.30 def. Jeremy Flores (FRA) 12.67
Heat 12: John John Florence (HAW) 17.97 def.  Miguel Pupo (BRA) 8.26
Oi Rio Men's Pro Round 4 Matchups:
Heat 1: Ian Gouveia (BRA), Michael Rodrigues (BRA), Filipe Toledo (BRA)
Heat 2: Kolohe Andino (USA), Kanoa Igarashi (JPN), Julian Wilson (AUS)
Heat 3: Gabriel Medina (BRA), Sebastian Zietz (HAW), Ezekiel Lau (HAW)
Heat 4: Yago Dora (BRA), Wade Carmichael (AUS), John John Florence (HAW)
Oi Rio Women's Pro Round 3 Matchups:
Heat 1: Tyler Wright (AUS), Sally Fitzgibbons (AUS), Keely Andrew (AUS)
Heat 2: Stephanie Gilmore (AUS), Nikki Van Dijk (AUS), Caroline Marks (USA)
Heat 3: Lakey Peterson (USA), Johanne Defay (FRA), Silvana Lima (BRA)
Heat 4: Carissa Moore (HAW), Tatiana Weston-Webb (BRA), Sage Erickson (USA)