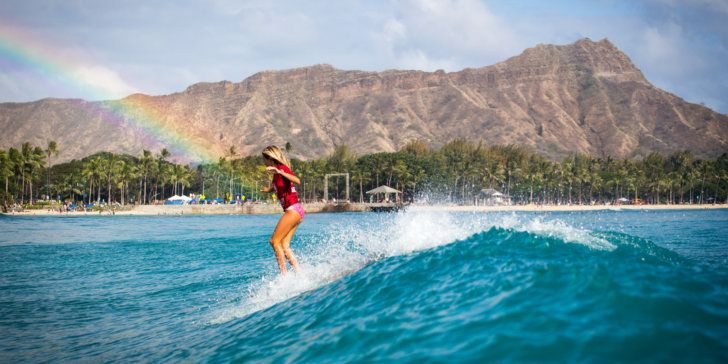 The Keiki and Youth return to Oahu's South Shore to swarm the Queens line up this coming weekend May 20-21 with solid 3′ SSW surf coming our way!
 T&C Surf Grom Contest 20 – 21 May, 2017
Surf News Network: May 13th. This T&C Surf Grom Contest is one of Hawaii's most stress-free, happy-go-Surfing, and fun-loving events!
An assembly of young surfers from across the island chain are expected to gather under the welcoming arms of the Duke Kahanamoku statue to savor the sun, surf and friendly competition.
Returning to Queens surf break is the 20 th annual T&C Surf Grom Contest presented by Chili's Grill & Bar on May 20th-21st. Thru the years, the contest has become so popular that gone are the days of entering and conquering multiple divisions. Today, contestants must choose one division only, allowing for as many kids as possible the chance to experience the opportunity to compete.
On the sidelines are all the groms packing a quiver of boards decked in sponsor stickers and a decorated wall of trophies. The contest rules have evolved over the years making the contest strictly for those who love to surf simply for the thrill & The GROM contest is an annual highlight for T&C!" says Craig Sugihara, founder / owner of T&C Surf. "It signals the start of summer and is a weekend of family fun.
Sharing the stoke of surfing with our keiki puts a smile on all our faces.  T&C is proud to celebrate the 20th anniversary of this special event this year.  It has been an absolute pleasure and we look forward to doing it for many years to come." It's come down to an introductory-level contest giving young kids a chance to get their feet wet in the contest arena and have some fun with their friends minus the pressure that comes with competing in other events.
This contest is different from the host of others on Oahu because it strictly prohibits contestants who have entered an NSSA, HASA, or any other competitive surfing organization from entering the event. T&C Surf produces the event each year to introduce young surfers ages 3-12 to the world of competitive surfing in a less-intense setting. "For the past 20 years, Boys & Girls Club of Hawaii's partnership with T&C Surf has always been aligned with our mission – to create greater futures for our youth.
This annual event positively influences the lives of over 300 youth each year in Hawai'i and we are proud to once again be a part of it," says Tim Motts, Executive Director of the Boys &Girls Club of Hawaii. Adults can also get in on the fun by signing up for the "FreeSurf Expression Session" specialty event on Sunday.
Parents join keiki in a special adult/child tandem surf event that gives them the opportunity to display a "Cockaroach", "Wheelbarrel" or any other skilled dual move.
"Once again Manulele Inc is proud to be a part of this wonderful event for the community and Na Keiki! The FreeSurf Magazine Expression Session illuminates the thread between healthy living and spending quality time with your keiki!" says Mike Latronic, publisher of FreeSurf Magazine. The Expression Session is open to all adults and children (with a sibling in the event). On-site limited entry is complimentary and prizes are presented to the top three teams. Families will stake claim for two days on the south shore in front of the most iconic surf break in support of their beloved groms.
The competition kicks off Saturday with a full day of heats in the line-up at Queens in three divisions for boys and girls: Shortboard, Longboard and Bodyboard. Also included is the Kokua division for keiki 3-6 years of age, held inside at Baby Queens that allows parental assistance. In-between heats, fun games and beach activities help keep the atmosphere more about sharing the stoke than winning or losing. Open divisions continue with advancing rounds until narrowed down to the finals.
Finalist are treated to gleaming medals and prize packs filled with surf products from event sponsors,including the opportunity to win one of two custom T&C Surf boards. An immense raffle for awesome prizes including beater boards, bodyboards and even skateboards is open to all competing groms and will close out the ceremonies.
The contest is expected to reach full capacity, so make sure to get your entry in early. All competitors receive a contest T-shirt, lunch, and goodie bag.