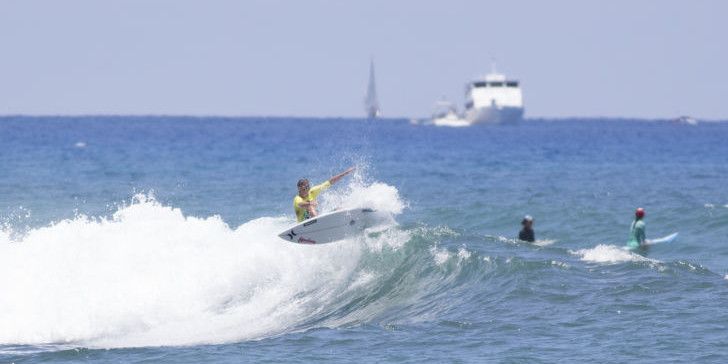 Jr. Men Shortboard champion Kaulana Apo finding cover. Photo courtesy: Manulele/Heff
Local Motion Surf Into Summer Presented by Vissla
Ala Moana Bowls, Honolulu, Hawaii
25 May, 2015 – Honolulu – 
After four days of solid surf, the Local Motion Surf Into Summer 
ended today at Ala Moana Bowls, with nine champions taking home titles and trophies. 
Clean 
conditions in the 3 to 4 foot range graced the lineup for all four consecutive days of the event, 
offering nice conditions and highly contestable surf for all the competitors. Friday and Sunday 
saw the WSL QS1,000 pro comp take to the water while the amateur divisions were held 
The finals saw a variety of divisions including the Menehune Shortboard, Boys Shortboard, Jr
.
Men Shortboard, Mens Shortboard, Men Longboard Open, Girls Shortboard 17 & Under, 
Womens Shortboard 17 & Over, Masters Shortboard 25-34
 and Sr.
 Mens Shortboard 35 & Over.
Taking home the Jr. Men Final was Honolulu's Kaulana Apo, who displayed incredible skill and 
competitive savvy to ultimately take home the win. The Final saw a close match up amongst 
some of the state's 
best 
amateur surfers including Cody Young, who took second place and Noa 
Mizuno, who finished third. Shayden Pacarro, Kona Oliveira and Kelson Lau were also in the 
6-man final and placed 4th, 5th and 6th respectively.
In the Girls Shortboard 17 & Under Final, Kailua's Brisa Hennessy battled it out against 5 other 
top competitors in a fierce heat. Congratulations on the win Brisa, and to Julie Nishimoto for 
taking 2nd and Emily Nishimoto on 3rd. Zoe McDougall, Kelis Kaleopa'a and Sara Wakita took 
home 4th,
 5th and 6th place respectively and surfed with grace and style- a fine display of the 
future of womens surfing.
Congratulations to all the athletes and a big mahalo to the sponsors who helped make this year 
another successful Local Motion Surf Into Summer event for both amateur and professional 
surfers. 
Sponsors included VISSLA, D'Blanc, Wade Tokoro, Skull Candy
, Waiola, Vertra and 
Freesurf. 
After 31 years of tradition, the contest still remains true to its roots 
by
 providing a 
good venue for regional athletes to compete for value points and bragging rights. 
FINAL RESULTS – surfers listed in order of 1st through 6th.
Menehune S.B.
 – Luke Swanson; Isaiah Ingbino Francisco; Kai Partin; Lohe Laanui; Shiloh 
Boys S.B.
 – Tony Nunes; Robert Grilho III; Dylan Franzmann; Wolf Wetheimer; Makani Walker; 
Jr. Mens S.B.
 – Kaulana Apo; Cody Young; Noa Mizuno; Shayden Pacarro; Kona Oliveira; Kelson 
Mens S.B.
 – Justin Silva; Taoa Pou; Keola Carreira; Anthony O'brien; Zach Bucolo; Kena 
Mens L.B.
 – La'akea Davis; Wesley Moore; Maui Zack; Fritz Belmoro; Keoni Young; Dusty 
Girls S.B. 17 & Under
 – Brisa Hennessy; Julie Nishimoto; Emily Nishimoto; Zoe McDougall; Kelis 
Womens S.B. 17 & Over
 – Missy Valdez; Terry Lum; Tiffany Peterson; Olivia Lachenauer; 
Anathena Tuppein; Mari Hall
Master S.B. 25-34
 – Weston Hori; Derek Wong; Kolea Fukumitsu; Sudama Ranson; Alex King; 
Sr. Mens S.B. 35 & Over
 – Aaron Witt; Derek Lyon Wolfe; Gregg Nakamura; Jarius Cannon; 
Isaiah Walker; Reid Kawamae