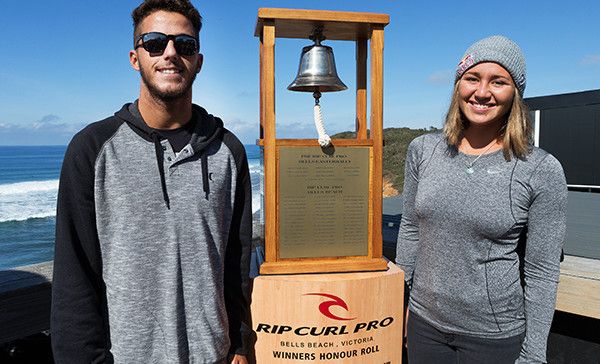 Ranking leaders Filipe Toledo (BRA) and Carissa Moore (HAW) will look to carry their momentum into the Rip Curl Pro Bells Beach, which begins Tuesday in Hawaii (Wednesday April 1st in Australia)
Image: WSL / Cestari
Surf News Network: BELLS BEACH, Victoria/Australia (Tuesday, March 31, 2015) – The second stop on the 2015 Samsung Galaxy World Surf League (WSL) Championship Tour (CT), the Rip Curl Pro Bells Beach gets underway tomorrow with a competitive window of April 1 – 12, 2015. The world's best male and female surfers will battle the elements and adapt their approaches in hunting for waves, scores and the honor of ringing the coveted Bell.
Filipe Toledo (BRA) comes into the Rip Curl Pro Bells Beach as the frontrunner following his sensational maiden CT victory on the Gold Coast. The Brazilian faces Owen Wright (AUS)and compatriot Jadson Andre (BRA) in Round 1 of competition.
"I'm feeling good and comfortable and confident as well," said Toledo. "I'm really happy with everything that happened on the Gold Coast and I need to keep the momentum going here and hope for a good result. This is such an important event because so many legends have won here during the past. I think that's why all the boys on the Tour really want to do well here – because it's a really hard and really important wave."
Carissa Moore (HAW), two-time world champion and back-to-back Bells winner, tops the women's ratings following an impressive showing on the Gold Coast. Moore will take on Dimity Stoyle (AUS) and trials winner Pauline Ado (FRA) in the opening round of competition.
"I'm feeling really good and I'm so happy to be back at Bells, it's a truly magical place," Mooresaid. "Snapper was awesome and I'm super stoked to start off my year like that. I know every event is a clean slate but I'm ready to give it my best shot and I really like it here. Bells is such a historic place and the best of the best have won here. The wave is iconic and it's all about big, beautiful carves and I love the simple traditional surfing."
Julian Wilson (AUS) comes into the event ranked no. 2 in the world after a runner-up finish at Snapper Rocks. Wilson will face Kolohe Andino (USA) and Matt Wilkinson (AUS).
"I really enjoy surfing the waves here, I've been competing out here since I was a junior when I was about 15 or 16," Wilson said. "I finally got a good result out here last year and it would be good to try and keep that momentum going at the event this year. There's so much history out here and it's an incredible event to surf at. Everyone wants to put their stamp on it but it's a hard event to make your mark at."
Reigning six-time WSL Champion Stephanie Gilmore (AUS) has been victorious here three times (2007, 2008 and 2010) and will be looking to reclaim the yellow leader jersey with a strong showing at Bells
"I love Bells and I love surfing these waves," said Gilmore. "It's a really iconic Australian event so I think that's where the prestige comes from. Also, all of the winners of the event have been the most incredible, iconic surfers. The most talented surfers to ever walk the planet have all rung the bell."
 Reigning six- time WSL Champion and three-time Rip Curl Pro Bells Beach winner Stephanie Gilmore (AUS).
Image: WSL / Cestari
Three-time World Champion Mick Fanning (AUS) secured his third Rip Curl Pro Bells Beach win in 2014 (he previously won as a wildcard in 2001 and again in 2012). After a Quarterfinal finish at Snapper Rocks, Fanning is eager to defend his title at Bells. Fanning will face Freddy Patacchia Jr. (HAW) and wildcard Mason Ho (HAW) in Round 1.
"For me this is a home away from home," said Fanning. "As a kid this is the first event, other than the Gold Coast, that I ever came to and watched the greats like Occy (Mark Occhilupo), Matt Hoy and Shane Dorian win the event. Those were my first years coming here and I fell in love with the place straight away. So many things have gone down at this event and there's been so many crazy battles. It's one of those places that I really enjoy surfing the wave."
Defending Rip Curl Pro Bells Beach winner Mick Fanning (AUS).
Image: WSL / Cestari
Pauline Ado (FRA) will join the WSL Top 17 and complete the lineup for the Rip Curl Women's Pro Bells Beach. Former Championship Tour surfer Ado won the event trials to earn her place amongst the world's best and will face Moore and Dimity Stoyle (AUS) in Round 1 Heat 3.
"I am stoked to get into the event," said Ado. "Thank you to Rip Curl for allowing me the chance to surf in the trials and make it into the main event."
Phillip Island's Joe Van Dijk (AUS), brother of CT surfer Nikki Van Dijk, also won through the event trials yesterday. Bells Beach will mark his first CT event and he will match-up against reigning WSL Champion Gabriel Medina (BRA) and rookie Matt Banting (AUS) in Round 1.
"It's going to be so good to compete in the Rip Curl Pro with my sister," Van Dijk said. "I have been watching her compete over the past few years and it is what I have been aspiring to do. It's nice to get the chance to surf in the main event."
SW swell in the chest-head high range will prevail on Wednesday, although on an easing trend through the day. The SW groundswell fades further on Thursday as some shorter period southerly windswell joins in, as well as unfavorable southerly wind. Into the medium and long range, nothing major is currently on the radar, but we could see a series of modest/ contestable SW swells over the weekend and the first part of the new week if a series of storms behave as forecast. More of the same is possible over the final few days of the waiting period. Surfline.
Watch the unparalleled adventure, competitive drama and athleticism of professional surfing live at WorldSurfLeague.com.
Rip Curl Pro Bells Beach Round 1 Match-Ups:
Heat 1: Taj Burrow (AUS), Wiggolly Dantas (BRA), Jeremy Flores (FRA)
Heat 2: Adriano de Souza (BRA), Kai Otton (AUS), Brett Simpson (USA)
Heat 3: Kelly Slater (USA), Sebastian Zietz (HAW), Ricardo Christie (NZL)
Heat 4: John John Florence (HAW), Italo Ferreira (BRA), C.J. Hobgood (USA)
Heat 5: Mick Fanning (AUS), Freddy Patacchia Jr. (HAW), Mason Ho (HAW)
Heat 6: Gabriel Medina (BRA), Matt Banting (AUS), Joe Van Dijk (AUS)
Heat 7: Jordy Smith (ZAF), Adrian Buchan (AUS), Keanu Asing (HAW)
Heat 8: Michel Bourez (PYF), Nat Young (USA), Dusty Payne (HAW)
Heat 9: Joel Parkinson (AUS), Miguel Pupo (BRA), Glenn Hall (IRL)
Heat 10: Josh Kerr (AUS), Bede Durbidge (AUS), Adam Melling (AUS)
Heat 11: Filipe Toledo (BRA), Owen Wright (AUS), Jadson Andre (BRA)
Heat 12: Julian Wilson (AUS), Kolohe Andino (USA), Matt Wilkinson (AUS)
Rip Curl Women's Pro Bells Beach Round 1 Match-Ups:
Heat 1: Malia Manuel (HAW), Bianca Buitendag (ZAF), Laura Enever (AUS)
Heat 2: Sally Fitzgibbons (AUS), Silvana Lima (BRA), Nikki Van Dijk (AUS)
Heat 3: Carissa Moore (HAW), Dimity Stoyle (AUS), Pauline Ado (FRA)
Heat 4: Stephanie Gilmore (AUS), Tatiana Weston-Webb (HAW), Alessa Quizon (HAW)
Heat 5: Tyler Wright (AUS), Johanne Defay (FRA), Sage Erickson (USA)
Heat 6: Lakey Peterson (USA), Courtney Conlogue (USA), Coco Ho (HAW)