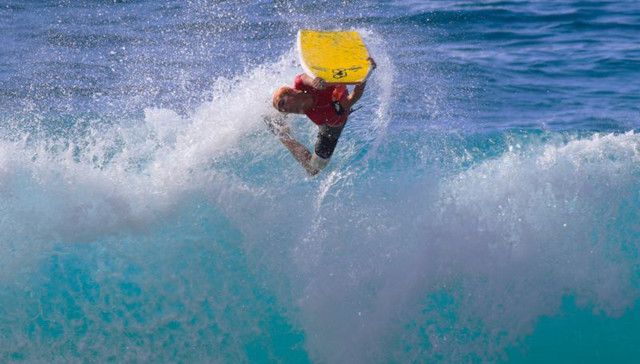 Record setting Sammy Morretino takes three Hawaii titles © IBA/Tyler Rock
662 Rideshop Westside Challenge
Presented by Gyroll Wetsuits & Science Bodyboards
Kellogg's IBA Hawaii Tour
Keaau, Oahu Hawaii
16 – 17 January 2016
 Surf News Network, 18 January, 2016. The last event of the Kellogg's  IBA Hawaii Bodyboarding Tour wrapped up at Keaau on the Westside of Oahu. Fins were flying for the two day competition in challenging 6 foot plus solid surf.
The 662 Rideshop Westside Challenge presented by Gyroll Wetsuits was insane, a perfect choice, as directors postponed the event to insure the best surf possible. Kauai's Sammy Morretino made history by clinching all three titles in the Kellogg's Hawaii Tour, Drop Knee, Stand Up and the Pro Men's Division.
Surprisingly he did not win one pro men's event but was able to hold on to enough points to take the title, a second at Bowls, a fifth at Sandy Beach, a third on the Big Island and a second at Keaau. Keahi Parker, rated 12th coming into the event,  busted his chance to win one, Morretino took the second behind Parker.
Parker is no slouch when it comes to big surf and proved his merit in the final. It was close though with Parker scoring 16.1, Morretino 15.4 and JB Hillen was not far behind in third with a 14.57. Tanner McDaniel was lacking a good score but was the youngest in the final and a standout throughout the competition winning the Junior division!
It was a battled and tied between Karla Costa and Melanie Bartels going into this final event and it was Costa getting the nod to win the event and the series. In the Masters legend Pat Caldwell garnered enough points for the title and in the Junior Kawika Rohr-Kamai had racked up two firsts and a second, enough to be the overall champ.
This tour was spectacular with good surf throughout and important as top tour finishers get seeded straight to the Mike Stewart Pipeline Invitational (Feb 21-Mar 4) without having to do the trials.
Mens Division
1.  Keahi Parker
2.  Sammy Morretino
3.  JB Hillen
4.  Tanner McDaniel
Women's Division
1.  Karla Costa
2.  Melanie Bartels
3.  Lindsey Yasui|
4.  Summer Hillen
Junior Division
1.  Tannner McDaniel
2.  Peter Piho
3.  Keoni Horswill
4.  Ezekiel Bartels
Dropknee Division
1.  Bud Miyamoto
2.  Sammy Morretino
3.  Abe Balmores
4.  Dayton Wago
Standup Divison
1.  Sammy Morretino
2.  Mack Crilley
3.  Abe Balmores
4.  Kai Holt
Master's Division
1.  Pat Caldwell
2.  Jimmy Hutaff
3.  Ben Severson
4.  Keith Sasaki
2015 KELLOGG'S IBA HAWAII TOUR CHAMPIONS
Men's Division – Sammy Morretino
Women's Division – Karla Costa
Junior Division – Kawika Rohr-Kamai
Dropknee Division – Sammy Morretino
Standup Division – Sammy Morretino
Master's Division – Pat Caldwell