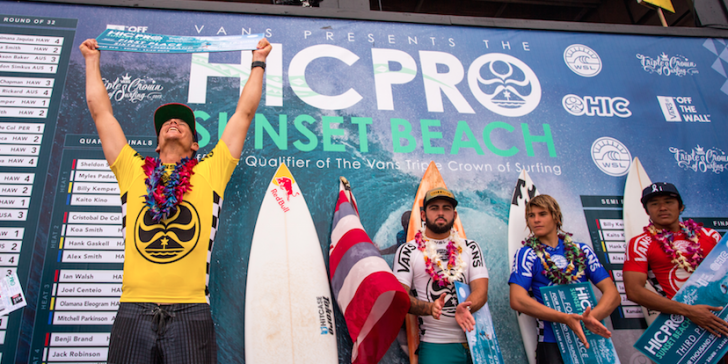 Location:   
Sunset Beach, North Shore Oahu, Hawaii
Dates & Rating
October 28 – November 10, 2015
WSL Men's QS 3,000
Sunset Beach, Oahu, HAWAII – (October 31, 2015) —
Maui's big wave specialist Ian Walsh dominated this week's HIC Pro, Presented by Vans, for the second time in his career, exactly ten years after his maiden victory. This win rockets Walsh to No.1 on WSL Hawaii's regional ratings – a ranking that grants him a wildcard into the first event of the Vans Triple Crown of Surfing that begins November 12.
Walsh, 32, exceled through every giant swell pulse this week, then took total command of the 30-minute Final, opening with a 9.33 – the best single wave score of the day – backed up by a 7.07 to leave his challengers in need of a combination of high scores early on. Fellow Maui surfer Billy Kemper, 24, answered back with a 7.17, while 21-year-old Kaito Kino (HAW) and 17-year-old Jack Robinson (AUS) battled back and forth for third and fourth places respectively.
Wave face heights for the final day of competition were in the range of 12- to 15-feet and excellent quality.
"I wanted to start early," said Walsh. "I feel like a lot of years I surf up until the Semi or Final and then I seem to change my strategy and I feel like I need way bigger scores than what got me to that point, and at this whole event I just tried to keep the same strategy, the same rhythm and just do the same things over and over and treat it like another heat … If the wave gives you a big canvas, light it up. If not, whatever wave you stand up on you have to make it count. Whatever wave you get surf it to its full potential."
The big wave surfer talked about the excitement of winning an event again and what the path to success looks like for a dedicated athlete.
"For this win, it's hard to explain. It feels so good. You have a goal you're working for, and to finally be there and stand on the podium and hold a check above your head, it's hard to put into words. Originally when I won this event 10 years ago, I wanted that feeling back again. You get a little taste and then every event you want to do it again. With surfing there's so many ups and downs with what the waves do, and the psychology, and how the whole heat plays out."
Walsh will compete next in Haleiwa at the Hawaiian Pro, and this HIC Pro win will give him the confidence to surf against the world's best. "It's a good start to winter, hopefully I can keep some momentum into the Triple Crown," said Walsh.
Australia's Jack Robinson was by far the teenage standout of the event, and showed uncanny confidence and positioning through this week's giant surf. His big wave experience comes from growing up surfing Western Australia – a region renowned for its thick, sizable surf. He is eager to grow his North Shore surf experience this winter.
"Always love coming here, it's going to be exciting this winter," said Robinson. "I can't wait to see what happens."
Robinson was unstoppable through every round bar the Final, where he spent the first 20 minutes of the 30-minute heat waiting to post an opening score.
"I didn't find the waves at the start. Ian and the other guys got in position. I'm stoked to make the Final, just get in the rhythm of contests again."
Billy Kemper was in-form throughout the event as well and showcased powerful turns and calculated carves during the Semifinals and Finals. A 7.17 and 6.30 kept him safe in second behind Walsh in the Final, yet his determination for first was nearly tangible. Kemper won the HIC Pro in 2010 and drew upon that experience to race his way through from the Round of 96 all the way to a second place podium finish.
Kaito Kino found a 7.50 wave score in the first Semifinal against Kemper, Hank Gaskell (HAW) and Alex Smith (HAW), which was his best score of the day. The Honolulu surfer saw one of his career bests today in the WSL Qualifying Series, and powered his way through to a third place finish.
The first stage of the Vans Triple Crown of Surfing – the Hawaiian Pro at Haleiwa Ali'i Beach Park – commences November 12, 2015.
RESULTS
All surfers from Hawaii unless noted
Surfers shown in order of 1st through 4th
1st: Ian Walsh, 16.40
2nd: Billy Kemper, 13.47
3rd: Kaito Kino, 11.74
4th: Jack Robinson (AUS), 7.33
Semi Finals
SF1: Kaito Kino; Billy Kemper; Alex Smith; Hank Gaskell
SF2: Ian Walsh; Jack Robinson (AUS); Olamana Eleogram; Kamalei Alexander
Quarterfinals
H1: Billy Kemper; Kaito Kino; Sheldon Simkus (AUS); Myles Padaca
H2: Hank Gaskell; Alex Smith; Koa Smith; Cristobal De Col (PER)
H3: Ian Walsh; Olamana Eleogram; Joel Centeio; Mitchell Parkinson (AUS)
H4: Jack Robinson (AUS); Kamalei Alexander; Benji Brand; Isaiah Moniz
Round of 32 – 1st and 2nd to Quarter Finals
H1: Sheldon Simkus (AUS); Koa Smith; Jackson Baker (AUS); Kaimana Jaquias
H2: Billy Kemper; Alex Smith; Kalani Chapman; Robbie Rickard (AUS)
H3: Cristobal De Col (PER); Myles Padaca; Noa Mizuno; Kylen Yamakawa
H4: Hank Gaskell; Kaito Kino; Chris Ward (USA); Gavin Gillette
H5: Ian Walsh; Jack Robinson (AUS); Martin Jeri (PER); Elliot Paerate-Reid (NZL)
H6: Olamana Eleogram; Kamalei Alexander; Mitchell James (AUS); Johnny Noris (USA)
H7: Benji Brand; Joel Centeio; Kalani David; Kai Barger
H8: Isaiah Moniz; Mitchell Parkinson (AUS); Brad Ettinger (USA); Travis Beckmann
Round of 64 – 1st and 2nd to next round
H1: Kaimana Jaquias; Kalani Chapman; Caiden Fowler (AUS); Ezra Sitt
H2: Koa Smith; Robbie Rickard (AUS); Kevin Sullivan; Kan Watanabe
H3: Billy Kemper; Jackson Baker (AUS); Sunny Garcia; Barron Mamiya
H4: Alex Smith; Sheldon Simkus (AUS); Shane Campbell (AUS); Imaikalani deVault
H5: Cristobal De Col (PER); Gavin Gillette; Kekoa Cazimero; Guy Sato (JPN)
H6: Myles Padaca; Kaito Kino; Kalani Ball (AUS); Coconut Willie
H7: Hank Gaskell; Noa Mizuno; Lucca Saldivar (PER); Arashi Kato (JPN)
H8:  Chris Ward (USA); Kylen Yamakawa; Shayden Pacarro; Evan Valiere
H9: Ian Walsh; Kamalei Alexander; Gregg Nakamura; Schuyler Allen
H10: Jack Robinson (AUS); Mitchell James (AUS); Landon McNamara; Kilian Garland (USA)
H11: Olamana Eleogram; Elliot Paerata-Reid (NZL); Takumi Nakamura (JPN); Mikey Bruneau
H12: Johnny Noris (USA); Martin Jeri (PER); Jake Halstead (USA); Elijah Gates
H13: Joel Centeio; Isaiah Moniz; Bruce Irons; Luke Shepardson
H14: Kai Barger; Mitchell Parkinson (AUS); Kai Mana Henry; Griffin Colapinto (USA)
H15: Brad Ettinger (USA); Benji Brand; Makai McNamara; Dylan Goodale
H16: Travis Beckmann; Kalani David; Eala Stewart; Jamie O'Brien (inj)
Round of 96 – 1st and 2nd to next round
H1: Kalani Chapman; Robbie Rickard (AUS); Takayuki Wakita; Kaisa Kawamura (JPN)
H2: Kan Watanabe (JPN); Ezra Sitt; Joao Marco Maffini; Nolan Rapoza
H3: Billy Kemper; Sheldon Simkus (AUS); Skip McCullough (USA); Nate Dorman (USA)
H4: Imaikalani deVault; Barron Mamiya; Finn McGill; Nick Vasicek (AUS)
H5: Cristobal De Col (PER); Brandon Todd (USA); Tyler Gunter (USA); Cole Houshmand (USA)
H6: Myles Padaca; Guy Sato (JPN); Ulualoha Napeahi; Alex Pendleton (USA)
H7: Noa Mizuno; Evan Valiere; O'Neill Massin (PYF); Cody Young
H8: Kylen Yamakawa; Lucca Saldivar (PER); John Mel (USA); Cody Canzoneri (USA)
H9: Kamalei Alexander; Landon McNamara; Danny Fuller; Rob Kelly (USA)
H10: Jack Robinson (AUS); Schuyler Allen; Quinn McCrystal (USA); Joh Azuchi (JPN)
H11: Olamana Eleogram; Martin Jeri (PER); Keijiro Nishi (JPN); Dylan Kowalski (USA)
Round of 112 – 1st and 2nd to next round
H1: Kalani Chapman; Ezra Sitt; Kaoliopuuwai Kahokuloa; Pancho Sullivan
H2: Skip McCullough (USA); Finn McGill; Love Hodel; Edrick Baldwin
H3: Tyler Gunter (USA); Alex Pendleton (USA); Eli Olson; Kaulana Apo
H4: Cody Young; John Mel (USA); Jeames Young (AUS); Reef McIntosh
H5: Danny Fuller; Joh Azuchi (JPN); Laka Burgess; Frank Chenault (USA)
H6: Martin Jeri (PER); Gavin Sutherland; Jonah Morgan; Taichi Wakita (JPN)
H7: Bruce Irons; Stevie Pittman (USA); Isaiah Moniz; Kahea Hart
H8: Benji Brand; Sean Moody; Sheldon Paishon; Jason Shibata