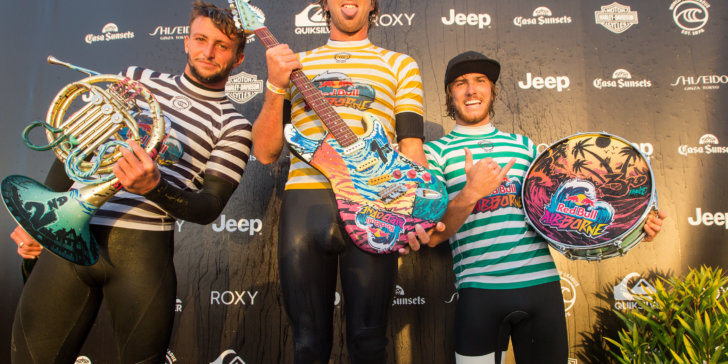 Elimination Results and more…
Front Page: The podium of the 2019 Red Bull Airborne France.
Credit: WSL/ Masurel
SEIGNOSSE / HOSSEGOR / CAPBRETON, Landes, Nouvelle-Aquitaine, France (Saturday, October 5, 2019) – Ian Crane (USA) has won the Red Bull Airborne France, an aerial specialty event featuring 18 of the most innovative surfers in the air, both on and off the Championship Tour (CT). Capacity crowds estimated at 25,000 people flocked the beach in Hossegor to watch the best aerialists in the world take on scary shorebreak ramps all afternoon.
The Final featured Ian Crane (USA), Nomme Mignot (FRA), Griffin Colapinto (USA), Maxime Huscenot (FRA), Finn McGill (HAW) and Reef Heazlewood (AUS) in a 45-minute showdown where only the highest score of each surfer counted.
California's Crane posted the Final's biggest score in the opening 5 minutes with a stratospheric straight air on his forehand, beautifully grabbed and landed absolutely perfectly to take a firm grip on the heat. Mignot, Colapinto and Huscenot all posted scores with landed maneuvers but no one really challenged Crane for the lead. McGill maybe had the closest calls with really progressive moves but he couldn't stay on his feet and unfortunately was left scoreless.
Heazlewood replicated Crane's air but on a smaller section and couldn't take flight quite high enough, but the air was enough to push him up to 3rd as the clock approached the last 5 minutes. As time ran out the situation remained unchanged and Ian Crane walked away with the win. The American becomes the first non-CT surfer to claim a Red Bull Airborne victory.
 Crane's winning air was epic.
Credit: WSL/ Poullenot"This is awesome," said Crane. "I just got chaired up the beach in France, this is just out of control. It's definitely one of the best surfing moments of my life. It's my first time down here in Hossegor, and yes, I love it. It was really hard to land airs, but that one was pretty cool. I almost made a huge one that I really wanted to land."

French QS campaigner Nomme Mignot (FRA), who picked up a wildcard slot when he won the Red Bull Airborne Qualifier in Anglet earlier this summer with a near-perfect 9.93, brought his A-game to fight with the best in the game, and landed in second place.

Earlier in the qualifying rounds, the biggest standout was perhaps Matt Meola (HAW) who threw caution to the wind and attempted massive airs to light up the beach. He unfortunately couldn't land any of his maneuvers and as the format of the Red Bull Airborne goes, kept a blank scoreboard all the way through his two heats.

The Quiksilver Pro and Roxy Pro France, stop No. 8 and 9 on the women and men's 2019 World Surf League (WSL) CT respectively, also continued earlier today with the completion of the Elimination Rounds.

The event moved back to the main structure opposite the banks of La Nord and La Graviere and surfers took on powerful, hollow waves right on the sand just meters away from the fans who screamed and cheered them on loudly.

World No. 4 Kolohe Andino (USA) was the first surfer to lock into the powerful barrels of La Graviere this morning, scoring a 6.33 on his best effort to advance in first out of the elimination round and join Soli Bailey (AUS) in Round 3. Young French surfer Marco Mignot (FRA) got his fair share of tube time as well as he took the second qualifying spot, eliminating Jadson Andre (BRA) in equal 33rd who had to come in after he suffered a heavy wipeout.
But the lineup really started to deliver for the second heat, in which local wildcard Marc Lacomare (FRA) posted a near-perfect 9.10 for a long and deep barrel on a solid left as he advanced into Round 3 alongside compatriot Michel Bourez (FRA), eliminating Sebastian Zietz (HAW) in the process.
"So much emotions today I'm super happy," said Lacomare. "Conditions were really tricky and even though local knowledge may have helped, you really had to be lucky to be in the right spot out there. Getting a wildcard to compete against the best in the world at home is an incredible gift. I did well last time so hopefully I can repeat that and I hope the waves keep getting better and better."
Soli Bailey (AUS) showcased his incredible barrel riding skills in the following heat as he slid right under the lip at take-off and navigated two long sections in the tube to post an excellent 8.17 for the win. The Australian rookie on the Championship Tour hasn't made it out of Round 3 all season but the conditions in France could offer a turning point for the former winner of the Volcom Pipe Pro.
"This morning I was free surfing out there and it was super hard to find the right waves," said Bailey. "I was jumping up and down this morning at the chance to surf La Graviere. Growing up as a kid watching this event, this is a dream, these are the sort of waves that I love surfing. It was a pleasure to surf out there, definitely tricky but I was stoked to find that one."
Conner Coffin (USA) pulled a miracle make on a late-entry backhand barrel to post his own 9.10 in the final men's Elimination Round heat. The Californian lost control of his fins at takeoff, sliding dangerously down the face of the wave but somehow managed to get a line, build speed inside the tube and exit with the spit down the line.
"I've had a few great heats this season that I ended up losing and it's nice to have that one go my way," said Coffin. "I broke my magic board just paddling out for my heat and I thought wow here comes another shocker, but luckily I got that 9. There are so many waves out there but it's tough to be in position."
The first major upset of the event happened in the opening women's Elimination Round heat when 7X World Champion Stephanie Gilmore (AUS) was eliminated by Nikki Van Dijk (AUS) and Paige Hareb (NZL). The Australian had not lost before the Quarterfinals all season and this result in the Roxy Pro France could unfortunately count her out of the World Title race for 2019.

"That was my first heat in solid La Graviere and it was a little nerve-wracking sort of new territory," said Gilmore. "It's nice to see the girls being pushed in these new areas, we have to perform in all sorts of conditions, unfortunately, I couldn't do that today. It was a tough heat, I got smashed a few times, broke my board and cut my hand. It's definitely a bad result for me and you can't win world titles with those."

Tatiana Weston-Webb (BRA) took out the second Elimination Round and advanced alongside Silvana Lima (BRA), dispatching Bronte Macaulay (AUS) in equal 17th place in an event she reached the Semifinals last season.

Competition has been called off tomorrow, Sunday, October 6, and the next call will be on Monday, October 7. Event organizers will assess the conditions and decide the day's competition schedule.
The Quiksilver and Roxy Pro France will be broadcast LIVE on WorldSurfLeague.com, the WSL's Facebook page, and the WSL app. Also, check local listings for coverage from the WSL's broadcast partners.
Quiksilver Pro France Elimination Round (Round 2) Results:
HEAT 1: Kolohe Andino (USA) 9.66 DEF. Marco Mignot (FRA) 6.06, Jadson Andre (BRA) 2.46
HEAT 2: Marc Lacomare (FRA) 11.20 DEF. Michel Bourez (FRA) 7.94, Sebastian Zietz (HAW) 6.07
HEAT 3: Soli Bailey (AUS) 11.07 DEF. Caio Ibelli (BRA) 8.43, Deivid Silva (BRA) 4.30
HEAT 4: Conner Coffin (USA) 14.27 DEF. Wade Carmichael (AUS) 8.80, Ricardo Christie (NZL) 6.33
Quiksilver Pro France Round of 32 (Round 3) Match-Ups:
HEAT 1: Jordy Smith (ZAF) vs. Frederico Morais (PRT)
HEAT 2: Jeremy Flores (FRA) vs. Caio Ibelli (BRA)
HEAT 3: Owen Wright (AUS) vs. Ezekiel Lau (HAW)
HEAT 4: Ryan Callinan (AUS) vs. Michael Rodrigues (BRA)
HEAT 5: Filipe Toledo (BRA) vs. Marc Lacomare (FRA)
HEAT 6: Wade Carmichael (AUS) vs. Willian Cardoso (BRA)
HEAT 7: Julian Wilson (AUS) vs. Jorgann Couzinet (FRA)
HEAT 8: Kanoa Igarashi (JPN) vs. Jack Freestone (AUS)
HEAT 9: Gabriel Medina (BRA) vs. Marco Mignot (FRA)
HEAT 10: Conner Coffin (USA) vs. Adrian Buchan (AUS)
HEAT 11: Seth Moniz (HAW) vs. Peterson Crisanto (BRA)
HEAT 12: Kelly Slater (USA) vs. Leonardo Fioravanti (ITA)
HEAT 13: Kolohe Andino (USA) vs. Soli Bailey (AUS)
HEAT 14: Griffin Colapinto (USA) vs. Yago Dora (BRA)
HEAT 15: Michel Bourez (FRA) vs. Joan Duru (FRA)
HEAT 16: Italo Ferreira (BRA) vs. Jesse Mendes (BRA)
Roxy Pro France Elimination Round (Round 2) Results:
HEAT 1: Nikki Van Dijk (AUS) 8.60 DEF. Paige Hareb (NZL) 8.37, Stephanie Gilmore (AUS) 6.97
HEAT 2: Tatiana Weston-Webb (BRA) 10.94 DEF. Silvana Lima (BRA) 7.63, Bronte Macaulay (AUS) 7.53
Roxy Pro France Round of 16 (Round 3) Match-Ups:
HEAT 1: Lakey Peterson (USA) vs. Silvana Lima (BRA)
HEAT 2: Malia Manuel (HAW) vs. Macy Callaghan (AUS)
HEAT 3: Carissa Moore (HAW) vs. Coco Ho (HAW)
HEAT 4: Tatiana Weston-Webb (BRA) vs. Keely Andrew (AUS)
HEAT 5: Sally Fitzgibbons (AUS) vs. Paige Hareb (NZL)
HEAT 6: Johanne Defay (FRA) vs. Brisa Hennessy (CRI)
HEAT 7: Caroline Marks (USA) vs. Nikki Van Dijk (AUS)
HEAT 8: Courtney Conlogue (USA) vs. Vahine Fierro (FRA)
Red Bull Airborne France Final Results:
1 – Ian Crane (USA) 5.83
2 – Nomme Mignot (FRA) 4.50
3 – Reef Heazlewood (AUS) 3.93
4 – Griffin Colapinto (USA) 3.77
5 – Maxime Huscenot (FRA) 3.73
6 – Finn McGill (HAW)
Red Bull Airborne France Qualifying Round 1 Results:
HEAT 1: Albee Layer (HAW) 9.00 DEF. Eithan Osborne (USA) 5.20, Kalani David (HAW) 3.00, Julian Wilson (AUS) , Reef Heazlewood (AUS) , Matt Meola (HAW)
HEAT 2: Ian Crane (USA) 10.66 DEF. Nomme Mignot (FRA) 5.07, Noa Deane (AUS) , Kevin Schulz (USA) , Griffin Colapinto (USA) , Jacob Szekely (USA)
HEAT 3: Finn McGill (HAW) 16.53 DEF. Cam Richards (USA) 8.80, Eric Geiselman (USA) 6.34, Jack Freestone (AUS) 5.20, Chippa Wilson (AUS) , Maxime Huscenot (FRA)
Red Bull Airborne France Qualifying Round 2 Results:
HEAT 1: Ian Crane (USA) 6.34 DEF. Eric Geiselman (USA) 6.24, Albee Layer (HAW) 4.34, Leon Glatzer (DEU) 2.80, Noa Deane (AUS), Matt Meola (HAW)
HEAT 2: Reef Heazlewood (AUS) 12.46 DEF. Maxime Huscenot (FRA) 11.34, Julian Wilson (AUS) 11.07, Kevin Schulz (USA), Finn McGill (HAW), Jacob Szekely (USA)
HEAT 3: Griffin Colapinto (USA) 12.86 DEF. Nomme Mignot (FRA) 9.54, Cam Richards (USA) 4.20, Chippa Wilson (AUS), Eithan Osborne (USA), Leif Engstrom (USA)