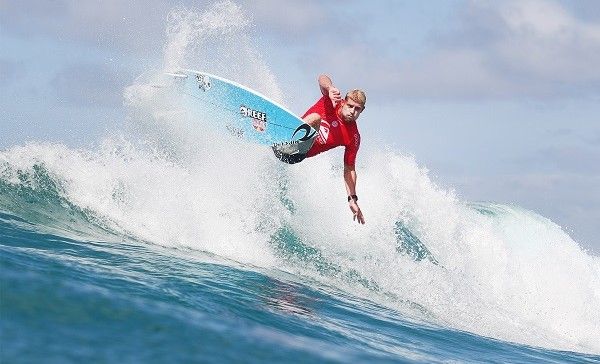 MICK FANNING RETURNS TO WSL CHAMPIONSHIP TOUR
– 3X WSL CHAMPION TO COMPETE ON FULL 2017 SCHEDULE FOLLOWING YEAR-LONG SABBATICAL
– QUIKSILVER AND ROXY PRO GOLD COAST KICKS OFF MARCH 14 IN AUSTRALIA
Mick Fanning (AUS), 3x World Surf League (WSL) Champion, today announced his return to full-time competition on the elite WSL Championship Tour.
Credit: © WSL / Cestari
What a year this is going to be…think you know who it's going to be?  Fantasy or fiction? GO HERE 
Men's Events/Sched HERE
Women's Events/Sched HERE
COOLANGATTA, Queensland/AUS (Tuesday, March 7, 2017) – Mick Fanning (AUS), 3x World Surf League (WSL) Champion, today announced his return to full-time competition on the elite WSL Championship Tour.
"I've decided to come back to competition full time and do the Tour this season," Fanning said. "It was nice to have 2016 off somewhat and decompress, but I'm excited to put the singlet on again."
The iconic Australian stepped back from full-time competition last year following a 2015 season that witnessed the world-famous shark attack at the J-Bay Open, the loss of his older brother Peter and an emotional Runner-Up finish to the title race.
"2015 was a tough year," Fanning said. "A lot happened to me on camera and in my personal life. I just felt exhausted by the end of it. Fortunately, I was in a position to step away from the Tour and have some time to myself. I ended up doing a few events and qualifying which was great because I didn't want to take the wildcard off of Bede (Durbidge) or Owen (Wright). I'm coming into 2017 seeded 18th which will be a change for me."
The decision to return to the tour in 2017 wasn't one that Fanning took lightly, but the caliber of of surfers taking part on the Championship Tour this season proved motivation enough.
"Even with the 2017 season looming, I wasn't sure I was motivated enough to take part," Fanning said. "However, like everyone else I'm getting super excited about this year's line-up of surfers – it might be the best field from the top seed to number 34 we've ever had. I also think it's the biggest group of legit title contenders we've ever seen on the tour ever and I want to be part of the race."
With 22 elite CT wins to his name and three WSL Titles, Fanning is one of the most accomplished surfers to ever grace the sport, but the lightning-fast natural-footer believes he has more to accomplish.
"The most important thing to me is to me is making sure my surfing keeps evolving and the tour, now more than ever, is the best place to do that." Fanning said. "In recent years I managed to find good balance between competitive focus and having fun. Getting switched on for events this year will be the key for me. I don't think it will be a problem. It's not in my nature to be half-hearted so now that I'm committed I'll be doing everything I can to get a win."
Kelly Slater (USA), 11x WSL Champion, has already confirmed his own commitment to chasing an unprecedented 12th Title in 2017 and considers Fanning a major threat.
"If Mick (Fanning) is in 100% I'd put him right at the top of the heap," Slater said. "You'd be silly to not think Mick is Top 3 in the world right now. All things considered. Having won at so many different breaks and being so dominant at places like Bells and Jeffreys Bay, there's no way he's not a contender."
Fanning rejoins the Championship Tour during an historic season that sees an unprecedented number of men's and women's WSL Champions in the competitive field: Kelly Slater (USA), Mick Fanning (AUS), Joel Parkinson (AUS), Gabriel Medina (BRA), Adriano de Souza (BRA) and John John Florence (HAW) on the men's side and Stephanie Gilmore (AUS), Carissa Moore (HAW) and Tyler Wright (AUS) on the women's side.
The world's best surfers will kick off the 2017 WSL Championship Tour season in Australia for the Quiksilver and Roxy Pro Gold Coast from March 14 – 25, 2017.