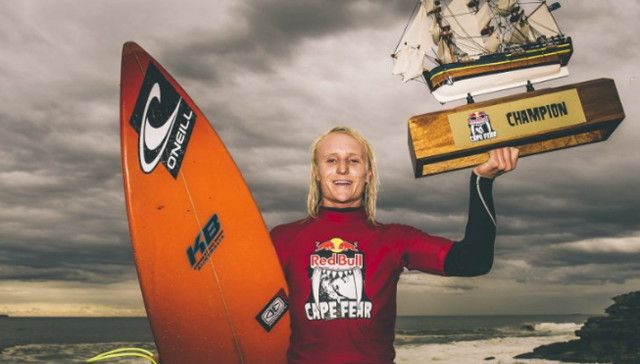 Australia is known for some of thee heaviest slabs and this event proves that the dudes down under can handle anything.
Ranging Teen Russell Bierke wins Red Bull Cape Fear in ludicrous 'Ours' location
Russell Bierke © Red Bull/Ed Sloane
Red Bull Cape Fear
South side of Sydney, Australia     
15 April – 31 August, 2016
Koby Abberton, Ryan Hipwood and James Adams also charge in final
Surf News Network, 6 June, 2016 – After two straight days of unbelievably intense action, Red Bull Cape Fear has come to a close for 2016. There's one man left standing, and his name is Russell Bierke. At only 18-years-old Bierke took down some of the world's best slab riding specialists and guys who have made names for themselves by taking on this wild break.
"Thanks to Mark Mathews and Red Bull for inviting me to this event!" Bierke said. "It didn't really feel like a surf contest, I was just surfing perfect waves with a bunch of guys I really look up to. The waves yesterday were really scary, today was perfect. I can't really believe that I won."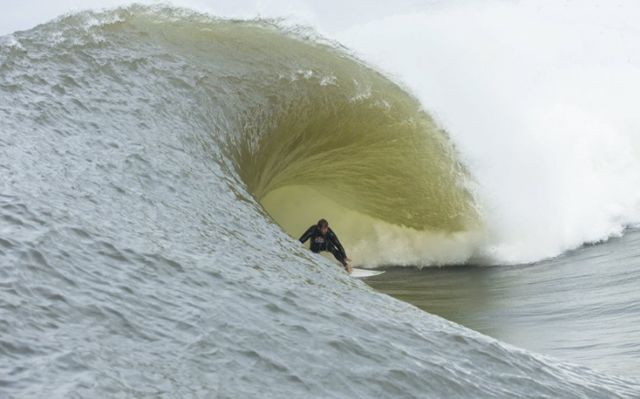 Ryan Hipwood © Red Bull/Ed Sloane
Over the last few years Bierke has been quietly building a reputation for his hard charging ways and his ability to tackle Australia's biggest waves. Today, the young South Coast surfer paddled and whipped into the biggest and deepest tubes of the day to overcome renowned big wave barrel hunters Koby Abberton, Ryan Hipwood and James Adams in a stacked final. Bierke finished the day with a near-perfect two wave heat score of 19.97 – making surfing one of the world's most difficult and dangerous waves look like a walk in the park.
Hipwood and Abberton put up a fight, snaring some deep and dredging tubes of their own, but finished the event in second and third place respectively with James Adams, who scored a 10-point-ride yesterday, rounding out the 4-man final.
"It's been an emotional roller-coaster of an event," Hipwood said. "I'm really glad that everyone is safe and that there was no major injuries. I was driving the jetski yesterday and it's some of the scariest surf I've ever seen. Then today I got to surf in a Final against Koby who basically taught me everything about big wave surfing and Russel who's the next generation. It was an epic event!"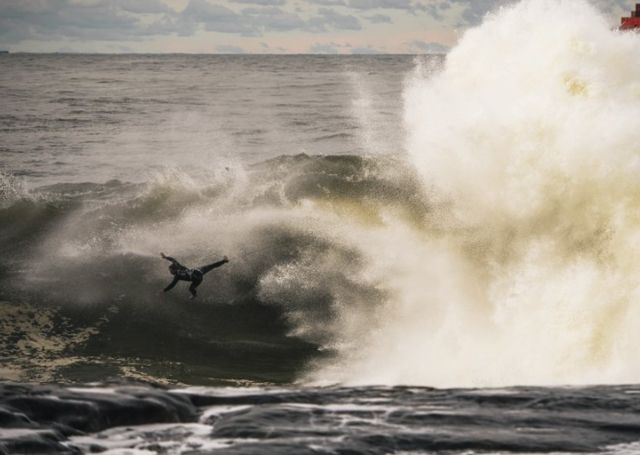 Ryan Hipwood © Red Bull/Brett Hemmings

Above vid hi lites 2014 and a great overall account of this place.
ABOUT RED BULL CAPE FEAR
COMPETITION FORMAT
16 surfers
8 head-to-head battles
4 surfers in the water at all times (2 contesting a 30-minute paddle-in element and 2 in a 30-minute tow-in element)
Each battle crowns a winner, and the 4 highest placed winners will progress through to the final
The highest placed surfer at the end of the final will be crowned the Red Bull Cape Fear Champion

Russell Bierke © Red Bull/Brett Hemmings