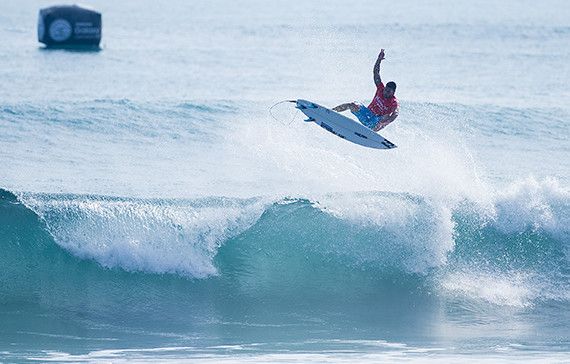 #4 RATED JULIAN WILSON OUT IN HEAT ONE. sURF'S 3-4′ (OVERHEAD NOT NEAR AS GOOD SHAPE/TEXTURE BUT VERY CONTESTABLE.
Joel Parkinson (AUS) sails through to Round 3 thanks to the highest two-wave heat total of the day.
Image: WSL/Kirstin
– GLENN HALL CAUSES UPSET OF THE DAY, ELIMINATES FAVORITE JOHN JOHN FLORENCE
– 2012 WSL CHAMPION JOEL PARKINSON POSTS EVENT'S HIGHEST SCORES
– WILDCARD BETHANY HAMILTON DEFEATED BY BIANCA BUITENDAG
– SAGE ERICKSON SECURES FIRST 2015 HEAT WIN WITH TODAY'S SWATCH PRO TOP SCORE
 Sage Erickson (USA) netted the highest heat total of the Swatch Women's Pro today to advance to Round 3 for the first time this season.
Image: WSL/Kirstin
| | |
| --- | --- |
| Location:    | Lower Trestles, San Clemente, CA/USA |
| Event window: | September 9 – 20, 2015 |
| Today's call: | Women's Round 2 and Men's Round 2 Heats 1 – 10 complete |
| Conditions: | Clean 4′ – 6′ |
SAN CLEMENTE, CA/USA (Thursday, September 10, 2015) – Action at the Hurley Pro and Swatch Women's Pro, stops No. 8 and 7 respectively on the Samsung Galaxy World Surf League (WSL) Championship Tour (CT), continued today. Competition ran through the final heat of Women's Round 1, followed by Women's 2 and the opening 10 heats of Men's Round 2 in excellent surf at Lower Trestles.
Round 2 of the Swatch Women's Pro opened with South African standout Bianca Buitendag (ZAF) battling international icon and shark attack survivor Bethany Hamilton (HAW). This event marks Hamilton's first appearance in competition since giving birth to son Tobias Dirks in June of this year. Buitendag got to work quickly and posted an excellent 8.50 on her opening wave. The goofyfooter backed it up with a 7.60 to seal her victory over Hamilton who, despite a 7.53, was eliminated from the event in equal 13th place.
"I met Bethany for the first time when I was 14," said Buitendag. "Her determination and mental toughness are inspirational — I definitely look up to her."
"This morning was awesome," said Hamilton. "I was so stoked to compete against Bianca, surf perfect Lowers and just do my thing. It was a great heat and event and big thanks to the WSL for giving me the wildcard. I started training for this event shortly after giving birth and it feels good to have performed well."
Caroline Marks (USA), the 13-year-old injury wildcard faced 2014 world title runner-up Tyler Wright (AUS) in elimination Round 2. Wright holds the record for being the youngest surfer, male or female, to win a CT event at just 14 years old. Now 21, Wright carried the day by defeating Marks 12.67 points to 7.57. Wright moves through to Round 3 while Marks leaves her first CT competition in equal 13th place.
"I remember when I was Caroline's age and what it felt like to go head-to-head against competitors you looked up to," said Wright. "I'm stoked for her and she's got a lot to be proud of."
"This was an incredible opportunity," Marks said. "I got the call that I was the wildcard the day before the event kicked off. It felt awesome  to get some great waves at Lowers and surf with the best in the world. My dream is to make the Tour so hopefully I'm on my way."
Sage Erickson (USA) posted the highest heat total of the Swatch Women's Pro today — 17.36 out of a possible 20 — to dispatch Malia Manuel (HAW) and earn her first heat win of the season. Erickson is currently in equal first place on the Qualifying Series (QS) rankings, solidifying her place amongst the Top 17 for the 2016 season.
"Confidence is such an important part of this sport and it's been a tough year for me," Erickson said. "Being in first place on the Qualifying Series really helps and performing in front of my home crowd with my family just made it extra special. I'm really excited about making it to the next round."
Following the conclusion of Women's Round 2, the men hit the water and battled to earn a place in Round 3.
Wildcard Ian Crane (USA) and world No. 4 Filipe Toledo (BRA) put on a thrilling display in the opening heat of the men's competition. The pair opened with 7-point rides and followed up with two excellent scores – a 9.10 for Crane and an 8.00 for Toledo. After sitting in second place for much of the heat, the Brazilian delivered a huge aerial maneuver in the final minutes to turn the heat and secure the win. Crane was eliminated in equal 25th place.
"I was kind of nervous at the beginning of the heat and fell on a few waves," said Toledo. "Ian opened up really strong so there was definitely some pressure. Winning on the last wave is definitely the Brazilian style and that's how I like it. I keep believing until I hear the horn and never give up."
Reigning WSL Champion Gabriel Medina (BRA) matched-up against wildcard Tomas Hermes (BRA) in Heat 3. Medina dominated the bout ending with a 17.50 heat total to leave Hermes in a combination situation and storm through to Round 3.
"Trestles is such a fun wave I have to work to control myself," Medina said. "The support I get here is great — plus having my family on site  — so I'm feeling fantastic."
An impressive backhand display from Nat Young (USA) netted him a 16.60 heat total and a place in Round 3. Young looked confident and in control and was rewarded with an excellent 9.43. Wildcard and former CT surfer Aritz Aranburu (ESP) couldn't catch Young and is eliminated from the competition.
"This year I just want to take it event by event rather than focus on where I finish," Young said. "I'm coming off a bad result in Tahiti so I just want to surf my best here and see where that takes me."
Another form goofy-footer, Wiggolly Dantas (BRA), used power surfing and impeccable timing to defeat Brett Simpson (USA). The Brazilian rookie posted an excellent score of 9.23 on his opening ride and backed it up with a 7.50 to secure his place in the next round and eliminate Simpson.
"I've been struggling on the QS for seven years," Dantas said. "Every year I get more support and build more confidence. This year being on the CT has been really amazing and I've learned so much in the process."
Glenn Hall (IRL) caused the upset of the day in Heat 7 by eliminating event favorite John John Florence (HAW). A 7.47 from Hall in the final minutes left Florence needing a 7.15 as the clock ran down. Last year's Hurley Pro runner-up Florence wasn't able to deliver and is eliminated in equal 25th place, his worst result of the year.
"It was a really slow heat, which played in my favor," said Hall. "I'm really pleased to get through and look forward to unleashing in the upcoming Rounds."
Despite carrying a neck injury from a freesurf during Tahiti, 2012 World Champion Joel Parkinson (AUS) wowed the crowd with the highest single-wave score of the day, a 9.57, putting the pressure on opponent C.J. Hobgood (USA). The Australian quickly backed this up with another excellent 9.17 for a series of rail turns punctuated with an air reverse for an unbeatable 18.74 heat total. Parkinson moves on to Round 3 while Hobgood leaves in equal 25th place.
"My neck's been sore but it's getting better every day and going right it seems to be fine," said Parkinson. "I haven't been having a great year and I'm glad I could finally drop some good scores and get the results. C.J. is an inspiration to me and he's a true champion."
The Hurley Pro and Swatch Women's Pro Trestles event started on September 9 and could run through September 20, 2015.  Fans can follow all the action LIVE via webcast on WorldSurfLeague.com and on the WSL mobile app.
Fans around the world can also follow the broadcast LIVE on Fox Sports in Australia, MCS Extreme in France, EDGE Sports in China, South Korea, Malaysia and other territories and on Globo TV in Brazil.
Swatch Women's Pro Round 1 Results:
Heat 1: Lakey Peterson (USA) 17.20, Malia Manuel (HAW) 16.83, Alessa Quizon (HAW) 15.33
Heat 2: Tatiana Weston-Webb (HAW) 15.00, Dimity Stoyle (AUS) 13.90, Bianca Buitendag (ZAF) 13.60
Heat 3: Courtney Conlogue (USA) 17.34, Nikki Van Dijk (AUS) 11.67, Bethany Hamilton (HAW) 7.17
Heat 4: Carissa Moore (HAW) 18.36, Silvana Lima (BRA) 12.96, Caroline Marks (USA) 11.77
Heat 5: Sally Fitzgibbons (AUS) 14.67, Coco Ho (HAW) 14.60,  Sage Erickson (USA) 14.36
Heat 6: Johanne Defay (FRA) 14.34, Tyler Wright (AUS) 13.67, Laura Enever (AUS) 11.50
Swatch Women's Pro Round 2 Results:
Heat 1: Alessa Quizon (HAW) 14.73 def. Silvana Lima (BRA) 13.87
Heat 2: Dimity Stoyle (AUS) 16.10 def. Coco Ho (HAW) 15.34
Heat 3: Bianca Buitendag (ZAF) 16.10 def. Bethany Hamilton (HAW) 13.13
Heat 4: Tyler Wright (AUS) 12.67 def. Caroline Marks (USA) 7.57
Heat 5: Sage Erickson (USA) 17.36 def. Malia Manuel (HAW) 15.10
Heat 6: Nikki Van Dijk (AUS) 16.16 def. Laura Enever (AUS) 6.93
Swatch Women's Pro Round 3 Match-Ups:
Heat 1: Bianca Buitendag (ZAF), Lakey Peterson (USA), Sage Erickson (USA)
Heat 2: Courtney Conlogue (USA), Tatiana Weston-Webb (HAW), Nikki Van Dijk (AUS)
Heat 3: Carissa Moore (HAW), Tyler Wright (AUS), Alessa Quizon (HAW)
Heat 4: Sally Fitzgibbons (AUS), Johanne Defay (FRA), Dimity Stoyle (AUS)
Hurley Pro Round 2 Results:
Heat 1: Filipe Toledo (BRA) 16.50 def. Ian Crane (USA) 16.43
Heat 2: Josh Kerr (AUS) 13.50 def. Hiroto Ohhara (JPN) 12.77
Heat 3: Gabriel Medina (BRA) 17.50 def. Tomas Hermes (BRA) 9.60
Heat 4: Nat Young (USA) 16.60 def. Artiz Aranburu (ESP) 13.66
Heat 5: Wiggolly Dantas (BRA) 16.73 def. Brett Simpson (USA) 12.60
Heat 6: Bede Durbidge (AUS) 13.27 def. Dusty Payne (HAW) 10.00
Heat 7: Glenn Hall (IRL) 13.64 def. John John Florence (HAW) 9.90
Heat 8: Matt Wilkinson (AUS) 15.60 def. Ricardo Christie (NZL) 14.83
Heat 9: Joel Parkinson (AUS) 18.74 def. C.J. Hobgood (USA) 13.73
Heat 10: Miguel Pupo (BRA) 17.20 def. Jadson Andre (BRA) 14.43
Upcoming Hurley Pro Round 2 Match-Ups:
Heat 11: Sebastian Zietz (HAW) vs. Michel Bourez (PYF)
Heat 12: Keanu Asing (HAW) vs. Adam Melling (AUS)