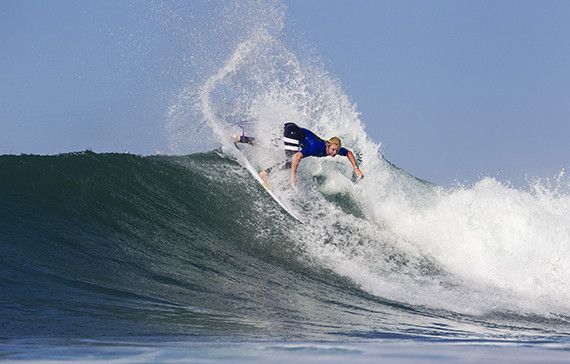 for day one of the holding period. A good sign. Surf's mostly rights at 3-5′ and glassy from the Southwest with light texture.
Photo: Nat Young (USA) will face Kai Otton (AUS) and C.J. Hobgood (USA) in Heat 11 of Round 1.
Image: WSL/Sean Rowland
| | |
| --- | --- |
| Location:    | Lower Trestles, San Clemente, CA/USA |
| Event window: | September 9 – 20, 2015 |
| Today's call: | Men's Round 1 followed by Women's Round 1 |
| Conditions: | Clean 4′ – 6′ |
SNN: SAN CLEMENTE, CA/USA (Wednesday, September 9, 2015) – The Hurley Pro and Swatch Women's Pro, stops No. 8 and 7 respectively on the Samsung Galaxy World Surf League (WSL) Championship Tour (CT), have been called ON today in clean four-to-six foot surf at Lower Trestles. Competition will commence with Men's Round 1 followed by Women's Round 1.
"We've got a great forecast," said WSL Commissioner, Kieren Perrow. "It's a beautiful morning down here with waves in the 4 – 6 foot range and sets overhead. We've got really good conditions so we will be running heats today. We'll start with Men's Round 1 and go into Women's Round 1, and get as far as we can through that. We're looking forward to an exciting day."
First to compete will be Kelly Slater (USA), Jadson Andre (BRA) and Dusty Payne (HAW) in the opening heat of Round 1.
Good size Southern Hemisphere SW swell prevails Wednesday, very slowly trending down through the back half of the week. However, we will see new SE swell from Hurricane Linda start to arrive late Wednesday and peak Thursday and into Friday and rather solid, consistent waves continue. The swell mix will trend down slowly through the weekend, with a further decrease in surf early next week. A fun size, rippable SW swell is on track for the 17th-18th. Surfline.
The Hurley Pro and Swatch Women's Pro Trestles hold a competitive window of September 9 – 20, 2015 and will be webcast LIVE on WorldSurfLeague.com and on the WSL mobile app.
The world's best surfing is also broadcast LIVE on Fox Sports in Australia, MCS Extreme in France, EDGE Sports in China, South Korea, Malaysia and other territories and on Globo TV in Brazil.
Hurley Pro Round 1 Match-Ups:
Heat 1: Kelly Slater (USA), Jadson Andre (BRA), Dusty Payne (HAW)
Heat 2: Filipe Toledo (BRA), Adrian Buchan (AUS), Brett Simpson (USA)
Heat 3: Julian Wilson (AUS), Sebastian Zietz (HAW), Aritz Aranburu (ESP)
Heat 4: Owen Wright (AUS), Keanu Asing (HAW), Tomas Hermes (BRA)
Heat 5: Mick Fanning (AUS), Adam Melling (AUS), Hiroto Ohhara (JPN)
Heat 6: Adriano de Souza (BRA), Michel Bourez (PYF), Ian Crane (USA)
Heat 7: Jeremy Flores (FRA), Joel Parkinson (AUS), Glenn Hall (IRL)
Heat 8: Josh Kerr (AUS), Matt Wilkinson (AUS), Kolohe Andino (USA)
Heat 9: Italo Ferreira (BRA), John John Florence (HAW), Ricardo Christie (NZL)
Heat 10: Gabriel Medina (BRA), Bede Durbidge (AUS), Fredrick Patacchia Jr. (HAW)
Heat 11: Nat Young (USA), Kai Otton (AUS), C.J. Hobgood (USA)
Heat 12: Taj Burrow (AUS), Wiggolly Dantas (BRA), Miguel Pupo (BRA)
Swatch Women's Pro Round 1 Match-Ups:
Heat 1: Lakey Peterson (USA), Malia Manuel (HAW), Alessa Quizon (HAW)
Heat 2: Bianca Buitendag (ZAF), Tatiana Weston-Webb (HAW), Dimity Stoyle (AUS)
Heat 3: Courtney Conlogue (USA), Nikki Van Dijk (AUS), Bethany Hamilton (HAW)
Heat 4: Carissa Moore (HAW), Silvana Lima (BRA), Caroline Marks (USA)
Heat 5: Sally Fitzgibbons (AUS), Coco Ho (HAW),  Sage Erickson (USA)
Heat 6: Johanne Defay (FRA), Tyler Wright (AUS), Laura Enever (AUS)