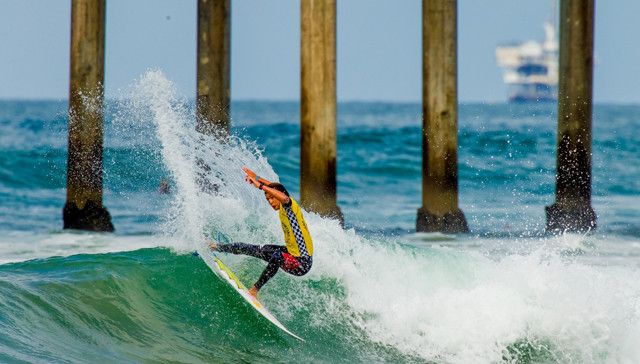 Kanoa Igarashi © WSL/Lallande
Vans US Open of Surfing is ON for Tuesday!
WSL QS10000 Men's Event
WSL JQS Men's Event
WSL JQS Women's Event
The Pier, Huntington Beach California
25 July – 2 August 2015
Women's Pro Junior semifinalists determined
Surf News Network, 27 July, 2015.  Huntington Beach: The World Surf League (WSL) Qualifying Series (QS) 10,000 event got started with a bang today in fun conditions at the Vans US Open Of Surfing. Competition ran through Heats 1 – 12 of Round 1 in three-to-four foot (1 metre) surf at Huntington Beach.
The event marks the fourth of nine QS 10,000 events on this season's calendar and offers crucial points towards qualification for the 2016 dream tour. QS standouts delivered big upsets today, eliminating six Championship Tour (CT) surfers who were unable to match the high-performance surfing of their opponents.
Patrick Gudauskas (USA) started his day off in the best way possible, taking out CT rookie sensation Italo Ferreira (BRA) with the day's highest heat total of 16.36 (out of a possible 20). The Californian was excited to get this event underway in the conditions on hand and took full advantage of each wave, posting an 8.33 and 8.03 (each out of a possible 10).
"I've been coming up to Huntington the past two weeks and just frothing out," Gudauskas said. "The sandbars are super fun right now so it's been a real pleasure.I was psyched to see the charts this morning and see some south on it. It's really good on these rights when the wind blows up the face."
Taking out two members of the 'Brazilian storm' along with second place finisher Santiago Muniz (ARG), Gudauskas has been spending time further south preparing with a lot of them and that work paid off with a Heat 1 win.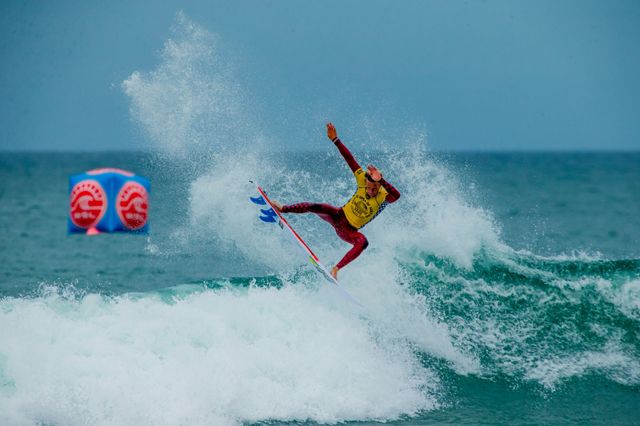 Patrick Gudauskas © WSL/Lallande
"Those guys are all-time," Gudauskas said. "We've been surfing with them a bunch in San Clemente — I think pretty much the whole storm lives down there now. It was definitely inspiring to see what those guys have been doing and I tried to do a couple 'tricks-for-kids' out there so I was stoked on it."
A shock upset in Heat 12 saw former CT surfer Mitch Crews (AUS) take out current no. 1 on the Jeep Leaderboard Adriano de Souza (BRA) in the tougher afternoon conditions. Crews found a Huntington Beach Pier gem and launched for a full rotation, earning the day's highest single-wave score, an excellent 9.33, despite some Round 1 jitters.
"I felt shaky the whole heat," Crews said. "I was probably more nervous after I got the 9 than before because I only needed a backup, but I got freaked out and the waves got a bit worse. Adriano's number one in the world — the guy doesn't ever make a mistake but I think the waves just let everyone down in the end. It's a shame because the waves were great this morning but I'm not too worried about it — looks like we'll get waves all week so it should be fun."
Putting on a show for the spectators on the beach and pier alike, Davey Cathels(AUS) ripped apart his waves and had the field comboed until Ramzi Boukhaim(MAR) earned a buzzer beater to advance behind the Australian. Cathels made a last minute equipment change that proved to make all the difference in his Heat 11 victory.
"It's probably the most relaxing heat I've had for a while," Cathels said. "Just got two waves at the pier bowl and two good scores right away so I was just smiling and cruising around. I'm stoked to be moving on. My shaper from home Brett Warner made me a couple good boards and they felt really nice, but I got on this one last night and it just felt ten percent better. The shapers here know the waves really well so it was great and I just want to keep moving."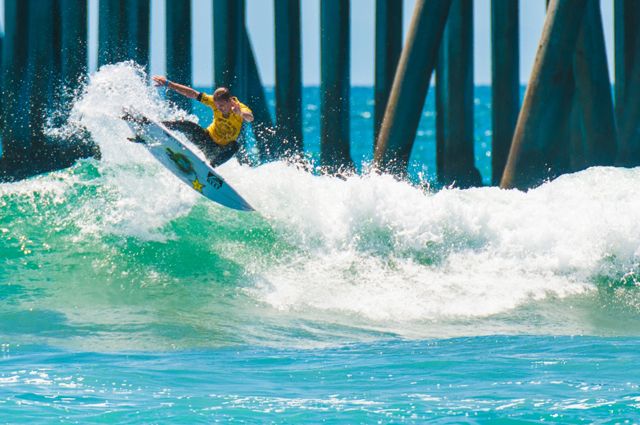 Mitch Crews © WSL/Lallande
In a stacked heat, Huntington Beach, CA local Kanoa Igarashi (USA) took down current CT rookie Keanu Asing (HAW) and former CT ripper Nathan Hedge (AUS). The 18-year-old was composed and looked strong surfing at home despite the powerhouses alongside him.
"This year I've been surfing against a lot of CT surfers and it's something I'll have to get use to," Igarashi said. "You can't make it on tour if you don't beat those guys and you don't deserve to be there unless you're making heats against them. The fact that it's here at my home break gave me so much more confidence."
Trailing behind Hedge in the final minutes, Igarashi took off on a wave under priority and blasted a score worthy of surpassing the Australian veteran.
"I knew if a good wave came he was going to go so I used my local knowledge and went down the beach to look for a left," Igarashi said. "It came and he could've come across me where I would've gotten a two on it instead, but I saw something in the wave he didn't. I guess that's where knowing this break really helps."
To end the day, the Junior Women took to the water and completed Round 1 and the Quarterfinals with an impressive showcase of surfing. A huge upset in Quarterfinal 4 saw defending event winner Bailey Nagy (HAW) eliminated from the competition while the top two surfers from each Quarterfinal – Meah Collins(USA), Caroline Marks (USA), Zoe McDougall (HAW), Tiare Thompson (USA),Chelsea Tuach (BRB), Brisa Hennessy (HAW), Frankie Harrer (USA), and Holly Wawn (AUS) – advanced through and will surf again in the Semifinals on Saturday, August 1.
Competition will continue tomorrow from 7:30 a.m. with the remainder of Round 1 of the Men's QS 10,000 followed by Round 1 of the Women's Samsung Galaxy WSL Championship Tour event.
The Vans US Open of Surfing runs from July 25 through August 2, 2015 and is webcast LIVE via WorldSurfLeague.com and VansUSOpenofSurfing.com.
Each year, the Vans US Open of Surfing features the best in the world tearing up the storied break at Huntington Beach. Along with competitions for skate and BMX and dozens of on-site sponsors, the nine-day festival features four separate surf contests, including Junior Tour contests for men and women, a high-stakes men's Qualifying Series battle, and a women's Championship Tour contest for the Top 17. With so much to see, get a glimpse of some of the standouts from 2014, and ones to watch for the year ahead.
Men's QS 10,000 Round 1 Results:
Heat 1: Patrick Gudauskas (USA), 16.36, Santiago Muniz (ARG) 11.83, Italo Ferreira (BRA) 9.27, Yago Dora (BRA) 5.60
Heat 2: Joan Duru (FRA) 11.60, Michael Dunphy (USA) 10.33, Deivid Silva (BRA) 8.07, Chris Ward (USA) 7.57
Heat 3: Michael Rodriguez (BRA) 12.34, Tiago Pires (PRT) 11.46, Glen Hall (IRL) 10.04, Jose Ferreira (PRT) 6.84
Heat 4: Nathan Yeomans (USA) 12.50, Adam Melling (AUS) 12.23, Wade Carmichael (AUS) 10.36, Cahill Bell-Warren (AUS) 7.23
Heat 5: Kanoa Igarashi (USA) 14.44, Nathan Hedge (AUS) 13.10, Keanu Asing (HAW) 11.60, Tomas Fernandes (PRT) 8.00
Heat 6: Marco Fernandez (BRA) 15.04, Ian Gouveia (BRA) 11.33, Dusty Payne (HAW) 9.40, Mitch Coleborn (AUS) 8.86
Heat 7: Carlos Munoz (CRI) 14.33, Alejo Muniz (BRA) 12.56, Lucas Silveira (BRA) 11.33, Mateia Hiquily (PYF) 6.70
Heat 8: Tim Reyes (USA) 13.23, Parker Coffin (USA) 12.64, Wiggolly Dantas (BRA) 12.13, Garrett Parkes (AUS) 10.50
Heat 9: Fredrick Patacchia (HAW) 14.03, Steven Pierson (PYF) 13.97, Vasco Ribeiro (PRT) 13.43, Jonathan Gonzalez (CNY) 11.53
Heat 10: Ryan Callinan (AUS) 15.80, Hiroto Ohhara (JPN) 14.87, Jean Da Silva (BRA) 13.00, Gony Zubizarreta (ESP) 12.60
Heat 11: Davey Cathels (AUS) 16.07, Ramzi Boukhiam (MAR) 12.10, Stu Kennedy (AUS) 11.70, Perth Standick (AUS) 11.20
Heat 12: Mitch Crews (AUS) 15.50, Heitor Alves (BRA) 13.50, Miguel Tudela (PER) 11.17, Adriano De Souza (BRA) 10.17
Upcoming Men's QS 10,000 Round 1 Match-Ups:
Heat 13: Filipe Toledo (BRA), Tanner Gudauskas (USA), Cooper Chapman (AUS), Kalani David (HAW)
Heat 14: Caio Ibelli (BRA), Alex Ribeiro (BRA), Soli Bailey (AUS), Nic Von Rupp (PRT)
Heat 15: Ricardo Christie (NZL), Connor O'Leary, Granger Larsen (HAW), Marlon Lipke (PRT)
Heat 16: Miguel Pupo (BRA), Noe Mar McGonagle (CRI), Beyrick De Vries (ZAF), Bino Lopes (BRA)
Heat 17: Adrian Buchan (AUS), Yadin Nicol (AUS), Frederico Morais (PRT), Takumi Yasui (JPN)
Heat 18: CJ Hobgood (USA), Maxime Huscenot (FRA), Mason Ho (HAW), Krystian Kymerson (BRA)
Heat 19: Brett Simpson (USA), Charles Martin (GLP), Aritz Aranburu (ESP), Thomas Wood (AUS)
Heat 20: Jadson Andre (BRA), Willian Cardoso (BRA), Dion Atkinson (AUS), Sunny Garcia (HAW)
Heat 21: Sebastian Zietz (HAW), Tomas Hermes (BRA), Marc Lacomare (FRA), Joshua Moniz (HAW)
Heat 22: Kolohe Andino (USA), Billy Stairmand (NZL), Conner Coffin (USA), Hizunome Bettero (BRA)
Heat 23: Jack Freestone (AUS), Jesse Mendes (BRA), Tanner Hendrickson (HAW), Luke Davis (USA)
Heat 24: Nat Young (USA), Brent Dorrington (AUS), Tom Whitaker (AUS), Dane Reynolds (USA)
Junior Women's Quarterfinal Results: 
Heat 1: Meah Collins (USA) 16.60, Caroline Marks (USA) 15.50, Mahina Maeda (HAW) 13.17, Aloha Lopez (USA) 7.43
Heat 2: Zoe McDougall (HAW) 10.10, Tiare Thompson (USA) 9.90, Tia Blanco (USA) 9.36, Dax McGill (HAW) 9.00
Heat 3: Chelsea Tuach (BRB) 17.07, Brisa Hennessy (HAW) 16.33, Leilani McGonagle (CRI) 7.66, Malia Ward (USA) 6.93
Heat 4: Frankie Harrer (USA) 12.80, Holly Wawn (AUS) 12.04, Mainei Kinimaka (HAW) 10.60, Bailey Nagy (HAW) 9.60
Junior Women's Round 1 Results:
Heat 1: Caroline Marks (USA) 15.24, Zoe McDougall (HAW) 9.84, Jazmine Dean (USA) 6.50, Moana Jones (HAW) 6.27
Heat 2: Tiare Thompson (USA) 13.17, Aloha Lopez (HAW) 7.33, Malia Osterkamp (USA) 6.77, Steffi Kerson USA) 6.33
Heat 3: Brisa Hennessy (HAW) 17.67, Holly Wawn (AUS) 11.50, Maddie Peterson (USA) 9.04, Lea Taylor (USA) 6.90
Heat 4: Mainei Kinimaka (HAW) 15.33, Malia Ward (USA) 9.40, Cassidy McClain (USA) 6.47, Quincy Davis (USA) 5.50
Junior Women's Semifinal Match-Ups:
Heat 1: Meah Collins (USA), Caroline Marks (USA), Zoe McDougall (HAW), Tiare Thompson (USA)
Heat 2: Chelsea Tuach (BRB), Frankie Harrer (USA), Brisa Hennessy (HAW), Holly Wawn (AUS)