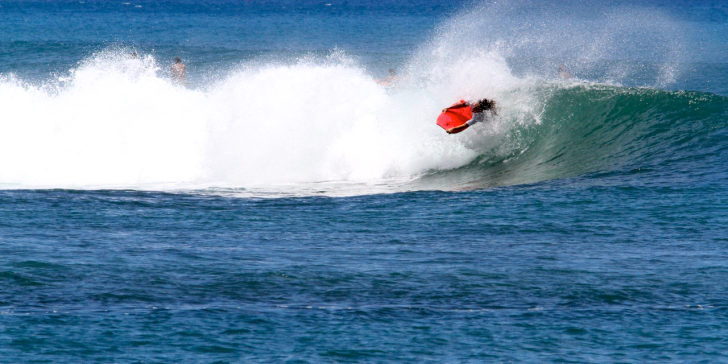 Featured PIC: Pro Surfer Melanie Bartels shows her versatility at the IBA Bowls Challenge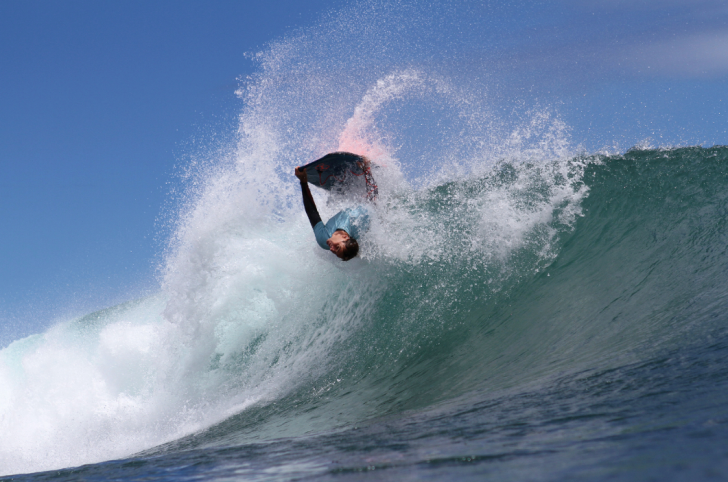 Above: Alistar Taylor views the landing.
The surf was epic and the rides memorable for all the contestants at the Kellogg's Presents the IBA Hawaii Ala Moana Bowls Challenge. The two day competition wrapped up Sunday and 6 division winners were handed ten thousand dollars of cash and prizes over the two days.  This was the first event of the Hawaii Tour and it was a killer way to start the season of four events. The big winner birthday boy Dave Hubbard who won two events Saturday and the Mens Pro today. Hubbard's birthday was yesterday. " Wow this was a great event, probably one of the funnest ones I've ever done." Hubbard smiled
as he was talking about the day. "I think the difference was wave knowledge and confidence in my riding and just the waves I caught." Hubbard was being squeezed by surfers Sammy Morretino and Mike Stewart in the final. " It was tricky and I sat in the big bowl the last 5 or 6 minutes and it paid off for me." Morretino just graduated into the pro ranks after winning a Junior tour title and placed second by perfectly timed air maneuvers and deep tube rides.
In the Womens division it was Melanie Bartels who snagged the win from Karla Costa Taylor. Taylor started the heat with a couple beautiful rolls but Bartels found a solid deep tube ride scoring above eight points for the win.
Contest organizer Ben Severson proved he still had it. At 50 years of age he won the new Masters division straight up. He was in the lead the whole way looking like he was 20 again.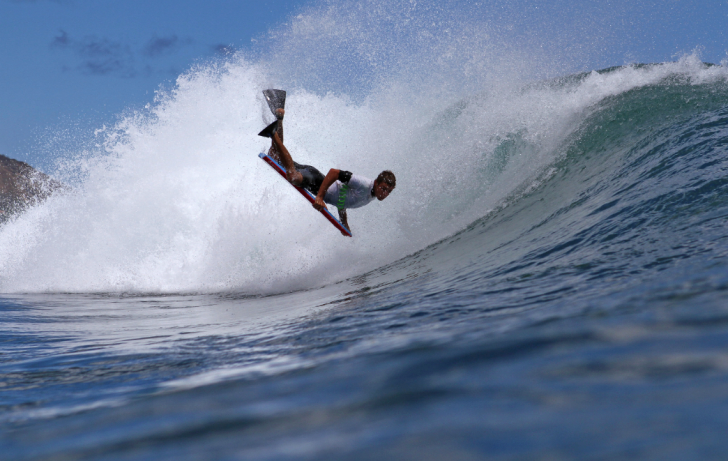 Sammy Morretino
letting fins go first.
Full results will be on facebook.
Pro Men:
Dave Hubbard, Sammy Morretino, Mike Stewart, Trevor Kam
Pro Women:
Melanie Bartels, Karla Costa, Summer Hillen, Traci Effinger
Masters: Ben Severson, Jimmy Hutaf, par Caldwell, Dean Marzol
DK: Dave Hubbard, Joshua Trotter, Sammy Moretino, Mack Crilley
Stand Up: Dave Hubbard, Sammy Moretino, Keahi Parker, Rob Keyser
Junior Pro: Kawika Kamai, Matthew Orourke, Joa Auweloa, Kolu Kalama
Mahalo for All Photos: Betty Depolito of Banzai Productions