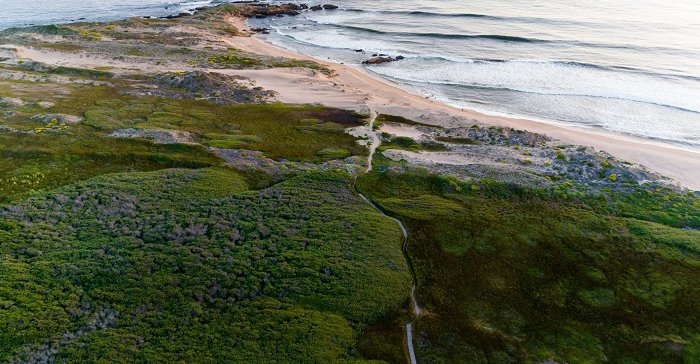 By Kyle Thiermann
Front page: A fine location for the 20-year celebration.
All photos by Ryan "Chachi" Craig
"Things got ugly," admitted Save The Waves Founder Will Henry to the crowd of over 100. "At one protest, I got smacked in the face."
The crowd chuckled between sips of beer. Just south of Half Moon Bay, at Costanoa, a rustic lodge and campground off highway one, Henry leaned on the wooden podium decorated with reclaimed fishing rope and smiled.
"That was 20 years ago."
Back in June, Save The Waves Coalition celebrated its 20-year anniversary, and as the three-day event kicked off, Henry recounted the story of its inception.
He was a young traveler in search of empty waves, and he found them on an island, off the coast of Portugal, called Madeira. It was, to be brief, glorious. The rumbling Atlantic swells, sheer cliffs, and Robin's egg-blue water drew him back the following year, but as he rounded the bend to one of his favorite breaks—a righthand reef he often surfed alone—he came upon an excavator dipping its claw into the break, digging out chunks of lava reef.
"They're building a harbor," shrugged a local Henry asked about the desecration. "What can you do?"
Henry didn't have an answer. There was no one to call. No playbook to follow. No local org to contact. He was alone. He pulled out his contact list and made collect calls home to anyone who might be able to help. One friend with a thick French accent gave Henry the number of a surfer who had started an outdoor clothing company years prior. The brand had been doing well, and the surfer had used some of the profits to fund environmental work. Henry wrote down the name on a pad of paper.
"How do you pronounce that?" He asked.
Henry made the call. The Founder of Patagonia answered. That night, Yvon Chouinard mailed him a check for $5,000 and instructed him to stop the harbor. Click.
"We made a lot of mistakes," Henry recounted of the first initiative in Madeira. The organization was, well, not all that organized, and the protests resembled the "raw-raw" picketing you might expect from young surfers without much of a strategy. "The government called us barefoot tourists," said Henry. And yes, on one occasion, he got hit in the face. But because of protests and cries from the international surf community, the harbor was ultimately halted.
Since Chouinard cut the first check 20 years ago, Save The Waves has grown into a global network, and at the summit, they celebrated past wins, detailed current programs, and announced their future goal to save 1,000 waves by the year 2030. For the past decade, Nik Strong-Cvetich has sat at the helm as Executive Director. "We protect surf ecosystems," Strong-Cvetich repeatedly said into the blown-out microphone. The umbrella tagline covers a number of individual programs, including World Surfing Reserves (WSRs), Surf Protected Area Networks (SPANS), and an app that allows surfers to report coastal issues such as sewage, dumping, and sprawling development.
On day two, the World Surfing Reserve workshop kicked off with an international cadre of activists, each pouring jars of far-flung ocean water into a ceremonial salad bowl.
"This one might have some extra fragrance," an Australian representative said as he squirted Gold Coast seawater from an empty shampoo bottle. Pato Mekis, a surfer from Punta De Lobos, shyly poured from the once-frigid waters of Chile. And pro surfer Kassia Meador shared water from First Point Malibu, where the cobblestone river kisses the sea.
But for all its ritualistic pomp, the World Surfing Reserve program is basically a media stunt. The designation does not protect the ecosystem under any legal status, and one critic told me it "lacks teeth." Though this is true, the WSR label does draw eyeballs. And in the attention economy where buzz is currency, that can go quite far. Get a few journalists to report a newly-crowned World Surfing Reserve with a big group photo and quote from a famous surfer like Greg Long and vualá—you've got a story. This preemptive chess move can be enough to drum up enthusiasm and get the point across to politicians and eager developers: "Don't touch this wave."
Though Will Henry traveled to distant lands to flee California crowds years ago, the non-profit he founded to protect those waves ironically causes them to swell. The spotlight Waves shines on international surf zones—some less known than others—inevitably draws more surfers.
"Some locals were angry at us," Mekis said. "For a while, I even stopped surfing at Lobos. But it's like we say in Chile—if you wanna make a tortilla, you gotta break some eggs."
The Punta De Lobos project is one of Save The Waves' flagship success stories, and the World Surfing Reserve eventually led to the creation of a land trust, which now protects it legally. Though some locals grumble that WSR's hype spots, its supporters counter that without publicity around a threatened break, surfers are simply bulldozed by well-funded developers—just as Henry would have been, watching that excavator tear into his favorite Madeira reef two decades ago.
"WSRs give surfers a voice," said Coordinator Shaun Burns.
The organization does have a legal mechanism through its Surf Protected Area Network (SPANS) program and is currently working to protect sections of Costa Rica, the Azores, Mexico, and Chile.
When I asked one participant his thoughts on the SPANS program he said, "Basically, you just need to be willing to sit in a lot of meetings." God bless these brave souls.
The third breakout session, which focused on the Save The Waves app, was admittedly the one I found the most eye roll-y. The notion that an app could viably protect coastal ecosystems feels like a pitch from an episode of Silicon Valley. It evokes images of Mark Zuckerberg riding an e-foil while hoisting an American flag above his zinc-lathered forehead…
But then I met Hannah Bennett, a Fijian surfer who used the app to post a photo of her local surf spot, the shore covered knee-high in plastic.
"I was surfing in trash," said Bennett.
Through the #DirtyWaveChallenge, a campaign to promote the app, Save The Waves granted Bennett support as well as $5,000 to galvanize her tiny island community around improving the beach. This led to cleanups, staking volleyball courts, and regular community talks. In the process, locals began, once again, to take pride in the space.
Bennett is smart, likable, and a natural leader. Had it not been for the app, Save The Waves may never have found her. In a sense, the app is a fishing lure to find local leaders swimming under the radar. Strong-Cvetich has set a goal to protect 1,000 waves by the year 2030, and this vision hinges on finding more people like Bennett. Conservation lives and dies by strong, consistent local leadership, and in a world ruled by financial incentives, environmental wins are always temporary.
On the final day of the Summit, I sat down with Will Henry and Nik Strong-Cvetich. We sat in a wagon in the middle of a field. The event had been blessed with pumping south and it started to fade just as bags were packed. Strong-Cvetich looked tired but happy.
"What did this event mean to you?" I asked Henry.
"When I was in Madeira, I wanted to stay in the background, and I'm happy that philosophy has come through," said Henry.
"Yeah, our message is: you have this special place," responded Strong-Cvetich. "And to the extent that you want, we are here to help."
"20 years ago, I was trying to be a proponent of surf conservation," Henry added, "and I sort of felt alone."
"Do you feel less alone now?" I asked.
Henry began to answer but was interrupted by the hoots of activists from across the field.
About the Author: Kyle Thiermann is a Patagonia Surf Ambassador, journalist, and podcast host. Subscribe to his newsletter here.