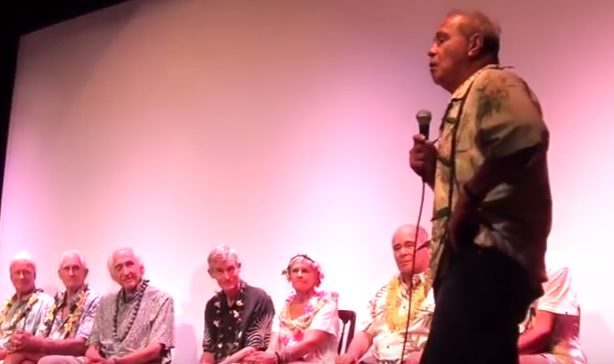 Mahalos to Kyle for putting the moment together and Surfer Joe for the stoked intro! And of course, the entire Ohana of Honolulu Museum & Doris Duke Theater for giving us the 10th Annual Honolulu Surf Film Festival.
The legendary Panel of surfers always there to put it all into perspective…
"The day was Nov 19th, 1967 (count 'em…half a century ago) was the largest rideable day at Waimea all the way up to the last Eddie we just had"…
"Eddie and worked there and for 10 years, never lost one life"…
Published on Aug 5, 2017
Closing night at the 10th Honolulu Surf Film Festival had a very exciting post film talk by Clyde Aikau. He brought photos and gave an animated play by play of his personal experience at the 2016 Quiksilver Eddie Aikau Big Wave Challenge at Waimea Bay. As we all know, this was likely the biggest rideable day that the Eddie has ever been contested.
You didn't have to be there to enjoy this talk. Here it is on video.
Thanks to the Doris Duke Theatre and theatre manager Taylour Chang and festival curator Sarah Fang for hosting this festival. Thanks to Anna Trent Moore for corralling all of the high profile surfers for this closing night panel discussion. Kyle Metcalf