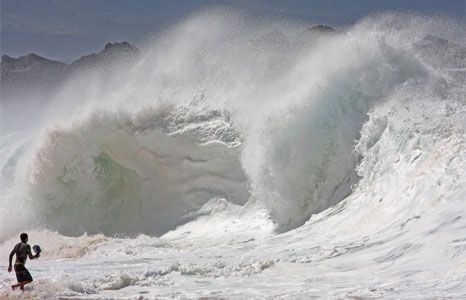 Wednesday is the final day! Drop in before it's too late!  December 8-14, 2016
The Honolulu Surf Film Festival grows every year. To meet demand, as we approach the festival's 10th anniversary, we bring you the first Winter Break program. While the biggest surf competitions are underway on the North Shore, Winter Break features some of the best and newest surf action on the big screen, along with hana hou screenings from this past July's festival.
One of the many awesome Featured Films: Shorebreak
Directed by Peter King. 2016. USA. 55 min.
Dive into the life of renowned water photographer Clark Little as he takes on the world's most dangerous shorebreak around the island of O'ahu. When he's not in the water, Clark shares the insider tips and techniques that have taken his photos from his living room wall to inside the Smithsonian. Filmed and edited by surf personality Peter King, Shorebreak is 55 minutes of non-stop action that will have you inspired and prepared to start capturing your own shorebreak moments.