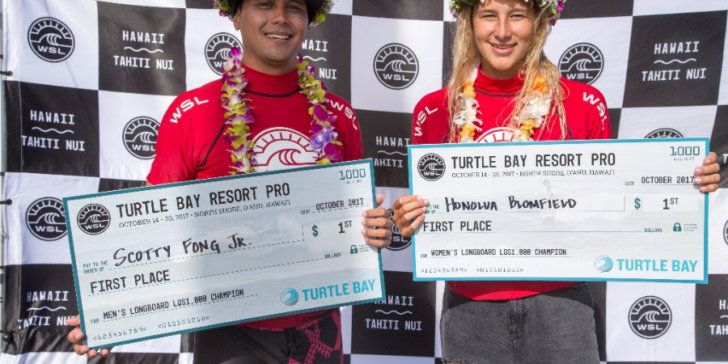 Check some action!
MAKAMAE DESOTO EARNS TOP SPOT IN REGIONAL LONGBOARD RANKINGS
 Scotty Fong Jr. and Honolua Blomfield, Turtle Bay Resort Pro Longboard winners.
Image: WSL/Freesurf/Keoki
Event:
  Turtle Bay Resort Longboard Pro
Rating:
  Men's and Women's Longboard QS
Location:
  Turtle Bay Resort, North Shore, Oahu
Event Window:
  

October 14 – 20
HALEIWA, Oahu/Hawaii – (Tuesday, October 17, 2017) — The final day of the Turtle Bay Resort Pro, a World Surf League (WSL) Hawaii/Tahiti Nui event, highlighted a blend of progressive maneuvers and classic noseriding as winners emerged in the Men's and Women's Longboard Pro division. North Shore's Honolua Blomfield and Honolulu's Scotty Fong Jr. strengthened their bid into the World Longboard Championships next year at Papua New Guinea and increased their year-end rating, Fong Jr. with a third and Blomfield with a first in the region.
The Women's division saw Blomfield go against best friend Kirra Seale (HAW) in the Final along with Encinitas' Kaitlin Maguire (USA) and Kelta O'Rourke (HAW) and score the best wave of the heat, a 7.17. The silky-smooth surfer cross-stepped her way to the nose of the board and remained in the pocket of the wave to hang five, then powered out a couple of even-tempo cutbacks to take the lead from Seale, who secured an early 6.07. Maguire's best ride was a 5.0 for a beautiful noseride and a couple of turns above the foam, but both she and O'Rourke were unable to find necessary backup scores to overtake the heat leaders.

Competitors could not keep up with Honolua Blomfield, a speed blur through the lineup. Image: WSL/Freesurf/Heff
Blomfield is an accomplished surfer at the young age of 18 and placed third in the world after a Semifinal finish at the Kumul PNG World Longboard Championships in Papua New Guinea this past March. She will return again in 2018 in her campaign for a World Title.
"I'm always hoping for a World Title, that is definitely my number one goal," said Blomfield. "I'm very happy to have won today, all the girls were definitely surfing very good, it was a hard Final."
This was Seale's first professional competition with the WSL and she was ecstatic to earn a runner up finish behind Blomfield.

Kirra Seale cross-stepping her way to the podium. Image: WSL/Freesurf/Heff
"I'm really excited because Honolua is my best friend and I'm stoked to lose to her because she is already requalified, so I'm really, really excited to be able to compete next year on the World Tour, it's been a dream forever," said Seale. "I've competed my whole entire life and I'm just the type of person that enjoys surfing so incredibly much I feel like competing sometimes takes the fun out of it. But now all my best friends are on Tour, so I'm thinking, 'wait I want to try!' I surf with them all the time, I might as well try."
On the Men's side, Fong Jr. displayed progressive surfing and fast footwork against fellow finalists Kai Sallas (HAW), Ned Snow (HAW) and Makamae DeSoto (HAW). He found the only barrel section of the event and scored a 7.83 from the judges, making him hard to catch after backing this up with a 6.07.

Scotty Fong Jr. perched on the nose. Image: WSL/Freesurf/Heff
"I'm super stoked, it was tough conditions but super fun and I'm just happy to be out there with all my friends, it was a really good vibe," said Fong Jr. "I've been competing with these guys growing up and all throughout my career, so getting in the Final was fun, it was just a bunch of the boys surfing together and just having fun out there."
A commercial airline pilot by trade and surfer by hobby, Fong Jr. looks forward to greater competitive opportunities next year as the WSL Longboard Tour strengthens.
"The tour is getting a lot better, better venues, better waves," Fong Jr. continued. "I'm just happy to be part of it and hopefully I can travel with all the boys again and represent Hawaii."
DeSoto, who placed fourth in the event, is the top placing surfer on the WSL Hawaii/Tahiti Nui regional Longboard QS after today's competition.

L to R: Scotty Fong Jr. (1st place), Ned Snow (3rd), Kai Sallas (2nd) and Makamae DeSoto (4th). Image: WSL/Freesurf/Keoki 
RESULTS
Surfers shown in order of 1st through 4th, all athletes from Hawaii unless otherwise noted
MEN'S TURTLE BAY RESORT LONGBOARD PRO
1st – Scotty Fong Jr., 1000 points
2nd – Kai Sallas, 750 points
3rd – Ned Snow, 560 points
4th – Makamae DeSoto, 525 points
WOMEN'S TURTLE BAY RESORT LONGBOARD PRO
1st – Honolua Blomfield, 1000 points
2nd – Kirra Seale, 750 points
3rd – Kaitlin Maguire (USA), 560 points
4th – Kelta O'Rourke, 525 points
MEN'S SEMIFINAL
SF1: Scotty Fong Jr., Ned Snow, Nelson Ahina III, Duane DeSoto
SF2: Kai Sallas, Makamae DeSoto, Tony Silvagni (USA), David Carvalho
WOMEN'S SEMIFINAL
SF1: Honolua Blomfield, Kaitlin Maguire (USA), Ashley Ahina, Stacia Ahina
SF2: Kelta O'Rourke, Kirra Seale, Miku Uemura, Rachael Tilly (USA)
MEN'S QUARTERFINALS
QF1: Nelson Ahina III, Scotty Fong Jr., John Michael Van Hohenstein, Hiro Ito
QF2: Ned Snow, Duane DeSoto, Michel Demont (PYF), Ezra Rodrigues
QF3: Tony Silvagni (USA), Makamae DeSoto, Kaniela Stewart, Tereva David (PYF)
QF4: Kai Sallas, David Carvalho, Andre Derizans, Mau Ah Hee
WOMEN'S QUARTERFINALS
QF1: Honolua Blomfield, Stacia Ahina, Kelis Kaleopaa
QF2: Ashley Ahina, Kaitlin Maguire (USA), Leigh Powell (USA)
QF3: Kelta O'Rourke, Kirra Seale, Lola Schremmer, Sally Cohen
QF4: Rachael Tilly, Miku Uemura, Mason Schremmer, Soleil Errico (USA)
MEN'S ROUND
H1: John Michael Van Hohenstein, Ezra Rodrigues, Bruno Silva, Gabriel Nascimento (BRA)
H2: Tony Silvagni (USA), Mau Ah Hee, Nakoa Crispin, Henry McNamara (USA)