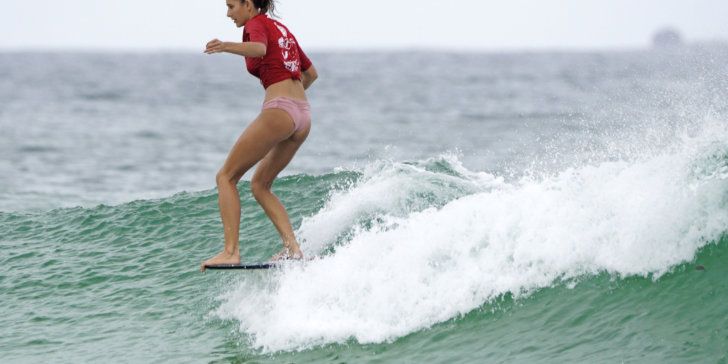 BLOMFIELD TAKES HER FIRST ALSO LQS TITLE
PIOLI WINS HIS FOURTH ALSO TITLE
Kingscliff, NSW/AUS (Saturday, March 3, 2018) – Hawaii's Honolua Blomfield and Dane Pioli (AUS) have taken out the Men's and Women's divisions at the Australian Longboard Surfing Open, World Surf League (WSL) Longboard Qualification Series (LQS) event in Kingscliff.

Current Women's World Longboard Champion Blomfield met former World Champion Tory Gilkerson (USA) in the Final of the Cancer Institute NSW Women's LQS event. It was the first time the two met in a head to head heat and it was the 19-year-old Hawaiian that came out on top winning with a 14.10 (out of 20) heat total.

"We've actually never gone head-to-head," Blomfield said "Tory is a really amazing surfer, this is our first time in a heat against each other. I have been coming here for three years and this is my first final here and my first win it feels so amazing. I always try to catch the first wave to keep my confidence and I did, then I just got on a roll."
Image: Luke_Sorensen
"Tory wasn't really catching the good waves and I just kind of found them," Blomfield continued. "But she is an amazing surfer I was really scared coming into this heat because she's so awesome. I didn't really have a plan. The waves are so hard out there – anyone could have won I guess I just tried my best."
In the Volte Wetsuits Men's LQS Final, Coolangatta native Pioli came up against Byron Bay local Jack Entwistle. Pioli got off to an impressive start in the challenging conditions, posting 7.33 (out of a possible 10) in the opening minutes and then just a few minutes later he picked up an 8.67 – which proved to be the winning wave of the 30-minute heat. Pioli finished the heat with a 16.00 heat total to take his fourth Australian Longboard Surfing Open title.
"I was so nervous I don't know why I've done so many of these but maybe it was a good thing I was nervous," Pioli said. "I got the first wave, I knew it was a decent score but because it was early in the heat I didn't know if they were going to go into the sevens, then I got that seven.  I paddled straight back out and then Jack missed one so I ended up on the inside and that wave of the heat came and there wasn't another one after it. I made the most of it. I was hoping to get into the nines but I got an 8.67 – I knew it was a good one."
"There was no point hassling Jack because we're mates so I let him go and if anything come I would have let him have it but unfortunately for him, nothing came but it was fortunate for me and I got the win.," Pioli continued.