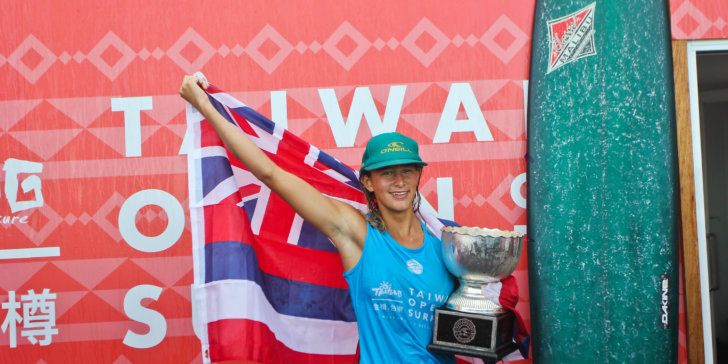 – 2011 WOMEN'S WORLD CHAMPION LINDSAY STEINRIEDE (USA) FINISHES RUNNER-UP
–  JINZUN HARBOUR TURNS ON INCREDIBLE WAVES FOR WOMEN'S FINALS DAY AT TAIWAN OPEN
NEWSFEED CONTAINS: HONOLUA BLOMFIELD (HAW), LINDSAY STEINRIDE (USA)

 
Hawaiian sensation Honolua Blomfield (HAW) has just won the inaugural Taiwan Open and become the 2017 Women's World Longboard Champion.
Credit: © WSL /  Tim Hain
Jinzun Harbour,  Taitung/Taiwan  (Wednesday, November 29, 2017) –   In a historical day of surfing at the Taiwan Open World Longboard Championship, 18-year-old Hawaiian sensation Honolua Blomfield (HAW) has won the Women's division and with it become the 2017 World Longboard Champion.
In the best conditions on offer for the event so far, it was a no-brainer to finish the Women's Division in pumping, clean, 3-to-4 foot surf. After an intense day of competition that saw a number of the title favorites drop out, the scenarios began to develop, building maximum excitement for every heat.
Eventually, the final two competitors left were Blomfield and 2011 World Champion Lindsay Steinriede (USA), two of the standouts of Finals Day. Steinriede was the one to beat after consistently posting excellent scores throughout the event. Blomfield was building all day and saved the best performance till last, taking off on set waves and riding the nose then laying smooth, yet powerful rail carves to post a heat total of 18.60 (out of a possible 20). Blomfield's title-clinching total was the highest in the entire event.
"I feel like I'm on top of the world and that this isn't real," Blomfield said. "To have all of your hard work pay off like this feels better than anything – this is the best day of my life. I definitely felt like the underdog going into the final as Lindsay had been posting such huge scores all day, then I just peaked in the final somehow. It's been an incredible day and the waves have been so amazing – it's pumping out there."

Honolua Blomfield (HAW) nose riding her way to World Longboard Champion.
Credit: © WSL /  Tim Hain
This title is special for longboarding for a few reasons; it's the first ever Taiwan Open that has hosted a Longboard World Championship (LCT) event and it is the first time since 2011 that a champion has been crowned from more than one event. Earlier in the year, Blomfield finished equal 3rd at the Kumul PNG LCT which set her up for a shot at the title in Taiwan.
"It's been so cool for longboarding to have more than one event and has given us, the competitors, more to work with as it doesn't all come down to one contest," Blomfield continued. "Even though I finished 3rd in PNG I was trying not to think about the world title too much – although it has been a dream of mine since I started competing as a kid. To finish here in Taiwan in such incredible surf and come away fulfilling my dream feels even better than I thought it could."

Caption:  The two finalist on stage with Taitung County Governor Justin Huang.
Credit: © WSL /  Tim Hain
Sothern Californian, Lindsay Steinriede, looked destined to win, consistently posting the highest scores of each round, combining long nose rides with grace on the rail. Although she came just short of taking her second World Title, Steinriede couldn't be happier with the time she has had at the inaugural Taiwan Open World Longboard Championship.
"I'm so stoked with making it to the final – the waves have been incredible today," Steinriede said. "I'm really happy we powered through so many heats today and made the most of this pumping surf. This has been a great year with the two events as it gives everyone more of an opportunity at success – and is just awesome for longboarding. Seeing Honolua killing it this much at just 18 years of age is amazing, she put on an amazing performance in the Final and I'm really happy for her. The surf today was unbelievable – definitely the best whole day of surf I have had in Taiwan it's an amazing place. I look forward to next year and seeing what the future holds."

Caption:  Lindsay Steinriede (USA) fell just short of claiming her second world title but put on an incredible performance none the less.
Credit: © WSL /  Tim Hain
The 2017 Taiwan Open World Longboard Championship runs from November 23 – December 3, 2017. Tune in tomorrow as we move closer to crowning a Men's Champion for 2017.
Taiwan Open World Longboarding Championship Women's Final Result's 
Heat 1: Honolua Blomfield (HAW) 18.60 def Lindsay Steinriede (USA) 16.50
Taiwan Open Women's Semifinal Results
Heat 1: Lindsay Steinriede (USA) 17.23 def Tory Gilkerson (USA) 13.53
Heat 2: Honolua Blomfield (HAW) 13.26 def Rachael Tilly (USA) 13.10 Women's
Taiwan Open Women's Quarterfinal Results 
Heat 1: Tory Gilkerson (USA) 12.43 def Atlanta Batista (BRA)  9.47
Heat 2: Lindsay Steinriede (USA) 16.34 def Kaitlin Maguire (USA) 10.94
Heat 3: Honolua Blomfield (HAW) 14.93 def Crystal Walsh (HAW) 12.57
Heat 4: Rachael Tilly (USA) 15.33 def Chelsea Williams (AUS) 12.06