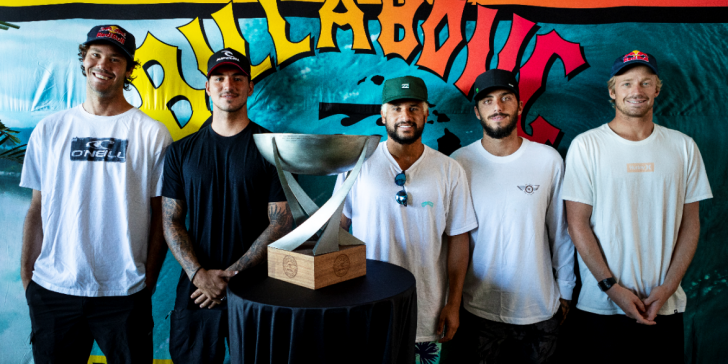 …Poor direction caused the event to be postponed. New real decent 15sec double overhead NW fills in all day Monday… Likely to Jump-start Competition  at 8:00 a.m. HST. The NW should hit Triple plus overhead Tuesday. And Quadruple OH Wednesday…so no shortage of surf. Thursday will be far too big (5-7X Overhead) SNN
Top 5 to Battle for World Title: Ferreira, Medina, Smith, Toledo, Andino
Ethan Ewing Leads Race for 37th Vans Triple Crown of Surfing Title
Pictured: 2019 World Title contenders Jordy Smith (ZAF), Gabriel Medina (BRA), Italo Ferreira (BRA), Filipe Toledo (BRA), and Kolohe Andino (USA) at the Billabong Pipe Masters Press Session. Credit: © WSL / Cestari
BANZAI PIPELINE, Oahu/Hawaii (Sunday, December 8, 2019) – The holding period for the 2019 Billabong Pipe Masters in Memory of Andy Irons, the final stop on the World Surf League (WSL) Men's Championship Tour (CT), officially opened today and will likely see the event start this week with promising swell forecast for tomorrow through Wednesday, December 11. The competition will be OFF for today and the next call will be tomorrow, December 9, at 7:00 a.m. HST for the Pipe Invitational.
Top 5 Will Battle for World Title: Ferreira, Medina, Smith, Toledo, and Andino
As the 11th and final stop of the men's 2019 CT, the World Title will be decided at the world-renowned Banzai Pipeline. There are only five surfers mathematically in contention to win it all at this event: Current World No. 1 Italo Ferreira (BRA), No. 2 Gabriel Medina (BRA), No. 3 Jordy Smith (ZAF), No. 4 Filipe Toledo (BRA), and No. 5 Kolohe Andino (USA).

Men's World Title scenarios ahead of the 2019 Billabong Pipe Masters:
– If Italo Ferreira wins Pipe, he clinches the World Title;
– If Ferreira gets a 2nd, Gabriel Medina & Filipe Toledo will need a 1st to take the World Title from Ferreira;
– If Ferreira gets a 3rd, Medina needs a 2nd, Toledo & Smith a 1st;
– If Ferreira gets 5th, Medina needs a 3rd, Toledo a 2nd, Smith a 1st;
– If Ferreira gets 9th, Medina needs a 5th, Toledo a 3rd, Smith a 2nd & Kolohe Andino a 1st;
– If Ferreira gets 17th/33rd, Medina & Toledo will need a 9th, Smith a 5th & Andino a 2nd

Less than 2,000 points separate the Top 4 going into surfing's ultimate proving ground. Ferreira (51,070 points) could claim his maiden World Title, but he will need to best his four challengers, including Medina (50,005 points) who is fighting to defend his crown as the two-time reigning World Champion. Smith (49,985 points), Toledo (49,145 points), and Andino (44,665 points) will be on the hunt for both their maiden World Titles but also their first win at the Billabong Pipe Masters.
Pictured: The opening ceremony for the Billabong Pipe Masters in Memory of Andy Irons. Credit: © WSL / Heff
Jeep Frontrunner Ferreira fell short of World Title contention at Pipe last year, but his success again this year has opened the door for his maiden World Title. The Brasilian has never surpassed a fifth-place result at the Billabong Pipe Masters but has put in the time and the training to improve his performance at one of the most challenging waves in the world.

"Winning the World Title is going to be a challenge for me and that's why I'm here and that's why I came here early to surf, get my confidence, and test my boards," said Ferreira. "Pipeline is hard because sometimes it's so shallow but when you get a big barrel, it's one of the best waves for sure. It's hard because you need to share the lineup with all the local guys, sometimes it's hard to get the bigger ones. But you're there and you need to wait for the best of your life, it's a special place."

Current World No. 2 Medina is no stranger to the pressures of the World Title race and is excited to get the competition underway. The 25-year-old feels ready to defend both his World Title and the Billabong Pipe Masters title. He will come up against compatriot Willian Cardoso (BRA) and one of the event wildcards, which will be determined following the Pipe Invitational.

"I am stoked to be here in this position again fighting for the World Title, so it should be a fun week," said Medina. "I have been in this position before, this is maybe my fifth year fighting for the Title and it is a situation I am used to. I am feeling good and relaxed. All of my family and friends are here and this is a wave I love to surf. I am grateful for another opportunity to clinch a Title and hopefully, the waves are really good for the contest. Let's do this."

Smith sits in third place on the Jeep Leaderboard, well within striking distance of the World Title, but recently suffered an injury to his ribs while surfing. Despite the injury, Smith knows what he needs to win and will not let the pain get in the way once the competition gets underway.

"It was a bummer at the time [of the injury], but you just have to make the most of the situation you're in," said Smith. "It's all positive, it's been an incredible year and I just need to get the win here. I've had two surfs now since I've been back, there's a little discomfort but nothing that's going to stop me from going on any wave that comes through."
Ethan Ewing Leads Race for 37th Vans Triple Crown of Surfing Title
For the 37th consecutive year, the Vans Triple Crown of Surfing will honor the best competitive surfer at three defining and world-class waves: Haleiwa, Sunset and Pipeline. The overall winner will take the illustrious title that many surfers dedicate their careers to achieving and along with it, glory, respect, and a hefty prize purse. Steeped in history and heritage that has helped define the culture of surfing, the Vans Triple Crown has been dominated by local athletes, with 22 of the 36 titles staying in Hawaii. However, a new international charge has taken hold in recent years and Australia's Ethan Ewing leads this year's race.

Ewing earned fourth place at the Hawaiian Pro, the first event of the Vans Triple Crown located at Haleiwa Ali'i Beach, and went on to secure another podium finish at event No. 2, the Vans World Cup of Surfing at Sunset Beach. Nipping at his heels is Frederico Morais (PRT), 2019 Hawaiian Pro winner.
Pipe Invitational to Determine Event Wildcards
The first competition day of the Billabong Pipe Masters will feature the Pipe Invitational, a 32-man trial event that awards the top two finishers a wildcard into the main event. The draw is comprised of the top Hawaii competitors from the 2019 Volcom Pipe Pro and the International and Regional QS, event sponsor wildcards, standout Pipe performers, the Vans Triple Crown contender, and the previous year's Pipe Invitational winner.
Provisional Olympic Qualification on the Line, Only Six Spots Remain
The Billabong Pipe Masters will also determine the final male provisional qualifiers for the Olympic Games Tokyo 2020 as the 2019 WSL CT rankings at the end of the season will decide 18 of the 40 places (10 men and 8 women). Following the lululemon Maui Pro, the women's provisional qualifiers are set but there are 6 places remaining for the men.

The 18 places that are allocated from the WSL come with a condition that a country cannot qualify more than two athletes per gender, subject to all qualified surfers meeting the ISA's and IOC's eligibility requirements and being selected by their respective National Olympic Committee.

Provisional Olympic selection based on the current WSL Rankings:
USA – Kolohe Andino, John John Florence, Carissa Moore, Caroline Marks
Australia – Owen Wright, Julian Wilson, Sally Fitzgibbons, Stephanie Gilmore
Brasil – Italo Ferreira, Gabriel Medina, Tatiana Weston-Webb, Silvana Lima
Japan – Kanoa Igarashi
South Africa – Jordy Smith
France – Jeremy Flores, Michel Bourez, Johanne Defay
Costa Rica – Brisa Hennessy
The Billabong Pipe Masters in Memory of Andy Irons, opens today and holds a competition window through December 20, 2019. The event will be broadcast LIVE on WorldSurfLeague.com, the free WSL app, and VansTripleCrownofSurfing.com. Also, check local listings for coverage from the WSL's broadcast partners. Fans in Hawaii can tune into Spectrum SURF channels 20 and 1020HD, which will televise the live action and event replays.
Billabong Pipe Masters Seeding Round 1 Matchups:
Heat 1: Kanoa Igarashi (JPN), Conner Coffin (USA), Soli Bailey (AUS)
Heat 2: Kolohe Andino (USA), Griffin Colapinto (USA), Jadson Andre (BRA)
Heat 3: Filipe Toledo (BRA), Deivid Silva (BRA), Ricardo Christie (NZL)
Heat 4: Jordy Smith (ZAF), Peterson Crisanto (BRA), Frederico Morais (PRT)
Heat 5: Gabriel Medina (BRA), Willian Cardoso (BRA), TBD
Heat 6: Italo Ferreira (BRA), Michael Rodrigues (BRA), TBD
Heat 7: Owen Wright (AUS), Jack Freestone (AUS), Leonardo Fioravanti (ITA)
Heat 8: John John Florence (HAW), Adrian Buchan (AUS), Jesse Mendes (BRA)
Heat 9: Jeremy Flores (FRA), Caio Ibelli (BRA), Ezekiel Lau (HAW)
Heat 10: Kelly Slater (USA), Michel Bourez (FRA), Sebastian Zietz (HAW)
Heat 11: Julian Wilson (AUS), Wade Carmichael (AUS), Joan Duru (FRA)
Heat 12: Seth Moniz (HAW), Ryan Callinan (AUS), Yago Dora (BRA)

Pipe Invitational Round 1 Matchups: 
Heat 1: Jack Robinson (AUS) vs. Tyler Newton (HAW) vs. Eli Hanneman (HAW) vs. Harry Bryant (AUS)
Heat 2: Cody Young (HAW) vs. Imaikalani deVault (HAW) vs. Kainehe Hunt (HAW) vs. Shayden Pacarro (HAW)
Heat 3: Adin Masencamp (ZAF) vs. Keanu Asing (HAW) vs. Brodi Sale (HAW) vs. Kalani David (HAW)
Heat 4: Liam O'Brien (AUS) vs. Finn McGill (HAW) vs. Torrey Meister (HAW) vs. Nathan Florence (HAW)
Heat 5: Ethan Ewing (AUS) vs. Kiron Jabour (HAW) vs. Benji Brand (HAW) vs. Bruce Irons (HAW)
Heat 6: Joshua Moniz (HAW) vs. Eithan Osborne (USA) vs. Koa Smith (HAW) vs. Makuakai Rothman (HAW)
Heat 7: Ian Gentil (HAW) vs. Billy Kemper (HAW) vs. Makai McNamara (HAW) vs. Michael O'Shaughnessy (HAW)
Heat 8: Dusty Payne (HAW) vs. Justin Becret (FRA) vs. Gavin Gillette (HAW) vs. Jamie O'Brien (HAW)