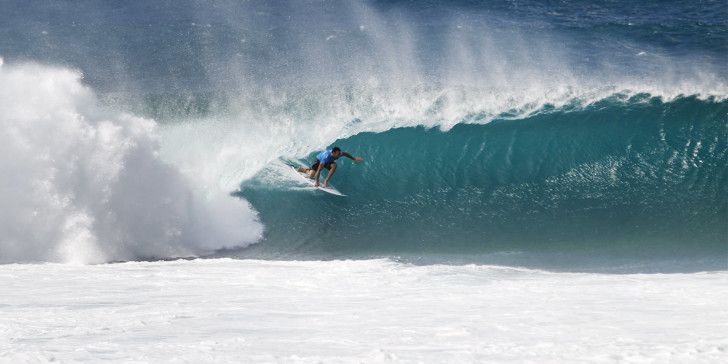 ….IN MEMORY OF ANDY IRONS! Surf is a poor to fair light onshore 16 sec NW at 3-4′ with a higher wave every 40 minutes- SNN.
2012 Pipe Master and 2012 WSL Champion Joel Parkinson (AUS) will face Stuart Kennedy (AUS) and 2010 Pipe Master Jeremy Flores (FRA) in Round 1 Heat 8 when the Billabong Pipe Masters in Memory of Andy Irons gets underway.
Image: © WSL /  Kirstin
| | |
| --- | --- |
| Location:    |   Banzai Pipeline, Oahu, Hawaii  |
| Event window: |   December 8 – 20, 2016 |
| Today's call: |   Competition called OFF for the day |
| Conditions: |   2 – 3 foot (0.5 – 1 metre) |
BANZAI PIPELINE, Oahu/Hawaii (Sunday, December 11, 2016) – The Billabong Pipe Masters in Memory of Andy Irons, the final stop on the 2016 Samsung Galaxy World Surf League (WSL) Championship Tour (CT), has been called OFF for the day with only small and inconsistent surf on offer.
"Unfortunately, we are not going to get underway today," said WSL Deputy Commissioner, Renato Hickel. "Again we have very small conditions at Pipeline, and we are going to call the competition off and try again tomorrow at the same time, 7:30 a.m. local time Hawaii. Day by day we are going to have to cherry-pick the swell. We know when we have more swell, we are going to have issues with wind, especially in the afternoon. It is going to be a tricky one but we will get there."
Event organizers will reconvene at 7:30 a.m. (local time) tomorrow to assess conditions and make the next call.
When competition commences, the Pipeline Invitational will see a 32-man field battle for the two coveted wildcard entries into the Billabong Pipe Masters, including Hawaiian chargers Koa Smith (HAW), Nathan Florence (HAW), Gavin Beschen (HAW) and Seth Moniz (HAW). The event will also be contested by the defending trials winner Jack Robinson (AUS) and runner-up Jamie O'Brien (HAW).
A larger NW swell will build in Monday afternoon/evening and into Tuesday from a compact, but intense, low recently east of Japan. While the storm was not big, it is produced impressive wind speeds in the 40-55kt+ range over a small area, which was above model guidance.  
Swell model guidance still looks a bit too low/late for this event, especially for Monday afternoon and evening. We'll look for overhead surf Monday afternoon/evening into Tuesday, with sets to several feet overhead possible. Stay tuned, we'll continue to refine details over the next few days and especially as we see this swell build on buoy 01. 
Going further out, confidence continues to very slowly increase regarding the swell for mid month (15th-17th), which may potentially come from two sources: a low that will develop off Japan in the next few days and a possible nearby Kona low that will pull together later in the upcoming week. We feel relatively confident of surf running into the overhead+ range for the 16th-17th from just the Japan storm. Surfline.
The Billabong Pipe Masters will be webcast LIVE on WorldSurfLeague.com
The event is also being carried by the WSL's LIVE broadcast partner Oceanic Time Warner Cable 250 & 1250 in Hawaii,
Men's Pipeline Invitational Round 1 Match-Ups:
Heat 1: Kalani Chapman (HAW), Makai McNamara (HAW), Keoni Yan (HAW), Reef McIntosh (HAW)
Heat 2: Billy Kemper (HAW), Jack Robinson (AUS), Cody Young (HAW), Eala Stewart (HAW)
Heat 3: Victor Bernardo (BRA), Eli Olson (HAW), Gavin Beschen (HAW), Myles Padaca (HAW)
Heat 4: Griffin Colapinto (USA), Tanner Hendrickson (HAW), Makuakai Rothman (HAW), Takayuki Wakita (HAW)
Heat 5: Ezekiel Lau (HAW), Kaito Kino (HAW), Jamie O'Brien (HAW), Mikey Bruneau (HAW)
Heat 6: Koa Smith (HAW), Kiron Jabour (HAW), Kai Mana Henry (HAW), Kaimana Jaquias (HAW)
Heat 7: Joshua Moniz (HAW), Mason Ho (HAW), Noa Mizuno (HAW), Nathan Florence (HAW)
Heat 8: Torrey Meister (HAW), Finn McGill (HAW), Seth Moniz (HAW), Gavin Gillette (HAW)
Billabong Pipe Masters Round 1 Match-Ups:
Heat 1: Julian Wilson (AUS), Wiggolly Dantas (BRA), Ryan Callinan (AUS)
Heat 2: Kolohe Andino (USA), Miguel Pupo (BRA), Bede Durbidge (AUS)
Heat 3: Matt Wilkinson (AUS), Nat Young (USA), TBD
Heat 4: Jordy Smith (ZAF), Keanu Asing (HAW), TBD
Heat 5: Gabriel Medina (BRA), Kanoa Igarashi (USA), TBD
Heat 6: John John Florence (HAW), Jadson Andre (BRA), TBD
Heat 7: Adriano de Souza (BRA), Conner Coffin (USA), Alex Ribeiro (BRA)
Heat 8: Joel Parkinson (AUS), Stuart Kennedy (AUS),  Jeremy Flores (FRA)
Heat 9: Filipe Toledo (BRA), Josh Kerr (AUS), Adam Melling (AUS)
Heat 10: Kelly Slater (USA), Caio Ibelli (BRA), Kai Otton (AUS)
Heat 11: Sebastian Zietz (HAW), Italo Ferreira (BRA), Jack Freestone (AUS)
Heat 12: Adrian Buchan (AUS), Michel Bourez (PYF), Davey Cathels (AUS)