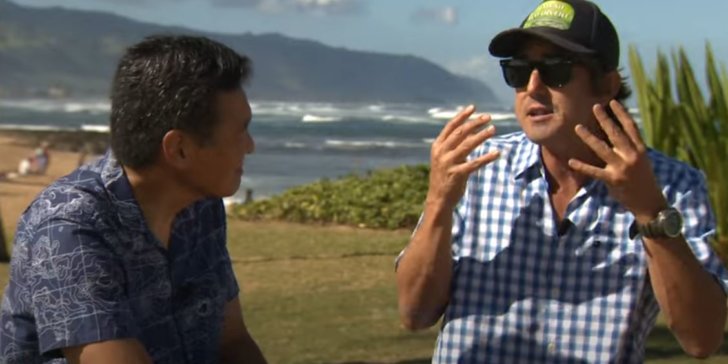 Pushing the Limits with Guy Hagi – Breathing Techniques
Surfers are paddling into life-threatening conditions. The thrills are greater but the wipeouts are inevitable… and more horrific.
So how do they survive? A north shore surfer has designed a course to help prepare surfers for the beatings…
IT'S AMAZING HOW THESE ATHLETES CAN SURVIVE BEING HELD DEEP UNDERWATER UNTIL THEIR LUNGS BURST…  ALL THE WHILE BEING SHAKEN LIKE A RAGDOLL… BUT THANKS TO RICARDO TAVEIRA.. SOME OF THEM ARE MORE PREPARED THAN EVER.. RICARDO IS A BIG WAVE SURFER AND A CERTIFIED DIVE MASTER .. HE HAS DEVELOPED A TRAINING COURSE FOR BIG WAVE SURF SURVIVAL BASED ON HIS EXPERIENCES OUT AT WAIMEA AS A SURFER.. AND FROM THE DEPTHS AS A FREEDIVER..
The idea was to train myself and all my friends that surf Waimea Bay because it is a big wave spot and you can get hold down for a long time.. so the idea was to become more comfortable … RICARDO'S 2 DAY COURSE STARTS WITH A CLASSROOM SESSION .. THEY GO OVER THE CURRICULUM… WITH A FOCUS BEING A BREATHING TECHNIQUE USING THE DIAPHRAGM TO FILL UP THE LUNGS FOR MAXIMUM CAPACITY.. THAT AND RELAXATION… WHICH IS KEY TO THE ENTIRE COURSE… AT THIS POINT MOST PEOPLE CAN HOLD THEIR BREATH FOR ABOUT 30-40 SECONDS…
I decided to implement both training to create specific training for big wave surfing.. that's what we have now it's been about 8 years.. developing to what it is today..
I WENT THROUGH THE COURSE.. AND EVEN THOUGH I'M AN EXPERIENCED SURFER.. THE EXERCISES HAD ME GASPING… BUT IT WAS DOABLE… The course is not difficult.. it's just challenging.. a lot of people think I can't hold my breathe for 3, 4, 5 minutes but everybody can..
You become more focused you have more energy you're more aware of the situation..

THE NEXT DAY RICARDO TAKES THE GROUP TO THE BEACH FOR MORE EXERCISES… EXERCISES THAT ARE MEANT TO SIMULATE A BIG WAVE HOLD DOWN.. THE EMPHASIS BEING RELAXATION…
Using your breathing pattern you can control your fear, somewhat stabilize your fear so it doesn't develop into panic, work with panic because panic is what kills people.
AFTER THE COURSE IS DONE.. THE BREATH HOLD TIMES ARE AMAZING… SOME COULD HOLD THEIR BREATH UP TO 5 MINUTES…
OF COURSE THAT DOESN'T GUARANTEE SURVIVAL IN HUGE SURF… BUT IT CERTAINLY INCREASES SELF CONFIDENCE.. WHICH WILL HELP THE NEXT TIME THE SITUATION GETS A BIT DICEY…
SO IT'S NO WONDER MORE AND MORE PEOPLE ARE INTERESTED IN WHAT RICARDO IS TEACHING..
It's been a great experience to visit places like New Caledonia, Fiji, Chile, where I'm from Brazil, it's a huge water safety mentality right now, California, Canada, Japan even Japan we're trying to make it over there…