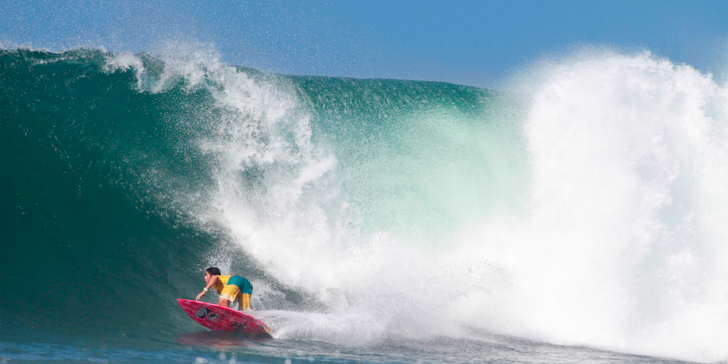 Thursday sees a perfect NW up to 5′ Local Scale with ESE offshores. Game on from 8am. We will finish rnd of 96 adn heats 1-4 of rnd 64. SNN.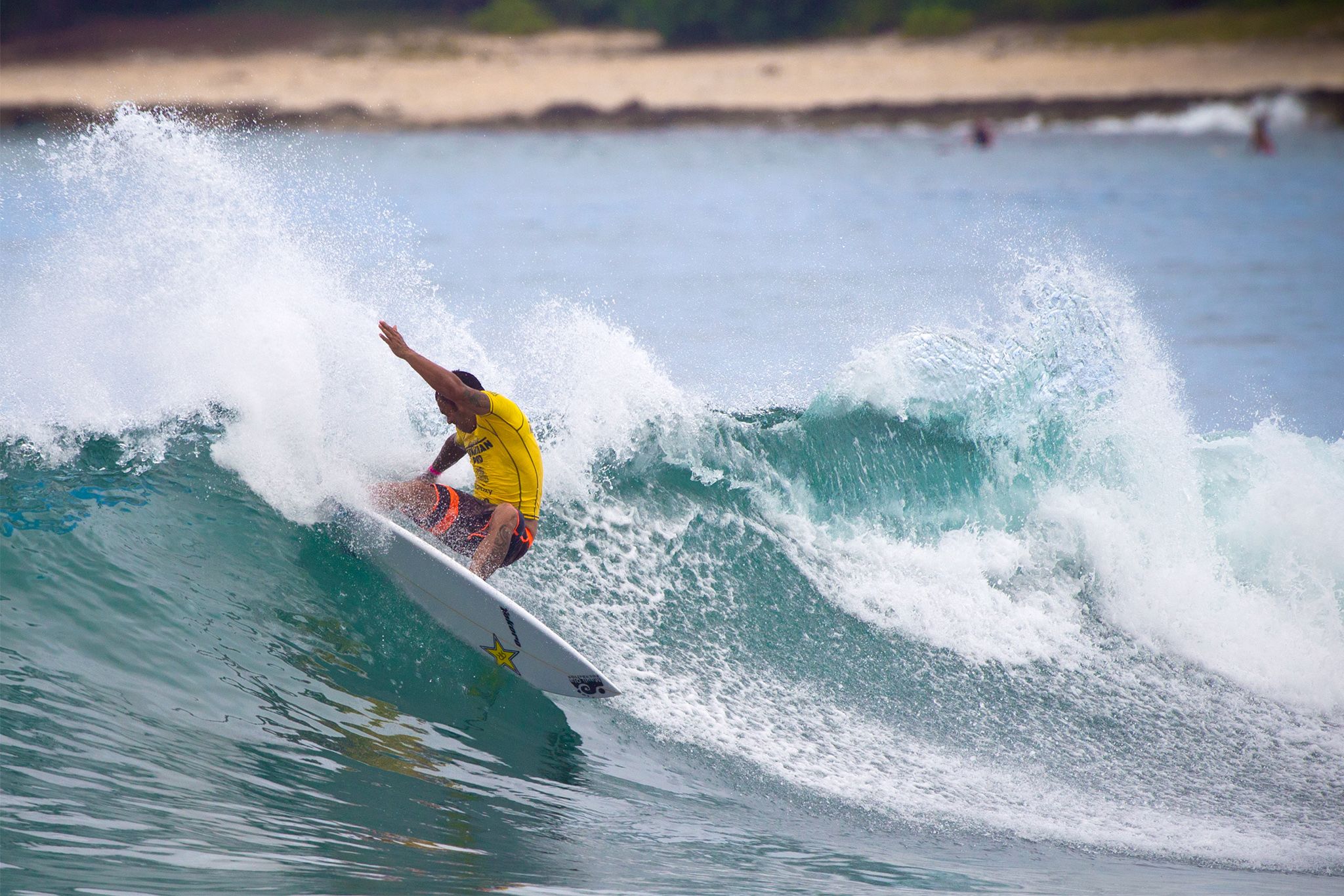 GARCIA REACHES 29 YEARS OF TRIPLE CROWN! Sunny Garcia (HAW)Hawaiian Pro 2015. All Images: WSL / Masurel
Here's visual treat ahead of Day 1 events below.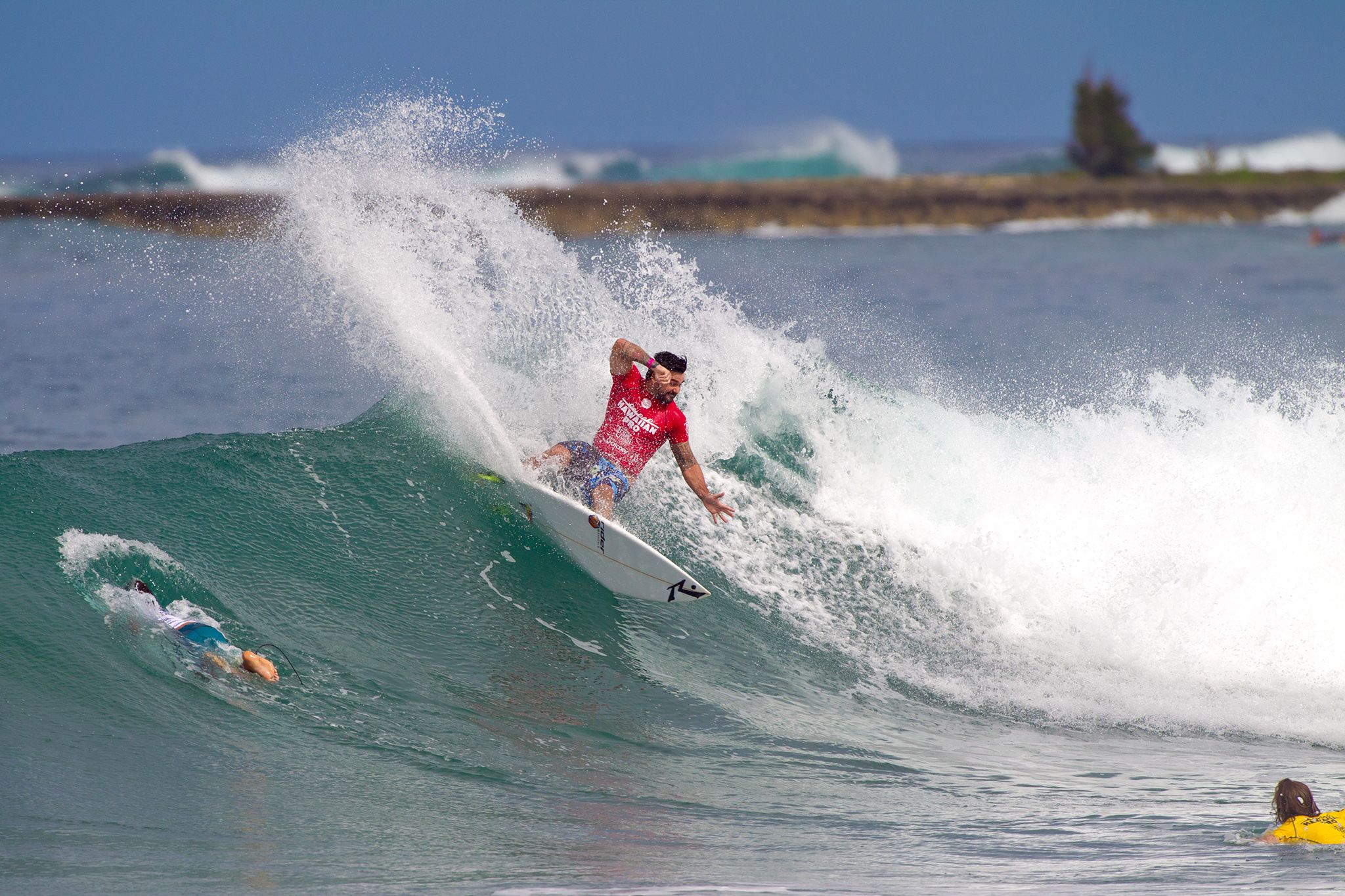 Willian Cardoso (BRA) . Hawaiian Pro 2015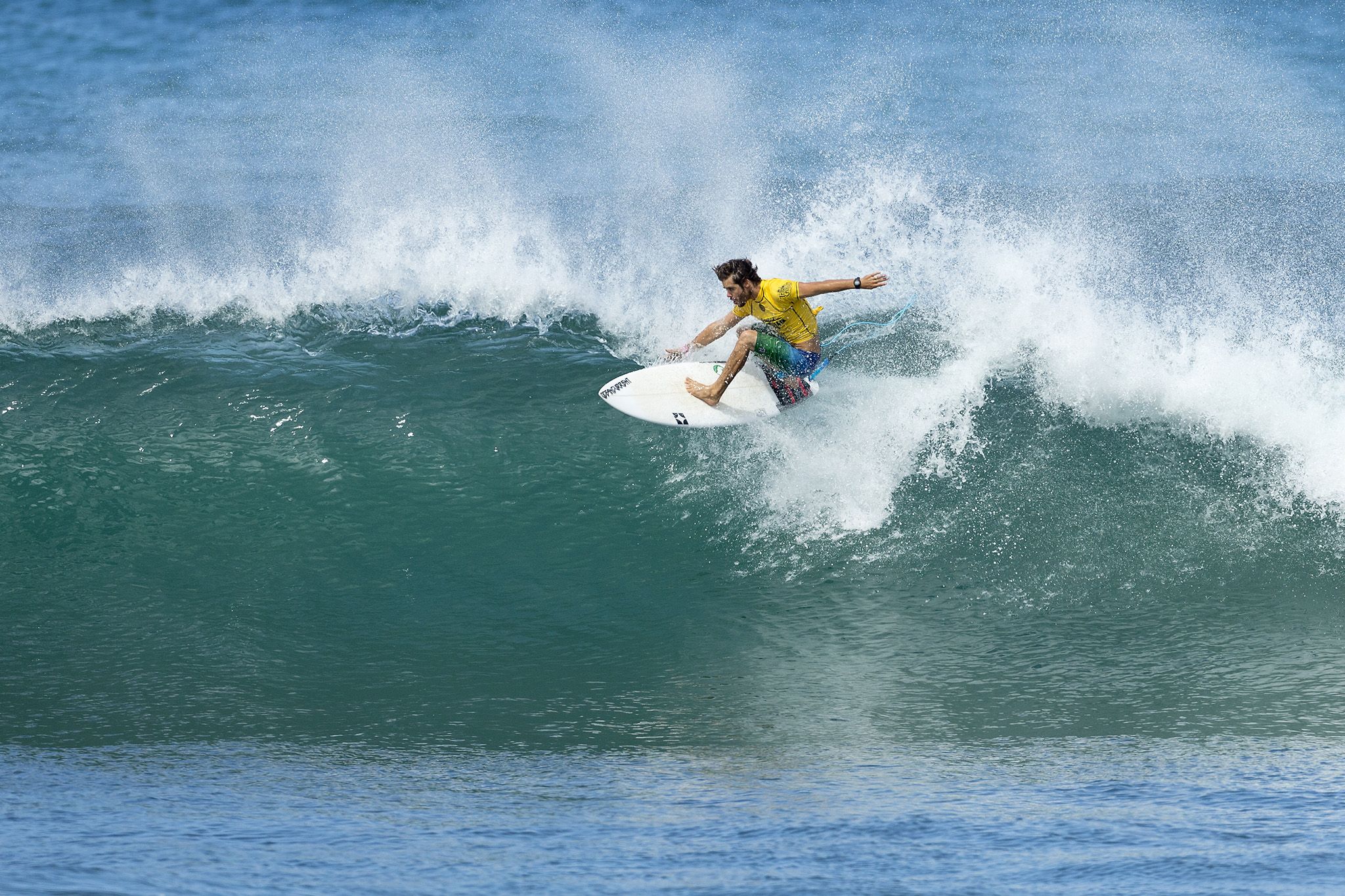 Olamana Eleogram placing second in his Round 1 heat.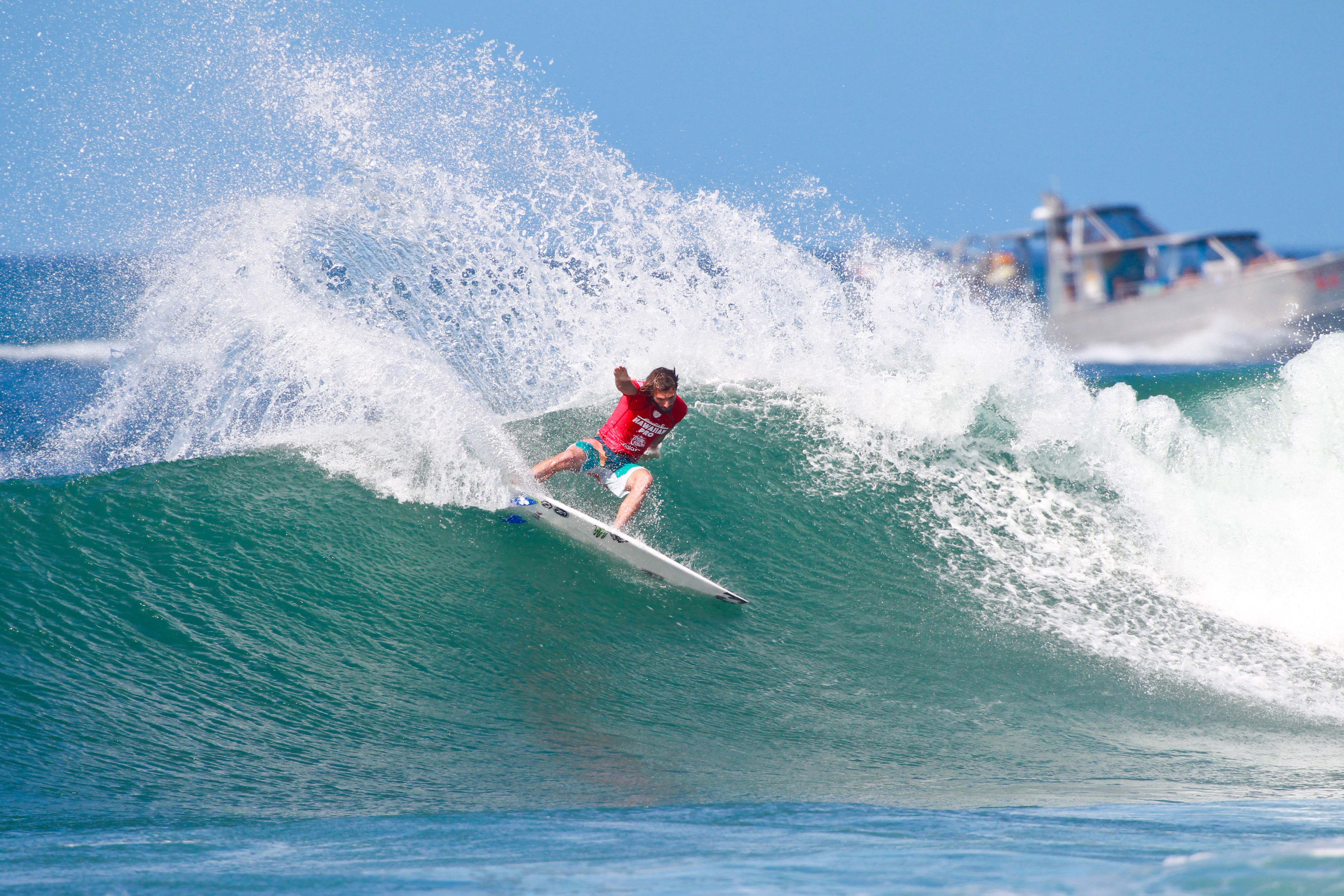 Frederico Morais (PRT) . Hawaiian Pro 2015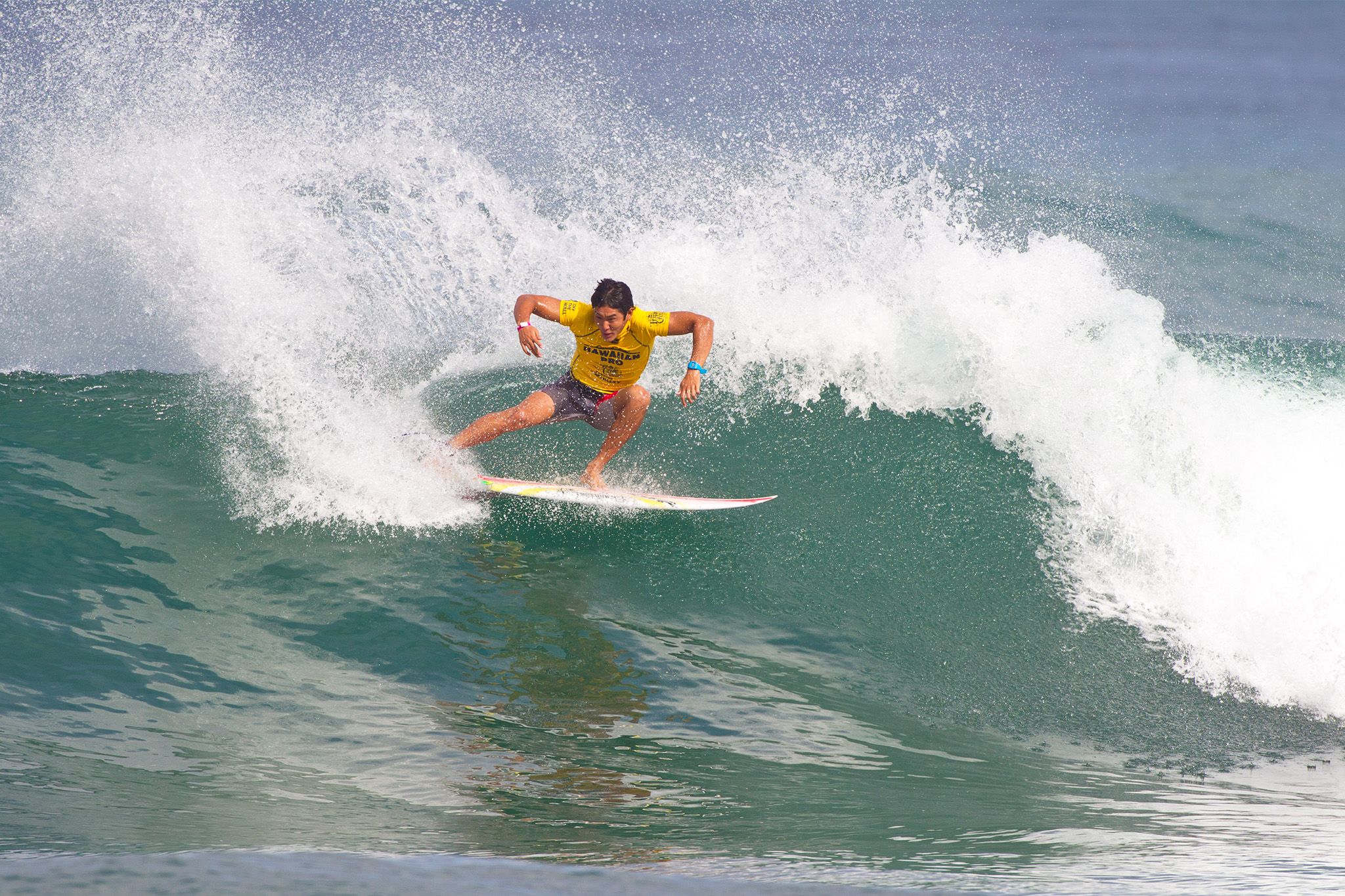 Kaito Kino (HAW) .Hawaiian Pro 2015
Front page Pic: Billy Kemper (HAW) eyes the next section. All Images: WSL / Masurel 
Location:   
North Shore Oahu, Hawaii
Event:
Dates & Rating:
Hawaiian Pro – Event No. 1 of the Vans Triple Crown of Surfing
November 12 – November 23, 2015
WSL Men's QS 10,000
Haleiwa Ali'i Beach, North Shore, Oahu, HAWAII – (Wednesday, November 18, 2015)Patience and grit paid off today in double overhead surf at Haleiwa for the Hawaiian Pro, the first gem of the Vans Triple Crown of Surfing. After a 6-day wait for surf, action was rapid-fire throughout the day with no shortage of drama to get the series started.Billy Kemper (HAW) set the bar with a near perfect 9.70 – the highest single wave score of the day – after attacking the lip with classic power surfing style. Twenty-three year-old challenger Frederico Morais (PRT) came back with his own excellent score – a 9.43 – to secure the heat win in front of Kemper.
"I love Hawaii, I love these waves, these powerful waves where you can really do power turns and bottom to top surfing," said Morais, who is hoping for a strong performance in Hawaii to improve his seeding position for next year. "That's what I'm looking for and that's what I've been working on."
Local knowledge was key in the morning's inconsistent surf, but by mid afternoon the waves picked up to offer ramps, walls and aerial opportunity for all competitors.
An historic milestone was set by 6x Triple Crown champion Sunny Garcia (HAW) with his appearance today; he matched Derek Ho's record of 29 Triple Crown seasons. With the surfing series now in its 33rd year of prestige, it is doubtful anyone will rival Garcia's accomplishments here.
"It's the cherry on the top of the pie for me," said Garcia. "Competing in Hawaii… it's not like competing, but just the feeling of being home. I love the Triple Crown. I love that Randy Rarick built something that Hawaiian surfers can enjoy at home and make a living competing in their own events."
Another standout of the event was 29-year-old Willian Cardoso (BRA), who posted one of the higher heat scores of the day, a 15.93, with classic Haleiwa power surfing.
"It was a good start for me," said Cardoso. "At first I didn't know what board to choose, but I think I made the right choice. Good to be back in Hawaii surfing, and the waves are starting to get bigger now."
Cardoso will surf tomorrow against fellow Brazilian Michael Rodrigues, Tahiti's Mateia Hiquily and Hawaiian Garcia.
Italian surfer Leonardo Fioravanti made an impressive comeback this year after breaking his back at Pipeline in January. He surfed with confidence today to advance.
"It's been a super tough year for me, up and down, full rollercoaster," said Fioravanti. "At the start of the year I fractured my vertebrae at Pipeline at the Volcom Pipe Pro and that put me out for about six months … I just worked hard, I worked eight hours a day doing anything possible to get back and it's been a long year."
With a win at the ISA World Junior Championships in October and a heat advance in today's competition, Fioravanti is looking forward to surfing in Hawaii.
"I feel great, waves are so much fun, it's offshore and super clean and I got my two good scores on the deep little peak which was really fun," Fioravanti concluded.
Fresh off a third place finish at the recent HIC Pro was 21-year-old Kaito Kino (HAW), who looked strong in a stacked heat with Mason Ho (HAW), Jamie O'Brien (HAW) and David do Carmo (BRA). Kino advanced into the next round with a 12.10 combined wave score and will surf tomorrow against an international mix of competitors.
North Shore surfer Kalani David (HAW) finished first in Heat eleven in front of Tim Reyes (USA), Nomme Mignot (FRA) and former Vans Triple Crown champion Myles Padaca (HAW), respectively.
"That was a stacked heat," said David. "Triple Crown former winner Myles Padaca, I've looked up to him my whole life, and it's crazy, Timmy Reyes and Nomme, I surfed against him in Panama at the ISA, it was such a gnarly heat… just lucky I got one at the beginning at Peaks and backed it up on that left. I'm just stoked to make it through that heat."
At 18-years-old, and with a handful of Triple Crown seasons under his belt, David is looking to break into new results territory at home this winter, to set himself up for a full-blown attack next year.
"I've just been working so much on rail to rail, and carves and turns and more all around surfing," said David. "But if it gets small and I need to do an air I'll be able to pull it out… I have a couple magic boards and I'm stoked."
Next call is tomorrow at 7AM. Organizers expect an 8AM start with similar surf to today. Competition will continue with Round 2 and the early heats of Round 3.
RESULTS
Round of 128
1st and 2nd advance to next round
H1: Granger Larsen (HAW) 14.10pts, Tiago Pires (PRT) 13.67pts, Dylan Goodale (HAW) 11.24pts, Kevin Sullivan (HAW) 7.77pts
H2: Timothee Bisso (GLP) 13.33pts, Tomas Hermes (BRA) 12.26, Steven Pierson (PYF) 9.50, Makuakai Rothman (HAW) 5.73
H3: Yadin Nicol (AUS) 11.00pts, Kekoa Cazimero (HAW) 8.76pts, Thiago Camarao (BRA) 4.27pts, Kaimana Jaquias (HAW) 2.76pts
H4: Kaito Kino (HAW) 12.10pts, David Do Carmo (BRA) 10.83pts, Mason Ho (HAW) 10.63pts, Jamie O'Brien (HAW) 10.06pts
H5: Medi Veminardi (REU) 13.97pts, Sunny Garcia (HAW) 9.37pts, Tom Whitaker (AUS) 7.44pts, Makai McNamara (HAW) 5.70pts
H6: Willian Cardoso (BRA) 15.93pts, Joshua Moniz (HAW) 13.83pts, Alex Smith (HAW) 11.33pts, Mikey Bruneau (HAW) 7.73pts
H7: Aritz Aranburu (ESP) 15.67pts,  Imaikalani Devault (HAW) 13.30pts, Nathan Hedge (AUS) 12.70pts, Kiron Jabour (HAW) 11.23pts
H8: Marc Lacomare (FRA) 13.00pts, Seth Moniz (HAW) 12.03pts, Marco Fernandez (BRA) 10.83, Hank Gaskell (HAW) 10.40
H9: Leonardo Fioravanti (ITA) 15.33pts, Olamana Eleogram (HAW) 14.06pts, Kai Barger (HAW) 10.90pts, Marco Giorgi (URY) 10.27pts
H10: Michael February (ZAF) 15.74pts, Michael Dunphy (USA) 14.90, Adrien Toyon (FRA) 9.94pts, Elijah Gates (HAW) 9.67pts
H11: Kalani David (HAW) 11.83, Tim Reyes (USA) 10.53pts, Nomme Mignot (FRA) 9.80pts, Myles Padaca (HAW) 8.23
H12: Hizunome Bettero (BRA) 16.60pts, Gavin Gillette (HAW) 13.37, Ian Gouveia (BRA) 13.17,
Evan Valiere (HAW) 12.30
H13: Wade Carmichael (AUS) 15.00pts, Joel Centeio (HAW) 12.37, Miguel Tudela (PER) 10.74
Luke Shepardson (HAW) 5.93
H14: Frederico Morais (PRT) 17.96pts, Billy Kemper (HAW) 15.63pts, Lucas Silveira (BRA) 14.36, Isaiah Moniz (HAW) 12.87pts
H15: Hiroto Arai (JPN) 11.70pts, Luel Felipe (BRA) 11.47pts, Charly Martin (GLP) 11.14, Benji Brand (HAW) 10.23pts
H16: Thomas Woods (AUS) 13.17pts,  Koa Smith (HAW) 13.06pts, Gonzalo Zubizarreta (ESP) 12.63pts, Ian Gentil (HAW) 4.60pts
Round of 96
1st and 2nd advance to next round
H1: Tomas Hermes (BRA) 11.66pts, Ramzi Boukhiam (MAR) 10.43pts, Granger Larsen (HAW) 8.03pts, Jesse Mendes (BRA) 5.70pts
H2: Tiago Pires (PRT) 14.60pts, Timothee Bisso (GLP) 13.47pts, Mitch Coleborn (AUS) 12.77pts, Vasco Ribeiro (PRT) 11.27pts