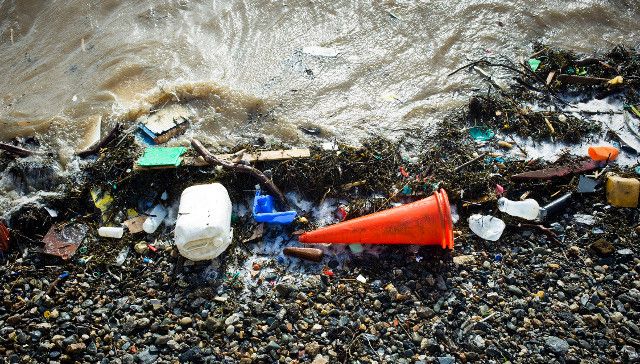 Marine litter © Surfers Against Sewage/Greg Martin
Recent Environment News
Group meets about best way to remove and prevent marine debris
Surf News Network, 10 December, 2015 – Hawai'i Wildlife Fund and World Ocean Collective hosted an international symposium on marine debris first week of Dec in Hilo. The conference comes at a crucial time as beaches across Hawaii and North America find more tsunami debris and marine litter washing up on their beaches.
Officially dubbed the "2015 Hilo Symposium on Marine Debris & Tsunami Driftage: Dialogue on marine debris removal, prevention, disaster recovery and making connections around the North Pacific," the event drew about 100 people to downtown Hilo.
Participants then went on a beach clean at Kamilo Point in Ka'u.
Groups attended the symposium which set out to address such issues as effective recovery and removal techniques and marine debris prevention.
"We are humbled by the turnout of this past week and have made new friends and allies in our mission to remove and prevent marine debris to protect native wildlife. The three days with our partners around the North Pacific were very productive," Megan Lamson, HWF's Hawai'i Island Program Director told Hawaii News Now. "Marine debris is everyone's problem and is a worldwide issue."
Keynote speaker for the event was Dr. Walter Dudley, Emeritus Professor of Marine Geology and Oceanography at the University of Hawai'i at Hilo.