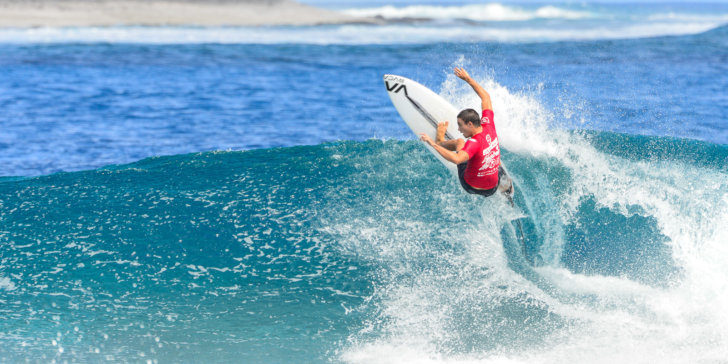 All-Tahitian Battle Ensues in Round 1 Heat 14 to Highlight Action
Paula Excels Against Idol and One of Surfing's Favorites Mason Ho
McNamara Surges Against Ultimate Waterman Lenny in Return to Rangiroa (Makai flying through the early rounds. Front page photo: Credit: © WSL / Christophe Abraham)
Pictured: Tahitian Teoro Tahutini  emerged heat winner in an all-Tahitian battle at the Air Tahiti Rangiroa Pro.
Credit: © WSL / Christophe Abraham 
RANGIROA, Tuamoto Islands/French Polynesia (Tuesday, March 3, 2020) – Opening day of the World Surf League (WSL) Air Tahiti Rangiroa Pro, a men's Qualifying Series (QS) 1,000, fired into action with Rangiroa delivering a perfect canvas for competitors to put on a showcase throughout opening day. Three-to-four foot, clean surf held throughout the entirety of the competition's start with minimal wind disrupting the proceedings as Round 1 was completed. Tahitians thrived alongside some of Hawaii's premier competitors with a few notable names making their Rangiroa debuts.
A battle of Tahitian talents unfolded in Round 1 Heat 14 with Tereva David, Teoro Tahutini, Vehiatua Prunier and Poenaiki Raioha vying for the top positions. Multiple lead changes ensued with Prunier heading the heat before David took over but it was Tahutini who catapulted himself into the forefront with a heat-best 6.40 (out of a possible 10) toward the closing minutes. But Tahutini wasn't done yet and dropped one more 6.90 on a Rangiroa gem to solidify a big heat win – earning the day's highest heat total of a 13.30. (Newsfeed in French and David interview available)

"I'm really happy to make it through and surfing against my friends, we are like brothers, so I'm really stoked to make the heat with Tereva (David)," said Tahutini. "Now that we've got through a tough heat we're ready to win and surf even better."
Pictured: Kai Paula found success on day one of his Rangiroa debut. Credit: © WSL / Abraham 
Kai Paula (HAW) emerged atop his Round 1 Heat 4 battle with one of the world's most exciting surfers to watch, Mason Ho (HAW), in only his second-ever QS event. Paula's impressive showcase of forehand surfing on the clean walls of Rangiroa's righthander edged him into one of the day's highest heat totals of a 12.77 (out of a possible 20). The 17-year-old was in perfect rhythm with the ocean which helped him be on the best waves to overcome one of his idols.
"I wasn't even worried about the heat that much just with such fun waves and I was super grateful surfing with Mason (Ho) who's one of my favorite surfers," said Paula. "We have a lot of waves like this back in Hawaii just with the shallow water and reef right there and it's good to train in when it's small like this so you can learn to work with what you get. I'm just so grateful to be here in such a beautiful place."
The highly anticipated Round 1 heat with Kai Lenny (HAW) saw stylish surfing from all three Hawaii competitors but it was North Shore, Oahu's Makai McNamara that steamrolled through Heat 5 after posting a 6.73 and 6.00 for the win. McNamara's clean and precise forehand maneuvers helped power his way to a heat victory over Lenny, also advancing, with ease as he looks for more after returning to Rangiroa for the first time since 2018.
"I got lucky with two fun waves, it's a little bit small and slow but if you wait for the right ones that allow you to go straight up and get a couple turns, then you'll make it through," said McNamara. "Over here, it's really shallow and really, really sharp, so pretty much if you touch the reef you're going to get a nice cut. I try not to look at who's in my heat until I see them in a jersey…but (Kai Lenny's) such a good competitor in all different sports." (Newsfeed available)
Pictured: Tahitians were well represented on opening day with Teiva Tetahio also notching a big heat win. Credit: © WSL / Abraham
2018 Air Tahiti Rangiroa Pro winner Sheldon Paishon (HAW) looked confident during Round 1 Heat 6 and took an early lead on competitors after finding a barrel that judges awarded a 4.73. Paishon stayed busy throughout the 30-minute heat and manufactured good scores with flair and versatility, however Tahitian power surfer Teiva Tetahio dropped the highest result of the heat, a 6.43, to test the Oahu athlete. Tetahio maintained control of the heat until the final horn despite Paishon's final effort which fell just .01 short of the requirement – though tying for first with the Tahitian.
"The waves were so fun and it felt so nice just to go straight up into the lip," said Tetahio. "I wasn't expecting to win that heat at all with Sheldon (Paishon) in it so I was trying to my best for second since it was a stacked heat. Now I just want to keep surfing better and keep improving each heat."
Pictured: Torrey Meister wasn't to be left out with the day's highest single-scoring wave. Credit: © WSL / Abraham
Also notching notable Round 1 victories, Torrey Meister (HAW) collected the highest single-wave score of a 7.50, along with Turo Ariitu (PYF), Michael O'Shaughnessy (HAW), Eala Stewart (HAW), Logan Bediamol (HAW), Luke Swanson (HAW), Brodi Sale (HAW), Eli Hanneman (HAW), Robert Grilho (HAW), Ryder Guest (HAW), Jackson Bunch (HAW) and Hendrix Frankenreiter (HAW) also winning their respective heats.
Event organizers will reconvene at 6:30am TAHT to make a 7:00am call for Round 2 action.
The Air Tahiti Rangiroa Pro will be webcast LIVE on WorldSurfLeague.com, Facebook.com.wsllive and tntv.pf to allow fans the rare occasion of witnessing Rangiroa's beautiful barreling wave from the comfort of home. Tahiti Nui Television (TNTV) is partnering with the Tahitian Surfing Federation and the World Surf League to provide the LIVE webcast with multi-angle views and drone perspectives to enhance the experience, along with replay, scoring, athlete interviews and more.
Tune in when the competition kicks off from March 2 – 6, 2020. For more information, please visit the Air Tahiti Rangiroa Pro event page on WorldSurfLeague.com.
About the WSL 
The World Surf League (WSL), established in 1976, is the enablement platform for surfing and surfers worldwide. The WSL is dedicated to changing the world through the inspirational power of surfing by creating authentic events, experiences, and storytelling to inspire a growing, global community to live with purpose, originality, and stoke.
The WSL is a global organization, headquartered in Santa Monica and with regional offices in North America, Latin America, Asia Pacific, and EMEA. The WSL possesses a deep appreciation for the sport's rich heritage while promoting progression, innovation, and performance at the highest levels.
The WSL is comprised of Tours & Events, celebrating the world's best surfers across all disciplines and annually running more than 180 global contests and crowning the undisputed World Champions across all divisions; WSL WaveCo, where innovation meets experience; and WSL Studios, which offers best in class storytelling across competition, lifestyle, and conservation.
For more information, please visit WorldSurfLeague.com
About the Tahitian Surfing Federation (Federation Tahitienne de Surf)
The association called the Tahitian Surfing Federation is located at Taharu'u Beach PK 39 Papara, Tahiti, French Polynesia and aims to organize, control and develop the practice of surfing and all associated disciplines including bodyboard, longboard, kneeboard, bodysurf, skimboard, paddleboard, stand-up paddleboard, and tow-in surfing.
The Tahitian Surfing Federation coordinates the activities of affiliated associations practicing the above-mentioned activities functioning in French Polynesia and, when appropriate, of Polynesians abroad. The organization establishes the rules of conduct as defined by the Olympic Committee of French Polynesia, elaborates the rules and pedagogic content pertaining to the teaching of surfing, and maintains all useful relationships with all Federations and all French and foreign agencies and public authorities.