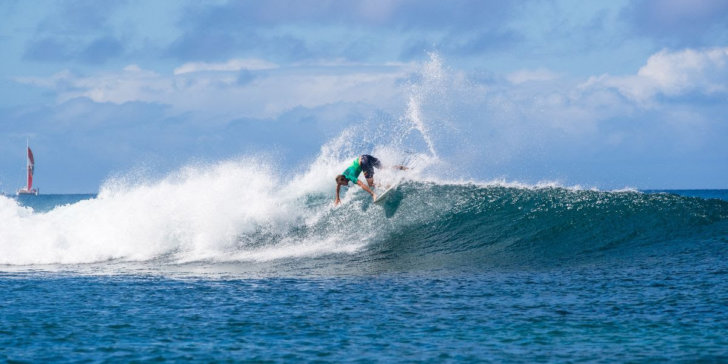 At Home In The Hawaiian Islands
Former CT Standout Zietz Finds Near-Perfection, Decimates Debut With Best Performance
Braye Brings The Heat With Excellent Showing
Hanneman, Apo, Swanson, Bediamol And More Add Their Name To Excellent List In Debuts
Pictured front page:
 Former Championship Tour (CT) competitor Sebastian Zietz (HAW) honed into his world-class abilities. 
Credit
: © WSL / Heff
ALA MOANA BOWLS, Oahu, Hawaii (Tuesday, June 13, 2023) – A full display of high-performance surfing took center stage at the Local Motion Surf Into Summer At Home In The Hawaiian Islands, a Qualifying Series (QS) 1,000 and Longboard Regional Qualifying Series (LQS) 1,000, following opening day's masterful longboard showings from the region's top competitors. Hawaii/Tahiti Nui's top regional competitors started their 2023/24 QS season today in two-to-three foot, clean swell pulsing into Ala Moana Bowls' pristine lineup.
A dream day at Ala Moana Bowls ended with a clash of top-tier talents featuring former Championship Tour (CT) standout Sebastian Zietz (HAW) (shown above), Challenger Series contender Josh Moniz (HAW), regional threat Kekoa Cazimero (HAW), and Round of 96 victor Eala Stewart (HAW). The clash didn't disappoint with a near-perfect, barrel-to-multiple backhand blows from Zietz as he posted the event's top single-wave score of a 9.83 (out of a possible 10) and heat total, a near-perfect 18.00 (out of a possible 20). A battle for the advancing spot ensued with Cazimero earning his way alongside Zietz into the Round of 32 after a last-minute exchange with Moniz.

"We were all pretty deep and they ended up boxing each other out being too deep, and I was kind of thinking if a big set came it would come wide," said Zietz. "I played the game and saw that wave come, and just darted wide and found myself in a perfect little barrel that let me out to do a bunch of fun turns. It's super fun, I'm not trying to qualify or anything, just enjoying time with my family and wanting to show my girls that dad can still surf (laughs)."
Pictured:
 Mihimana Braye (PYF) turned it on in his debut to set himself up for a Round of 64 battle. 
Credit
: © WSL / Heff
But, it was Mihimana Braye (PYF) (shown above) who put on an incredible showing, utilizing his dynamic forehand to post a dominant 16.70 heat total. The Tahitian competes out of the European region, but finished the Hawaii/Tahiti Nui season right at home with a runner-up in Rangiroa before taking to the Challenger Series. Now, Braye brings that confidence and what he's learned to some of Hawaii/Tahiti Nui's top-tier competitors, looking to stay busy in the jersey on his way back to Tahiti.
"I have some confidence just from training so hard and being on the Challenger Series going against guys, and trying to qualify, but the level of surfing here is so good as well," said Braye. "I just have to stay focused on my game and keep working on what I've been doing since Rangiroa. This wave makes me feel at home growing up on lefthand reefs and it makes a big difference to have a QS on such a world-class wave."
Pictured:
 Kaulana Apo (HAW) put on a high-performance showcase in his debut, and backed it up with a Round of 64 win. 
Credit
: © WSL / Heff
One of the South Shore's own Kaulana Apo dismantled his debut with an excellent 16.17 heat total and then continued that form alongside top-seeded competitors Luke Tema (HAW) and Robert Grilho III (HAW) in the Round of 64. Apo's dangerous forehand pushed him into the Round of 32 as the recognized Pipeline charger has more in his arsenal than just death-defying barrel riding.
"Getting two heat wins gets out the nerves, it's been awhile since I've done a QS event like this at a high-performance wave," said Apo. "It comes down to each individual surfing their best and not just being in the perfect spot like Pipeline, and I actually really enjoy this a lot more just for that aspect. A lot of the guys I've grown up with are out here and it's cool to see that we're just older, some of us have gone to the big leagues, but I feel like I just want to show I can surf with these guys."
Pictured:
 Eli Hanneman (HAW) is back for more after his 2022 victory and started in excellent form. 
Credit
: © WSL / Heff
Reigning event victor Eli Hanneman (HAW) made easy work of his debut, accruing an excellent 8.00 and surging into the Round of 32. The Maui competitor returns from his first two events as a full-time Challenger Series contender and now looks to add another Ala Moana Bowls title to his name.
"I just try to stay in rhythm every heat, that's always goal and I was able to do it in that heat so I'm stoked on that," said Hanneman. "There's only three other guys out at Bowls which is just a dream. It's not a super user-friendly wave with the crowd usually so when you get an opportunity like this it's amazing."
Also, North Shore, Oahu, standout Luke Swanson (HAW) notched a brilliant 8.83 to add his name to the excellent list as he looks to kick off his campaign in big form. Hanneman's fellow Maui competitor Logan Bediamol (HAW) notched an excellent showing in his debut as he is joins those awaiting their Round of 64 bouts such as Shayden Pacarro (HAW), Tony Nunez (HAW), Gavin Klein (HAW), and more who all took big wins in their opening debuts.
Event organizers have called day three of competition ON for an 8:00 a.m. HST start, beginning with men's Round of 64, Heat 5, before women make their debuts.

The Local Motion Surf Into Summer At Home In The Hawaiian Islands will run on the best four days of the event window running June 12 – 19 at Ala Moana Bowls, Oahu, Hawaii.
About the WSL
The World Surf League (WSL) is the global home of competitive surfing, crowning the World Champions since 1976 and showcasing the world's best surfers on the world's best waves. WSL is comprised of the Tours and Competition division, which oversees and operates more than 180 global competitions each year; WSL WaveCo, home of the world's largest high-performance, human-made wave; and WSL Studios, an independent producer of unscripted and scripted projects.