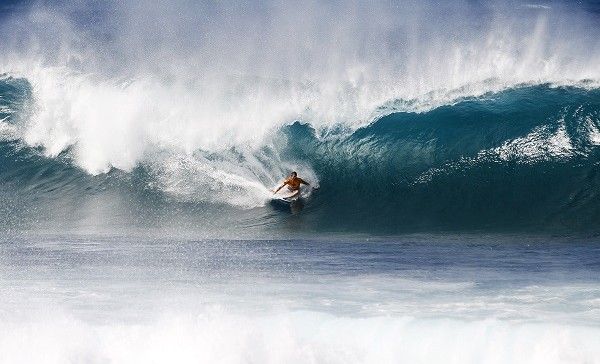 Mick Fanning (AUS), three-time WSL Champion, leads the final three contenders for the 2015 crown into the Quarterfinals of the Billabong Pipe Masters in Memory of Andy Irons
Image: WSL / Kirstin
BANZAI PIPELINE, Oahu/Hawaii (Wednesday, December 16, 2015) – A phenomenal day of the world's best surfers battling solid eight-to-ten foot (2.5 – 3 metre) waves at the Banzai Pipeline has whittled the WSL Title contenders down to three and the Billabong Pipe Masters contenders down to nine, setting up an epic finish to the 2015 season tomorrow.
High Lights!
 
The final stop of the 2015 Samsung Galaxy WSL Championship Tour season as well as the Vans Triple Crown of Surfing (a WSL Specialty Series), the Billabong Pipe Masters in Memory of Andy Irons enjoyed a marathon day of competition, witnessing perfect scores and terrifying injuries from the world's best surfers.
The World Title race is now down to three competitors as current Jeep Rankings' Leader Mick Fanning (AUS), Adriano de Souza (BRA) and Gabriel Medina (BRA) are through to the Quarterfinals. Julian Wilson (AUS) and World No.2 Filipe Toledo (BRA) are both out of title contention, having been eliminated from competition in Round 3.
Fanning came into the most anticipated heat of Round 3, facing off against 2004 Pipe Master Jamie O'Brien (HAW) in building Pipeline conditions. Finding an 8.47 on his opening ride, Fanning held off O'Brien for the majority of the heat – comboing the former Pipe Master by the final horn.
"It was always going to be a difficult heat with Jamie [O'Brien] being one of the best guys out here and surfing it the most," Fanning said. "I just got lucky at the start when Michel [Bourez] and Kelly [Slater] sort of let me go on that first one and I just kept trying to improve that backup score. It's pretty amazing that we travel around the world and when it comes down to this moment to see all these people out here, there's so many from Australia and all around the world, we just want to put on a good show and can't thank everyone enough for their support."
After taking on O'Brien, Fanning drew two Pipeline specialists in Kelly Slater (USA) and John John Florence (HAW) for an incredible Round 4 match-up. After what pundits are calling "the heat of the year," with all three surfers exchanging high scores, Fanning came out on top with a 17.30 heat total to earn his place into the Quarterfinals.
"I can't really put it into words," Fanning said. "When you're paddling out against John John [Florence] and Kelly [Slater], two of the greatest tube riders, I just thought that when the waves come, I'll do my best. It's been a huge day. I've got some personal stuff going on at home. It's so heavy to talk about right now and I'm just trying to focus on the water."
Keeping pace with Fanning, current World No.3 Adriano de Souza (BRA) earned a direct pass to his first Pipe Masters Quarterfinal appearance after surviving a Round 3 bout with Glenn Hall (IRL) and coming out on top in Round 4 over Josh Kerr (AUS) and Adam Melling (AUS). The 10-year CT veteran is seeking a maiden WSL Title and knows exactly what needs to be done.
"I feel blessed for the day we have and I'm so happy to make the two heats – it's an incredible feeling to make the Quarterfinals and keep my World Title dreams alive," De Souza said. "There are a lot of people talking and I'm not really worried about it. Basically I just need to do my job out there, find my waves and get out of the barrels – that's my focus out here and it definitely has improved. The last few years I've put in a lot of work over here and I just wanted to get the result today."
"I liked Mick's approach against Jamie and no matter what if he won or lost, Jamie is still the man to me," De Souza added. "Coming up against a guy like that I think Mick just surfed amazing and when I saw that it lit a fire under me. Can't wait for the Quarterfinal and I think everyone will be ready."
Though his Title hopes remain slim, reigning WSL Champion Gabriel Medina (BRA) looked unbeatable throughout the day – winning both his Round 3 and Round 4 heats over some formidable opponents. Taking down Jordy Smith (ZAF) in the opening heat of Round 3, Medina then continued to charge through Round 4 over C.J. Hobgood (USA) and Keanu Asing (HAW).
"I like these type of waves and I don't feel pressure from the World Title because these guys are a little bit ahead of me," Medina said. "I just focus on my heat, my job and this is great even though it's not Finals day, a lot is happening and it's really exciting. I've been spending a lot of time in the water and it feels good to sneak some good ones – I got my best two under priority and I'm stoked to make it through. I was worried about not having waves today and they showed up so I was stoked we were able to keep going."
Mason Ho (HAW), Billabong Pipe Masters wildcard, created a massive upset this morning in eliminating current World No. 2 Filipe Toledo (BRA) from the event and the WSL Title race.
"It didn't go as I expected but I just figured I would get anything that came and it almost didn't work out," Ho said. "Filipe and all these guys on tour are just so smart with the whole game and priority I just realized you don't really have to go get that busy. I was just learning throughout the whole heat and I was bummed we didn't get to perform to the top of what we can do."
Ho continued his impressive form and opened up Heat 3, Round 4 heat against former Pipe Masters Joel Parkinson (AUS) and Jeremy Flores (FRA) with a 10-point ride, helping the young Hawaiian advance directly into the Quarterfinals.
Toledo's WSL Title run came to an end after a phenomenal 2015 CT season, claiming three event wins at the Quiksilver Pro Gold Coast, Oi Rio Pro and the Moche Rip Curl Pro – earning a perfect 10 at each contest. The 20-year-old is poised for another big year next season after gaining a wealth of knowledge contending for a Title.
"This has been an amazing year for sure – it's been the best one of my career," Toledo said. "I had a lot of fun the whole time with the boys fighting for the World Title and I had my chance. It didn't happen this year but next year I will be back stronger. It's my first year competing in the World Title race and just really happy to come to Hawaii with a chance to win.
"I really want to improve myself at this wave, Tahiti and Fiji, so that's where I go from here," Toledo added. "I learned a bunch this year and just want to thank everyone for this year – especially the boys competing and pushing me to my best."
Julian Wilson (AUS), one of the form surfers of the season, was also eliminated from the 2015 WSL Title race at the hands of compatriot Adam Melling (AUS). Melling, who entered the Billabong Pipe Masters rated 26th, is through to the Quarterfinals and hunting a requalification bid for 2016.
The incredible force of Pipeline was felt today as numerous excellent scores, including three 10s, were posted, but the world-renowned wave also unleashed its wrath with former Pipe Master Bede Durbidge (AUS) suffering a horrific wipeout. After sticking a heavy drop on his opening wave, Durbidge couldn't hold on inside the barrel and was thrown onto the shallow reef below.
"He was taken to the hospital after they were able to get him on the beach and he's received some scans which revealed two breaks in his pelvis that will require some surgery," WSL Commissioner Kieren Perrow said. "It's something that you never want to see on a day like today but we all know it's a possibility of happening. The good news is he will be okay but it's going to be a recovery process and we just send our best to him and his family."
Event organizers will reconvene tomorrow morning at 7am to reassess conditions.
When competition resumes, up first will be Josh Kerr (AUS) against Jeremy Flores (FRA) in the final heat of Round 5.
Highlights from today are available at WorldSurfLeague.com
BILLABONG PIPE MASTERS QUARTERFINAL MATCH-UPS:
QF 1: Gabriel Medina (BRA) vs. C.J. Hobgood (USA)
QF 2: Mick Fanning (AUS) vs. Kelly Slater (USA
QF 3: Mason Ho (HAW) vs. Adam Melling (AUS)
QF 4: Adriano de Souza (BRA) vs. TBD
BILLABONG PIPE MASTERS ROUND 5 RESULTS:
Heat 1: C.J. Hobgood (USA) 13.34 def. John John Florence (HAW) 9.76
Heat 2: Kelly Slater (USA) 17.07 def. Keanu Asing (HAW) 9.77
Heat 3: Adam Melling (AUS) 5.17 def. Joel Parkinson (AUS) 4.20
REMAINING BILLABONG PIPE MASTERS ROUND 5 MATCH-UP:
Heat 4: Josh Kerr (AUS) vs. Jeremy Flores (FRA)
BILLABONG PIPE MASTERS ROUND 4 RESULTS:
Heat 1: Gabriel Medina (BRA) 15.30, C.J. Hobgood (USA) 5.47, Keanu Asing (HAW) 4.27
Heat 2: Mick Fanning (AUS) 17.30, Kelly Slater (USA) 16.47, John John Florence (HAW) 15.16
Heat 3: Mason Ho (HAW) 16.23, Joel Parkinson (AUS) 15.03, Jeremy Flores (FRA) 10.24
Heat 4: Adriano de Souza (BRA) 13.67, Josh Kerr (AUS) 12.13, Adam Melling (AUS) 1.43
BILLABONG PIPE MASTERS ROUND 3 RESULTS:
Heat 1: Gabriel Medina (BRA) 15.84 def. Jordy Smith (ZAF) 4.50
Heat 2: Keanu Asing (HAW) 5.00 def. Bede Durbidge (AUS) 0.17
Heat 3: C.J. Hobgood (USA) 6.74 def. Italo Ferreira (BRA)
Heat 4: Kelly Slater (USA) 13.43 def. Michel Bourez (PYF) 7.00
Heat 5:  Mick Fanning (AUS) 12.14 vs. Jamie O'Brien (HAW) 2.70
Heat 6: John John Florence (HAW) 19.93 def. Taj Burrow (AUS) 6.67
Heat 7: Mason Ho (HAW) 6.93 def. Filipe Toledo (BRA) 6.67
Heat 8: Joel Parkinson (AUS) 10.86 def. Kai Otton (AUS) 5.40
Heat 9: Jeremy Flores (FRA) 14.44 def. Sebastian Zeitz (HAW) 14.23
Heat 10: Adam Melling (AUS) 15.73 def. Julian Wilson (AUS) 15.16
Heat 11: Josh Kerr (AUS) 7.67 def. Adrian Buchan (AUS) 3.20
Heat 12: Adriano de Souza (BRA) 10.00 def. Glenn Hall (IRL) 4.70