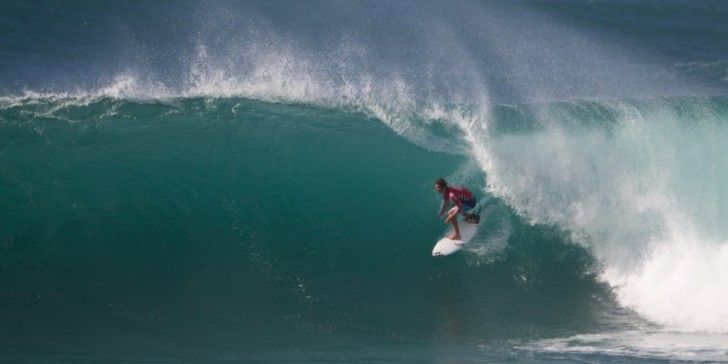 Jack Robinson (AUS) pulls into a 10-point barrel ride at last year's HIC Pro, Presented by Vans.
Image: WSL / Freesurf / Keoki
| | |
| --- | --- |
| Location:    |      Sunset Beach, North Shore, Oahu                                                 |
| Event window: |      October 27 – November 9   |
| Ratings: |      Men's QS3,000   |
| | |
NORTH SHORE, Oahu/Hawaii – (Thursday, October 13, 2016) — Oahu's North Shore winter surf season has arrived and will kick off with a revolutionary lineup at the HIC Pro, Presented by Vans, a 3-day event with a holding period from October 27 through November 9 at Sunset Beach. The HIC Pro is a World Surf League (WSL) Qualifying Series (QS) 3,000 that is the official local qualifier for the Vans Triple Crown of Surfing. 112 athletes from around the world come together at Sunset Beach, a big wave venue that produces the most consistent heavy water waves in the world. Up for grabs: the HIC Pro title; the WSL Hawaii Regional Champion title; and highly sought-after slots into the Vans Triple Crown.
Fifty percent of the 112-man field is comprised of local surfers, led by Hawaii's top rated regional athlete Eli Olson (Oahu) and teenage world-beaters like Finn McGill (Oahu),Noa Mizuno (Oahu), Matt McGillivray (South Africa) and Riley Laing (Australia). Olson took the win earlier this year at the Local Motion Surf Into Summer and now advances to put a stake in the ground at the HIC Pro.
"I feel great, I have all my boards, I'm physically and mentally prepared and I'm looking forward to a really good year," said Olson. "My ultimate goal is to not put too much pressure on myself and focus on my surfing, that's when I tend to do my best."

Olson took the win and top regional spot in Hawaii after performances like this at Ala Moana Bowls. Image: WSL/Freesurf/Heff
Olson will fight to stay at the top of the rankings in order to secure the Regional Champion title, which offers a seed into the top QS events for the following year, as well as this year's 10,000's in Hawaii – the Hawaiian Pro (Nov 12 – 23) and Vans World Cup (Nov 24 – Dec 6). Also on offer is a $5,000 travel award from Vans, which helps offset the expense of traveling to QS events around the world.
"My mindset recently regarding all other competitors is that every single person in this entire event is incredibly talented and really good," continued Olson. "l don't underestimate anybody. Everyone has the ability to win or lose and I just think everyone is good. There's no such thing as an easy heat."
The HIC Pro will also see the return of Australia's Jack Robinson, the 18-year old upstart who stormed the 2015 Hawaiian winter with big wave skills beyond his years. From the powerful breaks of Western Australia, Robinson stole the surf industry spotlight in Hawaii last year, reaching the final at the HIC Pro, winning the Pipe Invitational, and being crowned the Vans Triple Crown Rookie of the Year.

Robinson looks at home in the triple-overhead surf at Sunset last year. Image: WSL/Freesurf/Heff
"Arriving to Hawaii knowing that waves like Haleiwa and Sunset await puts absolute balance back into the QS tour for what a surfer should be able to perform in," said Robinson on how events like the HIC Pro and Hawaii's 10,000s fit into his career goals. "Bring it on! I love to get amongst high performance surfers in high performance waves and they don't run the contests unless the waves are good in Hawaii generally."
Another global standout confirmed for competition is Italy's Leonardo Fioravante, 18, who caused one of the biggest upsets at the Quiksilver Pro France last week after eliminating 11x World Champion Kelly Slater from the competition.

Leo takes down the champ in France. Local boy Keanu Asing (HAW) goes on to take the event win. Image: WSL/Cestari
In 2015, Fioravante broke his back during the Volcom Pipe Pro, but has overcome an almost career-ending injury to now be ranked No. 1 on WSL's World Qualifying Series. He is poised to join the world's best athletes in 2017 on the WSL Samsung Galaxy Championship Tour (CT), where he will be the youngest surfer on Tour.

Taumata Puhetini tears up Ala Moana Bowls during the 2016 WSL QS1,000 in Honolulu. Image: WSL/Freesurf/Heff
Under the new WSL region, WSL Hawaii/Tahiti Nui is proud to welcome Tahitian surfersAriitu Turo, O'Neill Massin, Taumata Puhetini and Tereva David, whose solid regional ratings see them entered into the HIC Pro event. With surfing's biggest stage on tap, the Tahitians are sure to carry over their Teahupo'o prowess into the equally challenging waves of Sunset Beach as they, too, work to qualify for the Vans Triple Crown series.
The 2016 HIC Pro, Presented by Vans is a dial that points to the future champions of our sport, including Olympic and WSL World Champions.
Tune in to watch the HIC Pro, Presented by Vans LIVE on WorldSurfLeague.com andVansTripleCrownofSurfing.com/Vans.