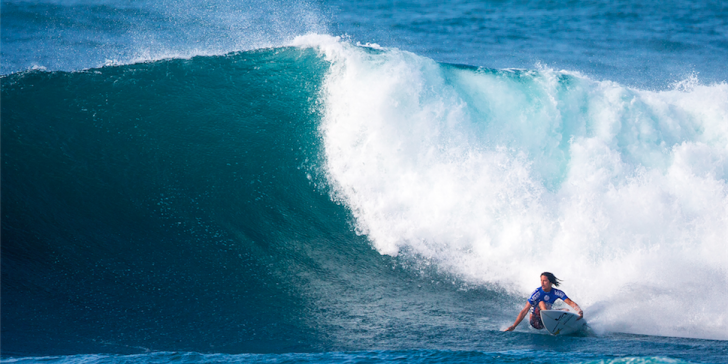 830AM start. VTC and event contest director Marty Thomas made the call with the select group. It's 8-12′ occ 15′ washing through mostly N angles sweeping through. A challenging line and day ahead. Call 808-596-SURF for updates.
Danny Fuller (HAW) in winning form at last year's HIC Pro.
Photo: WSL/Freesurf/Heff
worldsurfleague.com
vanstriplecrownofsurfing.com/hicpro2015
Location: Sunset Beach, North Shore Oahu, Hawaii
Dates & Rating
October 28 – November 10, 2015.
WSL Men's QS3,000
Sunset Beach, Oahu, HI – (October 27, 2015) — The first huge swell of the Hawaiian winter arrived here today and will likely see the HIC Pro, presented by Vans, get underway at 8am tomorrow morning – day one of the event's holding period. The official local qualifier for the Vans Triple Crown of Surfing, the HIC Pro is a critical event for Hawaii surfers, as it determines nine additional places for local athletes to compete in the world's most prestigious surfing series.
Today's victory-at-sea conditions should gradually subside for contestable surf tomorrow, followed by a potentially larger swell filling in late Thursday, peaking Friday. Wave face heights today exceeded 30 feet.
HIC Pro defending champion Danny Fuller returns this year to uphold his title and qualify to compete on the world's main surfing stage this winter. The 33-year-old professional surfer from Kauai has spent the year traveling to promote his photography, but is looking to tap into his competitive determination to perform at the powerful and challenging waves of Sunset Beach.
"For the past few months I've surfed as much as possible," says Fuller. "Preparing myself for the winter, doing a bit of physical training … my boards feel really good and I feel good. I'm just ready to get this winter started, and considering the waves are breaking on the horizon at this moment, we couldn't get it started in any better fashion."
Hawaii athletes dominate the 112-man HIC Pro field this year, comprising 55 per cent of the field. The youngest Hawaii surfer, Finn McGill, is competing at the HIC Pro for the first time this year at just 15 years old.
"I have been practicing a lot lately," says McGill. "Even when it's 2 foot Sunset Point I've been trying to go out on my big boards and feel them out and try to get ready for this comp."
With consistent pulses of big surf lined up for this week, the HIC Pro could complete its three days of competition by the close of the weekend. HIC Pro Surfing Director, Marty Thomas, will make the competition call at 7:30am each morning.
About HIC – Hawaiian Island Creations:
Hawaii's biggest and best selection of surf gear – since 1971 HIC has provided Hawaii with quality surfboards, skateboards, clothing and accessories – by surfers, for surfers. Locally owned and operated, the HIC retail chain includes fourteen stores across Oahu, Maui and the Big Island, plus two in Japan. Through a commitment to quality, service and aloha spirit, the brand has built a reputation as an icon of Hawaiian surfing recognized throughout the world. Enjoy the ride!
About Vans
Vans®, a VF Corporation (NYSE: VFC) brand, is the original action sports footwear, apparel and accessories brand. Vans authentic collections are sold globally in more than 75 countries through a network of subsidiaries, distributors and international offices. Vans also owns and operates more than 450 retail locations around the world. The Vans brand promotes the action sports lifestyle, youth culture and creative self-expression through the support of athletes, musicians and artists and through progressive events and platforms such as the Vans Triple Crown of Surfing®, the Vans U.S. Open of Surfing, Vans Pool Party, Vans Custom Culture, Vans Warped Tour®, and Vans' cultural hub and international music venue, the House of Vans.
Vans, "Off the Wall" Since '66
www.vans.com
youtube.com/vans
instagram.com/vans
facebook.com/vans
twitter.com/vans_66
—
Lauren Rolland
WSL Hawaii Media Manager
c. 808.651.8248