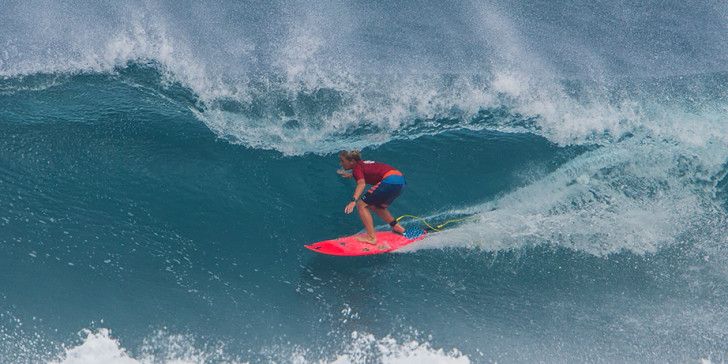 34 PER CENT OF 112-MAN FIELD IN THEIR TEENAGE YEARS
Above: Finn McGill (HAW), 15, will be one of the red-hot, young crew to watch during the HIC Pro.
Photo: WSL/FreesurfRock
Location:   
Sunset Beach, North Shore Oahu, Hawaii
Dates & Rating
October 28 – November 10, 2015.
WSL Men's QS3,000
HONOLULU  (October 15, 2015): HIC Pro, the official local qualifier for the world famous Vans Triple Crown of Surfing, will kickstart a powerful El Niño winter in Hawaii this year with the youngest, deepest crop of professional talent this 32-year event has ever seen. The HIC Pro is a World Surf League QS3,000 rated event that offers critical qualification points.With 59 local athletes qualifying for a start in the 112-man HIC Pro field, Hawaii equates for more than half of the contenders and remarkably, 34 percent are teenagers. Joh Azuchi (JPN) will be the youngest competitor in the HIC Pro at just 14 years old, while Finn McGill (HAW) is the region's youngest contender at 15.
If the Vans Triple Crown of Surfing represents the highest stage in professional surfing, then the HIC Pro provides a first look at its future champions.
"The Vans Triple Crown of Surfing is the holy grail of surfing to Hawaiians and the HIC Pro is a critical stepping stone to reach it for local surfers," said Jodi Wilmott, WSL Hawaii General Manager.
"The HIC Pro is hugely important in this capacity. Our kids cannot come out of their school years and graduate straight onto surfing's global pro stage. It requires strategic competitive steps to get there and the HIC Pro is exactly that. Without events like this, there is no path to the top for our Hawaii kids."
Back in 2005, John John Florence (HAW) made history as the youngest athlete to compete in the Vans Triple Crown of Surfing at age 13, and went on to win the title twice by the age of 22. North Shore's Finn McGill is keen to follow in his footsteps.
"I'm so stoked that I finally qualified for the HIC Pro," McGill says. "Last year I waited all day, every day for an alternate spot to open. I honestly can't wait."
Looking to compete among Hawaii's top athletes this October, the 15-year-old North Shore surfer is feeling confident, despite the fact that Sunset is traditionally regarded as a heavy water wave.
"It just comes naturally to me because I've surfed Sunset all of my life. I love it," says McGill.
Mental and physical fitness, along with specific wave knowledge are key to doing well at Sunset Beach. The HIC Pro provides the opportunity for young aspirants like McGill, as well as seasoned professionals, to fine-tune their winter game and equipment in advance of the Vans Triple Crown.
About HIC – Hawaiian Island Creations:
Hawaii's biggest and best selection of surf gear – since 1971 HIC has provided Hawaii with quality surfboards, skateboards, clothing and accessories – by surfers, for surfers. Locally owned and operated, the HIC retail chain includes fourteen stores across Oahu, Maui and the Big Island, plus two in Japan. Through a commitment to quality, service and aloha spirit, the brand has built a reputation as an icon of Hawaiian surfing recognized throughout the world. Enjoy the ride!
About Vans
Vans®, a VF Corporation (NYSE: VFC) brand, is the original action sports footwear, apparel and accessories brand. Vans authentic collections are sold globally in more than 75 countries through a network of subsidiaries, distributors and international offices. Vans also owns and operates more than 450 retail locations around the world. The Vans brand promotes the action sports lifestyle, youth culture and creative self-expression through the support of athletes, musicians and artists and through progressive events and platforms such as the Vans Triple Crown of Surfing®, the Vans U.S. Open of Surfing, Vans Pool Party, Vans Custom Culture, Vans Warped Tour®, and Vans' cultural hub and international music venue, the House of Vans.
Vans, "Off the Wall" Since '66
www.vans.com
youtube.com/vans
instagram.com/vans
facebook.com/vans
twitter.com/vans_66
—
Lauren Rolland
WSL Hawaii Media Manager
c. 808.651.8248