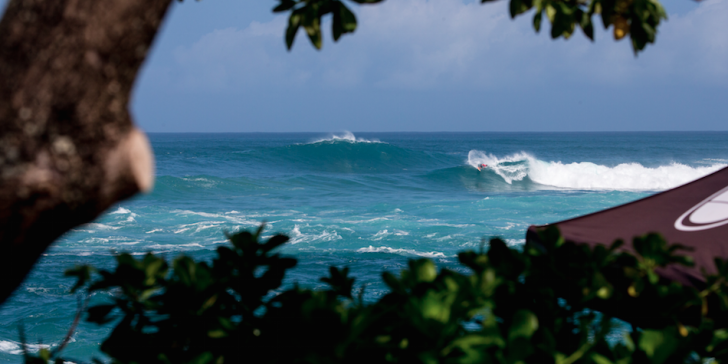 Maui's Ian Walsh took out the event today in perfect 8′ Sunset against fellow Mauian Billy Kemper 2nd, Kaito Kino 3rd and Australia's 18 year young Jack Robinson 4th. Full story coming.
Surf's perfect 6-8+ WNW and offshore. SNN.
Friday: Contestable surf was on hand earlier, but the rising swell made for unruly conditions by mid afternoon.
Photo: WSL/Freesurf/Heff
vanstriplecrownofsurfing.com/hicpro2015
Location:   
Sunset Beach, North Shore Oahu, Hawaii
Dates & Rating
October 28 – November 10, 2015
WSL Men's QS 3,000
Sunset Beach, Oahu, HAWAII – (October 30, 2015) – An epic winter swell churned through the Sunset Beach lineup for Day 3 of the HIC Pro, Presented by Vans, today. Surfers were challenged to survive some of the heaviest conditions Sunset can deliver and the biggest swell to hit the North Shore so far this season. Wave face heights hit 30 feet and more on the sets as the extra large NWN swell filled in throughout the day.
HIC Pro Surfing Director Marty Thomas called the contest off midday after the horn blew to end the final heat in Round 4.
"This-morning we had some solid surf on hand, 12-15 even 18 foot. We decided to go for it and I'm glad we did because the Round of 32 had excellent surfing in some very difficult conditions.
"After the round of 32, we decided to stop the event. There's some wash through sets coming through. The surfers are really taxed from the paddling, getting caught inside, as well as the water patrol. There's forecasted bigger sets this afternoon, so we want to come back tomorrow."
The forecast for tomorrow is excellent, showing surf in the 8-10-foot range. "We'll run the Quarters, Semis and Finals so it should be a great day tomorrow," said Thomas.
Ian Walsh (HAW) and Jack Robinson (AUS) – two standouts of the event – went wave for wave in Heat 5, with Walsh posting the highest single score of the morning, a near perfect 9.87. The massive waves played in Walsh's favor as he remained confident and poised with every turn and hack off the big open faces, which gained him entry into the Quarterfinals.
"I feel strong, ready for winter," said Walsh. "Waves showed up a lot more today than yesterday. There's a lot of energy with this incoming swell, a lot of water moving and that made it really challenging to be in the right place. You had to pick when to shoot to the inside to line up a wave. There's a lot of work to position yourself but if you got the right wave there was a lot of opportunity."
Other standouts today included Maui's Olamana Eleogram, who discovered a magic ride in an Eric Arakawa beach demo board to excel in the substantial surf. The Hana local took an early lead with a 7.0 and advanced on with a combined score of 11.17 out of a possible 20. When the contest resumes, Eleogram will compete against a stacked heat including Walsh, Joel Centeio (HAW) and Mitchell Parkinson (AUS) – and has decided to take ownership of the borrowed board.
Hank Gaskell (HAW), found one of the only barrels of the day, which garnered an 8.17 from the judges and advancement into the Quarterfinals as well. With a win at Sunset in 2011, Gaskell knows the lineup well and was able to perform at top level in the tricky ocean circumstances.
Organizers anticipate an 8am start tomorrow morning, followed by an 11am final.
RESULTS
All surfers from Hawaii unless noted
Surfers shown in order of 1st through 4th
QUARTER FINAL DRAW FOR TOMORROW:
H1: Sheldon Simkus (AUS); Myles Padaca; Billy Kemper; Kaito Kino
H2: Cristobal De Col (PER); Koa Smith; Hank Gaskell; Alex Smith
H3: Ian Walsh; Joel Centeio; Olamana Eleogram; Mitchell Parkinson (AUS)
H4: Benji Brand; Jack Robinson (AUS); Isaiah Moniz; Kamalei Alexander
Round of 32 – 1st and 2nd to Quarter Finals
H1: Sheldon Simkus (AUS); Koa Smith; Jackson Baker (AUS); Kaimana Jaquias
H2: Billy Kemper; Alex Smith; Kalani Chapman; Robbie Rickard (AUS)
H3: Cristobal De Col (PER); Myles Padaca; Noa Mizuno; Kylen Yamakawa
H4: Hank Gaskell; Kaito Kino; Chris Ward (USA); Gavin Gillette
H5: Ian Walsh; Jack Robinson; Martin Jeri (PER); Elliot Paerate-Reid
H6: Olamana Eleogram; Kamalei Alexander; Mitchell James (AUS); Johnny Noris (USA)
H7: Benji Brand; Joel Centeio; Kalani David; Kai Barger
H8: Isaiah Moniz; Mitchell Parkinson (AUS); Brad Ettinger (USA); Travis Beckmann
Round of 64 – 1st and 2nd to next round
H1: Kaimana Jaquias; Kalani Chapman; Caiden Fowler (AUS); Ezra Sitt
H2: Koa Smith; Robbie Rickard (AUS); Kevin Sullivan; Kan Watanabe
H3: Billy Kemper; Jackson Baker (AUS); Sunny Garcia; Barron Mamiya
H4: Alex Smith; Sheldon Simkus (AUS); Shane Campbell (AUS); Imaikalani deVault
H5: Cristobal De Col (PER); Gavin Gillette; Kekoa Cazimero; Guy Sato (JPN)
H6: Myles Padaca; Kaito Kino; Kalani Ball (AUS); Coconut Willie
H7: Hank Gaskell; Noa Mizuno; Lucca Saldivar (PER); Arashi Kato (JPN)
H8:  Chris Ward (USA); Kylen Yamakawa; Shayden Pacarro; Evan Valiere
H9: Ian Walsh; Kamalei Alexander; Gregg Nakamura; Schuyler Allen
H10: Jack Robinson (AUS); Mitchell James (AUS); Landon McNamara; Kilian Garland (USA)
H11: Olamana Eleogram; Elliot Paerata-Reid (NZL); Takumi Nakamura (JPN); Mikey Bruneau
H12: Johnny Noris (USA); Martin Jeri (PER); Jake Halstead (USA); Elijah Gates
H13: Joel Centeio; Isaiah Moniz; Bruce Irons; Luke Shepardson
H14: Kai Barger; Mitchell Parkinson (AUS); Kai Mana Henry; Griffin Colapinto (USA)
H15: Brad Ettinger (USA); Benji Brand; Makai McNamara; Dylan Goodale
H16: Travis Beckmann; Kalani David; Eala Stewart; Jamie O'Brien (inj)