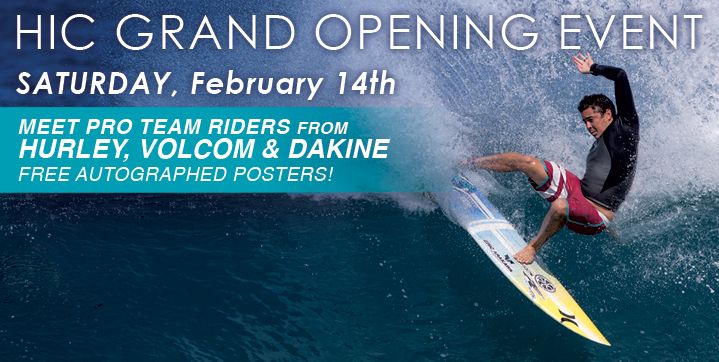 Congrads to the Hawaiian Island Creations Crew on their hot new HIC Surf Outlet 
Grand Opening Celebration
Saturday, February 14th
Noon to 3 pm
HIC is celebrating the Grand Opening of it's newest store in The Outlets of Maui, in historic Lahaina Town on Maui's West shore.
Drop by and meet pro team riders from Hurley, Volcom and Dakine and get free autographed posters, food and beverages, and
killer deals running all weekend long. You can also enter to win one of two free HIC gift cards worth $100 at HIC stores.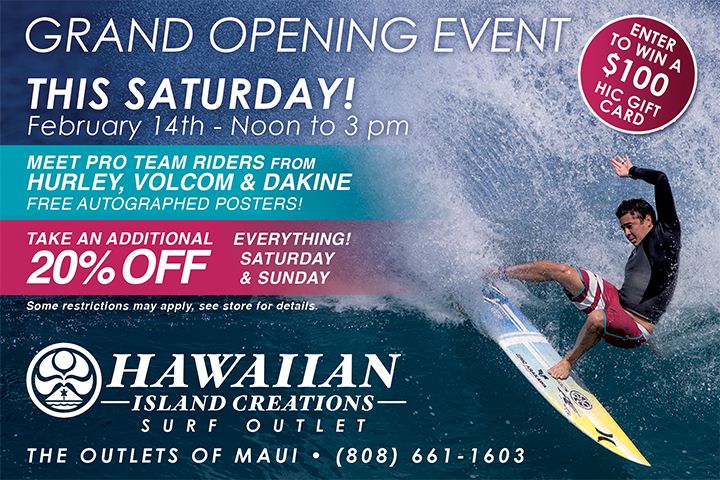 This is HIC's fourteenth location in the islands and it's second outlet store. This location will feature "Outlet" prices on all the top
brands of surf clothing, swimwear and beach gear, like Billabong, Hurley, Quiksilver, Roxy, Volcom, Rip Curl, Dakine, Reef, HIC
and more. This weekend's Grand Opening Sale will run all day Saturday and Sunday and will allow customers to take an additional
20% off their entire purchase on already discounted merchandise.
About The Outlets of Maui:
The Outlets of Maui is Hawaii's only outlet shopping on Maui, and is located on Front Street in the former Lahaina Center, between
Papalaua and Wainee Streets. Hours of operation are Monday-Sunday 9:30 a.m. – 10:00 p.m. (restaurants and holiday hours may vary).
About HIC: 


Since 1971, HIC has provided Hawaii with quality surfboards, skateboards, clothing and accessories – by surfers, for surfers. Founded in
Kailua by brothers Stephen and Jimmy Tsukayama, the HIC retail chain has grown to includes fourteen stores across Oahu, Maui and the
Big Island – as well as two in Japan. Through a commitment to quality, service and aloha spirit, the brand has built a reputation as an icon
of Hawaiian surfing recognized throughout the world. Enjoy the ride!