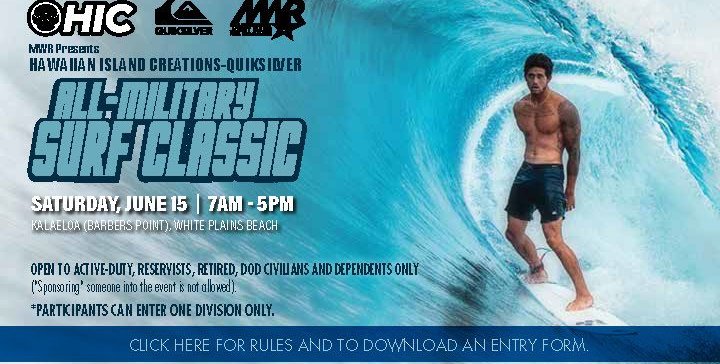 It's looking good for a 3-5′ SSW under sunny skies & moderate trades. SNN
Click the Banner…

MWR Presents the HAWAIIAN ISLAND CREATIONS & QUIKSILVER All-Military Surf Classic
• All contestants will recieve a T-shirt.
• Retirees, reservists, DoD & Dependats can enter the Open Division ONLY.
• This event is open strictly to active duty, reservists, retirees, DoD and their dependents (Ages 15 & up).
• "Sponsoring" someone into the event is not allowed.
• Surfing & Liability waiver must be signed and submitted with entry form.
• Entry deadline: Friday, June 7 at White Plains Beach Surf Shack or Hickam Marina Office.
• Absolutely NO BEACH ENTRIES; only to fill existing heats.
• ID may be checked, prior to surfing for eligibility.
• Call 682-4925 on the evening of June 14 for contest updates.
• Longboards are round nosed and 9ft and over in length.
Entry Fees: $40 DoD Division & $30 Active Duty (Must hold valid ID)
Click on the link below to download an application:
https://jbphh.greatlifehawaii.com/activity/50369927-7d94-4853-80a1-e4652d93bb55