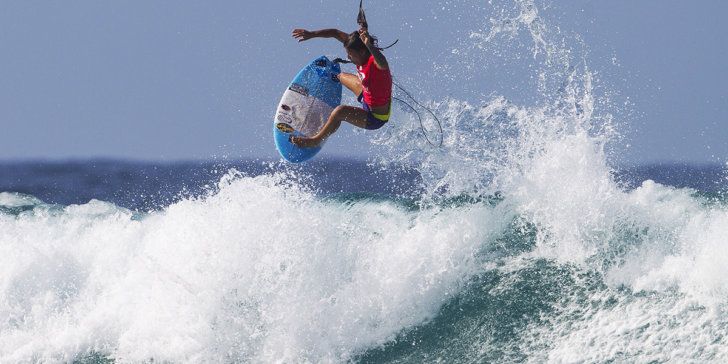 Clean cuts & close calls for the Women's & Men's CT rosters
Women's CT sees return of Lima, Men's CT welcomes back Asing and Gudauskas
What a season, what a year! John John Florence and Tyler Wright both defending their respective maiden world surfing crowns to become two-time WSL Champions, closing the 2017 World Surf League Championship Tour. Surf News Newtwork, 20 December, 2017.
The 2018 elite men's Championship Tour will be contested by the WSL Top 34, made up of the top 22 finishers on the 2017 CT season, the top 10 finishers on the 2017 Qualifying Series (QS) and two WSL wildcards.
2017 Top 22 CT:
1John John Florence (HAW)
2Gabriel Medina (BRA)
3Julian Wilson (AUS)
4Jordy Smith (ZAF)
5Matt Wilkinson (AUS)
6Owen Wright (AUS)
7Kolohe Andino (USA)
8Adriano de Souza (BRA)
9Joel Parkinson (AUS)
10Filipe Toledo (BRA)
11Sebastian Zietz (HAW)
12Mick Fanning (AUS)
13Connor O'Leary (AUS)
14Frederico Morais (PRT)
15Jeremy Flores (FRA)
16Adrian Buchan (AUS)
17Kanoa Igarashi (USA)
18Caio Ibelli (BRA)
19Michel Bourez (PYF)
20Conner Coffin (USA)
21Joan Duru (FRA)
22Italo Ferreira (BRA)
2017 Top 10 QS (minus double qualifiers from CT):
Griffin Colapinto (USA)
Jesse Mendes (BRA)
Wade Carmichael (AUS)
Tomas Hermes (BRA)
Yago Dora (BRA)
Willian Cardoso (BRA)
Keanu Asing (HAW)
Ezekiel Lau (HAW)
Michael Rodrigues (BRA)
Patrick Gudauskas (USA)
WSL Wildcards:
Kelly Slater (USA)
Ian Gouveia (BRA)
CT Men's Replacement Surfers:
Michael February (ZAF)
Bede Durbidge (AUS)
Miguel Pupo (BRA)
Wiggolly Dantas (BRA)
The 2018 elite women's Championship Tour (CT) will be contested by the WSL Top 17, comprised of the top 10 finishers on the 2017 CT, the top six finishers on the 2017 QS and the WSL wildcard.
2017 Top 10 CT:
1Tyler Wright (AUS)
2Stephanie Gilmore (AUS)
3Sally Fitzgibbons (AUS)
4Courtney Conlogue (USA)
5Carissa Moore (HAW)
6Lakey Peterson (USA)
7Nikki Van Dijk (AUS)
8Sage Erickson (USA)
9Johanne Defay (FRA)
10Tatiana Weston-Webb (HAW)
2017 Top 6 QS (minus double qualifiers from the CT):
Silvana Lima (BRA)
Bronte Macaulay (AUS)
Coco Ho (HAW)
Caroline Marks (USA)
Keely Andrew (AUS)
Paige Hareb (NZL)
WSL Wildcard: 
Malia Manuel (HAW)
CT Women's Replacement Surfers:
Macy Callaghan (AUS)
Pauline Ado (FRA)
Dimity Stoyle (AUS)
Bianca Buitendag (ZAF)
The 2018 WSL Championship Tour season will commence with the Quiksilver and Roxy Pro Gold Coast from March 11 – 22, 2018.
2016 Lineup….
Those curious as to who fell off the tour can check last year's roster below to find out who is missing.
2016 CT Top 22 Finishers:
1 – John John Florence (HAW)
2 – Jordy Smith (ZAF)
3 – Gabriel Medina (BRA)
4 – Kolohe Andino (USA)
5 – Matt Wilkinson (AUS)
6 – Michel Bourez (PYF)
7 – Kelly Slater (USA)
8 – Julian Wilson (AUS)
9 – Joel Parkinson (AUS)
10 – Filipe Toledo (BRA)
11 – Adriano de Souza (BRA)
12 – Sebastian Zietz (HAW)
13 – Josh Kerr (AUS)
14 – Adrian Buchan (AUS)
15 – Italo Ferreira (BRA)
16 – Caio Ibelli (BRA)
17 – Mick Fanning (AUS)
18 – Conner Coffin (USA)
19 – Stuart Kennedy (AUS)
20 – Kanoa Igarashi (USA)
21 – Wiggolly Dantas (BRA)
22 – Miguel Pupo (BRA)
Wildcards:
– Bede Durbidge (AUS)
– Owen Wright (AUS)
2016 Top 10 QS Finishers:
– Connor O'Leary (AUS)
– Ethan Ewing (AUS)
– Frederico Morais (PRT)
– Joan Duru (FRA)
– Leonardo Fioravanti (ITL)
– Jeremy Flores (FRA)
– Jadson Andre (BRA)
– Ian Gouveia (BRA)
– Jack Freestone (AUS)
– Ezekiel Lau (HAW)
Replacements:
– Nat Young (USA)
– Bino Lopes (BRA)
– Keanu Asing (HAW)
– Jesse Mendes (BRA)
Women's 2016 Tour
2016 CT Top 10 Finishers:
1 – Tyler Wright (AUS)
2 – Courtney Conlogue (USA)
3 – Carissa Moore (HAW)
4 – Tatiana Weston-Webb (HAW)
5 – Johanne Defay (FRA)
6 – Stephanie Gilmore (AUS)
7 – Malia Manuel (HAW)
8 – Sally Fitzgibbons (AUS)
9 – Sage Erickson (USA)
10 – Laura Enever (AUS)
Wildcard:
– Lakey Peterson (USA)
2016 Top 6 QS Finishers:
– Silvana Lima (BRA)
– Bronte Macaulay (AUS)
– Nikki Van Dijk (AUS)
– Keely Andrew (AUS)
– Coco Ho (HAW)
– Pauline Ado (FRA)
Replacements:
– Bianca Buitendag (ZAF)
– Alessa Quizon (HAW)
– Chelsea Tuach (BRB)
– Isabella Nichols (AUS)