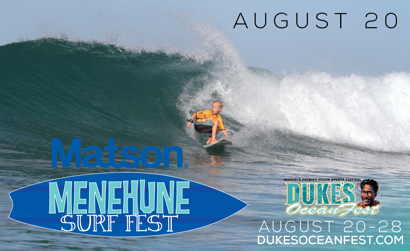 The 15th Annual Dukes Oceanfest is kicking off this weekend Saturday the 20th and will go for 9 days straight. You will feel the energy and Aloha Spirit of Duke Paoa Kahanamoku & this amazing ocean community. Duke of course, one of the greatest watermen who ever lived, would approve of the over a dozen awesome events…and you will, too. Come celebrate the life and legacy of the Father of Modern Day Surfing. The complete schedule is at DUKESOCEANFEST.COM. GO HERE
You heard of guys being called 'surfdog' right? The definition is the urban dictionary is a joke (it has nothing to do with any ones mother).  It just means someone who is a hard core, surf loving animal. They hang out at the beach and in the water, they're generally friendly & don't bite.
Well, let's now talk about a real surf dog…the canine who rides a surfboard! Sure he or she needs a little help from their best friends, the humanoid. I mean, you try paddling with those paws!
Anyway, The Dukes Oceanfest has a classically unique event called the 'Going to the Dogs SurFur Competition'. Owners take their furry best friends out into the lineup at Kuhio Beach on Thursday August 25th. How great is that?! It gives new meaning to the phrase 'bark park'.
I mean, you know dogs, they love playing and having fun. They feel us, they love us. And I know, they'd love surfing with us, too. Well, only at Dukes Oceanfest will you witness it all. I'm not sure how we could tell the difference between a regular 'pay attention to me' bark vs. an 'I'm so stoked right now' bark' but I'm sure they can tell. J   Have your cameras/phones ready to capture and share.
The 9 day Ocean Festival has some serious competition as well. Duke was a multiple record breaking Olympic Athlete. He'd be very impressed with the level of Longboarding's best in this day and age. The Duke's Waikiki Kane/Wahine Longboard Pro happens Monday Aug 22nd through Thursday the 25th. It's stop #7 of the World Surf League Tour. There are points, cash and prestige. Who will catch the best waves, most consistently? Who will showcase the best noseriding, cross-stepping and cutbacks at Queens Surf break? Those who do it best will move closer to qualifying for entry into the Jeep World Longboard Championship Tour. The lucky ones will be in China this December.
Regional Manager of Dukes Waikiki, Chris Colgate said that by partnering with WSL, Duke's OceanFest is providing local longboarders Hawaii's only sanctioned competition …"We're approaching this as an opportunity for the pros in Hawaii who maybe don't have the means or sponsorship to travel to other events around the country, and potentially around the world, a qualifying event that gives them the ability to get into the Championships in China."
Indeed, the 15th Annual Dukes Oceanfest is a huge benefit to the Outrigger Duke Kahanamoku Foundation, the community and all of Hawaii. When you come down and support you will be blessed  as well.
"The magnitude of being on Waikiki beach and competing for nine days honoring Duke is pretty special," said Event Co-Chair Chris Colgate. "We have 20 different competitive events and incorporate in excess of 3,000 athletes. The array of events we have are indicative to Duke's Spirit of Aloha, his inclusion of bringing people together and also his legacy."