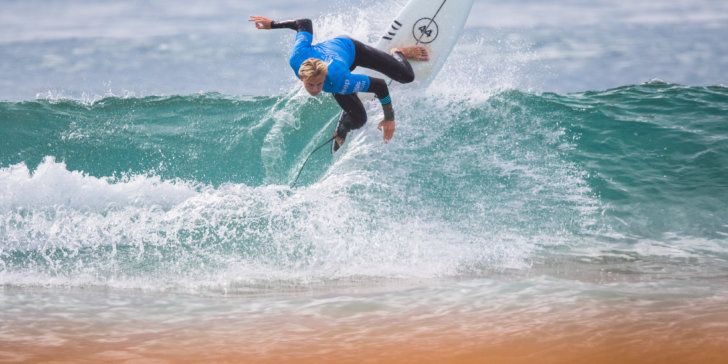 INTERNATIONAL FIELD FIRES UP AT JEEP WORLD JUNIOR CHAMPIONSHIP IN KIAMA
– HIGH SEEDS MATEUS HERDY (BRA) AND COLE HOUSHMAND (USA) ELIMINATED IN RD 3

– WATCH IT LIVE AT 
WORLDSURFLEAGUE.COM
Adin Masencamp (ZAF) took down one of the event favourites in Mateus Herdy (BRA) in Round Three of the Jeep World Junior Championship in Kiama.
Credit: © WSL /  Matt Dunbar
Location:              Bombo Beach, Kiama NSW/Australia
Event window:     January 4 – 12, 2018
Today's call:         Men's Round Three Heats 1-6 Completed
Conditions:          Super clean 2-to-3 foot waves
Kiama,  NSW/AUS  (Monday, January  8, 2018) –  It's been another exciting day of action at Bombo Beach for Day 5 of the 2017 Jeep World Junior Championship. With small clean conditions continuing, event organisers were able to complete Men's Round Two and six heats of Men's Round Three in the 2-to-3 foot waves before the high tide swallowed the remaining surf.
Mateus Herdy (BRA) burst onto the scene at last year's World Junior Championship with an equal 5th place in his maiden appearance. The progressive young Brazilian has been turning heads with his super fast aerial attack and looked to dominate into today's smaller conditions. That was until South African Adin Masencamp (ZAF) decided to rain on his parade, finding a gem of a left and posting an excellent 8.33 (out of a possible 10). Herdy scoured the lineup looking for an answer, but it was to no avail as Masencamp went on to win with a two-wave total of 14.33 (out of a possible 20).
"I feel like Mateus and I are a closer match if the waves are a bit bigger but thought he might have an edge in the smaller waves today," Masencamp said. "I knew he would bring his air game but I just focused on my strengths and it paid off. I surfed earlier and was really familiar with where to sit, so that definitely helped me through what was always going to be a hard heat."
Heat 5 of Round Three saw a battle of the goofy-foots with Cole Houshmand (USA) take on Sandon Whittaker (AUS). The two revelled in the reeling left-handers with Houshmand holding the upper hand for the majority of the heat. With only 5 minutes left Whittaker found one of the bigger waves of the heat and went to work, posting a heat total of 14.00 to take the win from Houshmand and move into Round Four.
"It is a little slow out there but when the waves come they are really fun," Whittaker said. "We have had a couple of days off which has been fun to test boards and hang out here in Kiama. It's a beautiful place and has so many fun waves. It was good to get competition back on today and I'm stoked to have made it into Round Four. It's a great atmosphere with all of the Aussies getting behind one and other."
Jeep World Junior Championship Men's top seed Cody Young (HAW) was excited to hit the water against Erwan Blouin (FRA). A few days off showed how excited the pair were to return to the water, catching a total of 21 waves in the 30-minute heat. Young had the Frenchman on the ropes for the entire heat posting a 12.83 heat total to move closer to the pointy end of the draw while Blouin is eliminated in equal 13th place.
"That was a slow heat but I' really glad we ran because I was super pumped to compete today," Young said. "These smaller conditions are definitely not my strong suit but I just worked hard on staying positive which is really important on days like today."
The opening heat of the day saw a much-anticipated battle between local ripper Lucas Wrice (AUS) and Lennox Head's Mikey McDonagh (AUS). The two good friends left their mateship on the beach and got to work in the small clean conditions. McDonagh built slowly through the heat consistently upping his wave scores to eventually win with a heat total of 13.27. Wrice was eliminated in equal 25th place.
"It's been a really whirlwind few days," McDonagh said. "I thought I was going to surf yesterday morning then we went on hold then in the afternoon we went off so I feel like I've been in the zone preparing for this heat for days. It was tough coming up against my good friend Lucas Wrice in that heat, you always prefer to have those heats later in the event. At the end of the day we are here to win heats so friendships are left on the beach. I'm enjoying my time here in Kiama, it's really relaxing and reminds me of home (Lennox Head) which is super comforting."
Indonesia's Rio Waida (IDN) continued his great run in Kiama posting another heat win and progressing into Round Four. He will join other Round Three winners Yuji Nishi (JPN) and Joh Azuchi (JPN) in Round Four when competition resumes.
The 2017 WSL Jeep World Junior Championship will be held from January 4 – 12, 2018. For more information, highlights and images, head to www.worldsurfleague.com and on the WSL App.
Remaining Men's Round Two Heat Results:
Heat 11: Mikey McDonagh (AUS) vs. Lucas Wrice (AUS)
Heat 12: Adin Masencamp (ZAF) vs. Te Kehukehu Butler (NZL)
Men's Round Three Results Heats 1-6: 
Heat 1: Rio Waida (IDN) 15.10 def. Leo Paul Etiene (FRA) 14.26
Heat 2: Yuji Nishi (JPN) 14.97 def. Momoto Tsuzuki (JPN) 14.27
Heat 3: Adin Masencamp (ZAF) 14.33 def. MateusHerdy (BRA) 11.57
Heat 4: Joh Azuchi (JPN) 12.73 def. Ryland Rubens (USA) 11.80
Heat 5: Sandon Whittaker (AUS) 14.00 def. Cole Houshmand (USA) 13.30
Heat 6: Cody Young (HAW) 12.83 def. Erwan Blouin (FRA) 7.23