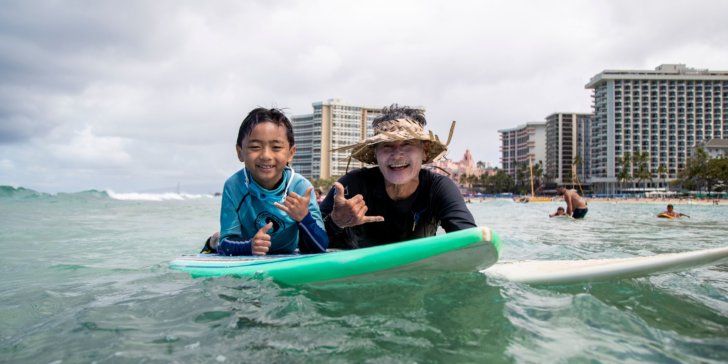 Front Page: TC Surf Owner since day one: Craig Sugihara sharing the stoke. All images: HEFF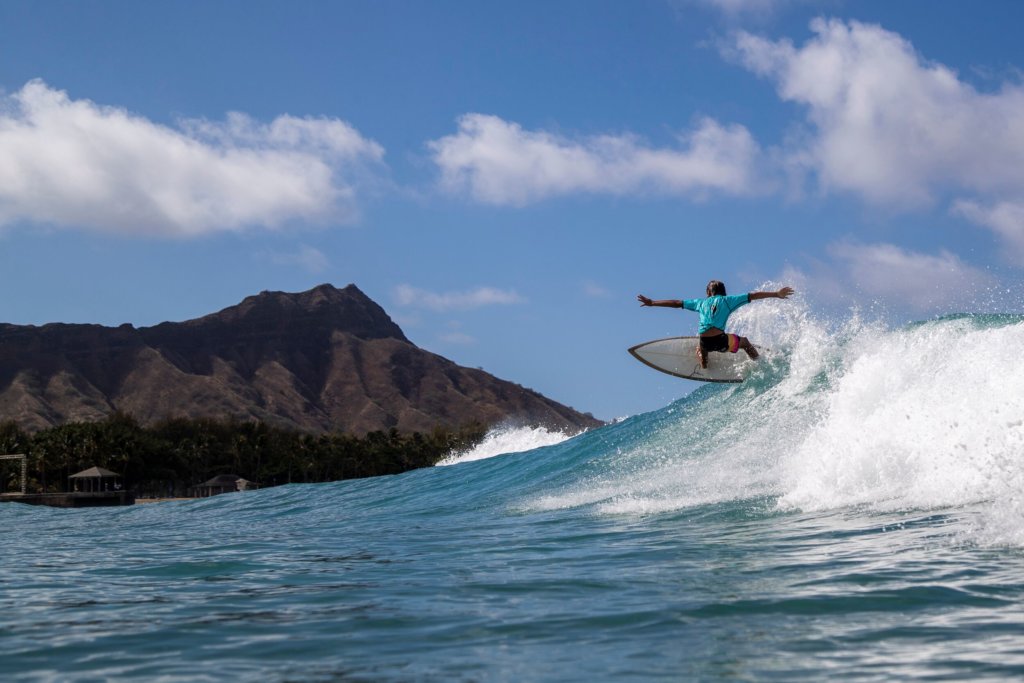 This angle is ageless…and always will be.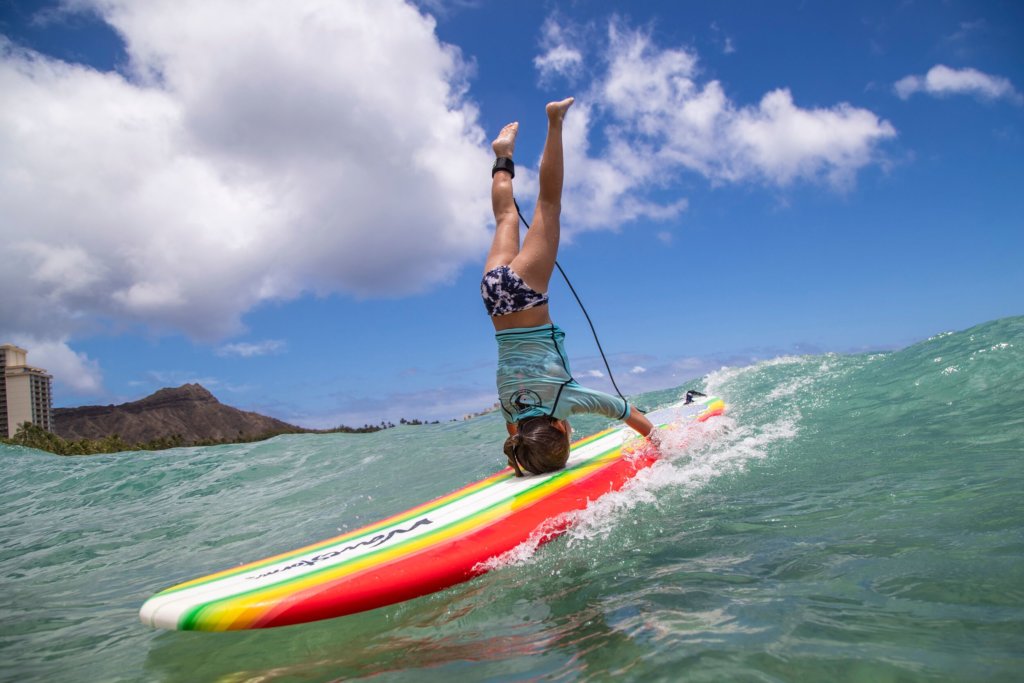 Keiki went head-over-heels in the sun and surf…literally.
In case you missed it…
The T&C Surf Grom Contest presented by Chili's Grill & Bar took place June 1 & 2 under the beautiful sunny skies of Waikiki. Clean conditions and perfect one to three-foot waves set the stage for the family-friendly event that has been running at the iconic surf break of Queens for 22 consecutive years. The tents of families and the event sponsors lined the beach beneath the Duke Kahanamoku Statue, a place considered the birthplace of modern surfing. The location is fitting since it is a first taste of competitive surfing for most kids, and the mellow approachable wave at Queens and Baby Queens is perfect for the Keiki.
The contest is also unique because it limits the field to only surfers who have yet to compete in sanctioned events like HSA and NSSA, offering kids a taste of competitive surfing without all the pressure that other junior surf events bring.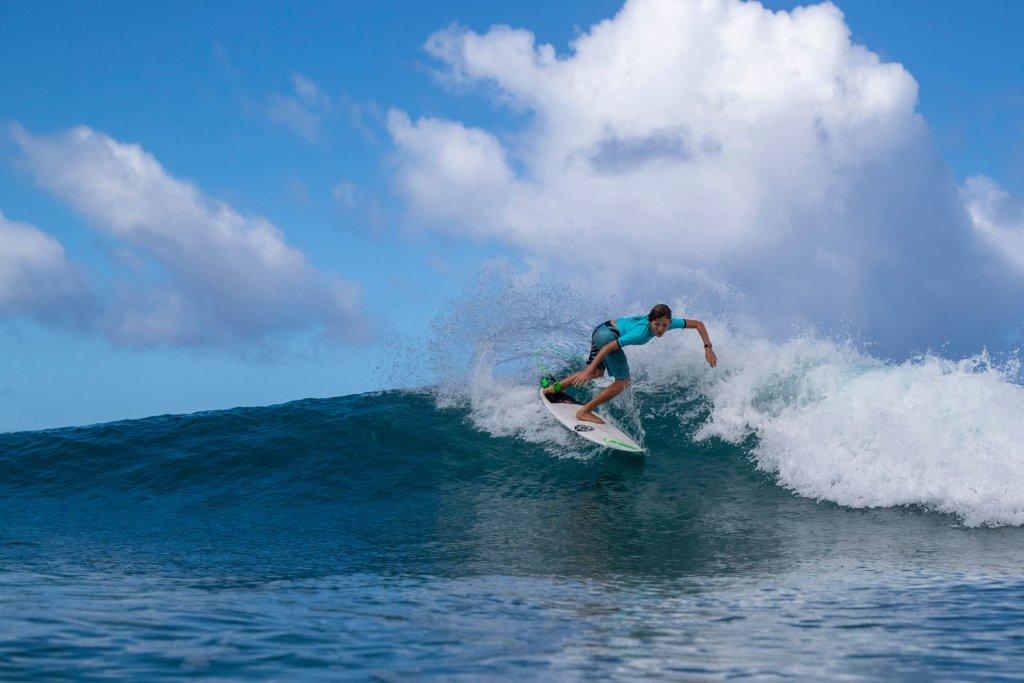 Plenty ripping going on at the event…Photo: Heff
The event kicked off Saturday morning at Queens main break with overhead waves, sunny skies and light trades. Surfers from three to twelve years of age from across the island chain competed in boys and girls divisions of shortboard, longboard, and bodyboard. At Baby Queens, children age eight and younger enjoyed the ever popular Kokua division, which allows the kids assistance in getting into the waves from friends and family. The competition wasn't limited to the water. On the beach, kids battled for extra prizes with an array of games from limbo to who can get the sandiest. There were also a ton of items donated by sponsors that were being won all day long by lucky draw as well as a beach cleanup organized by the Vertra Sunscreen crew that gave away goodies to kids that picked up trash and recyclables around the event.
On Sunday, competition resumed at Queens in clean one to two-foot surf as kids duked it out for one of six spots in the finals. The FreeSurf Magazine Expression Session, where tandem teams of parents with their keiki on board took to the waves to see which squad could snag the best waves. The two specialty heats featured the likes of T&C founder Craig Sugihara along with his granddaughter, as well as T&C Vice President Ryan Sugihara and pro and former pro surfers like Billy Kemper,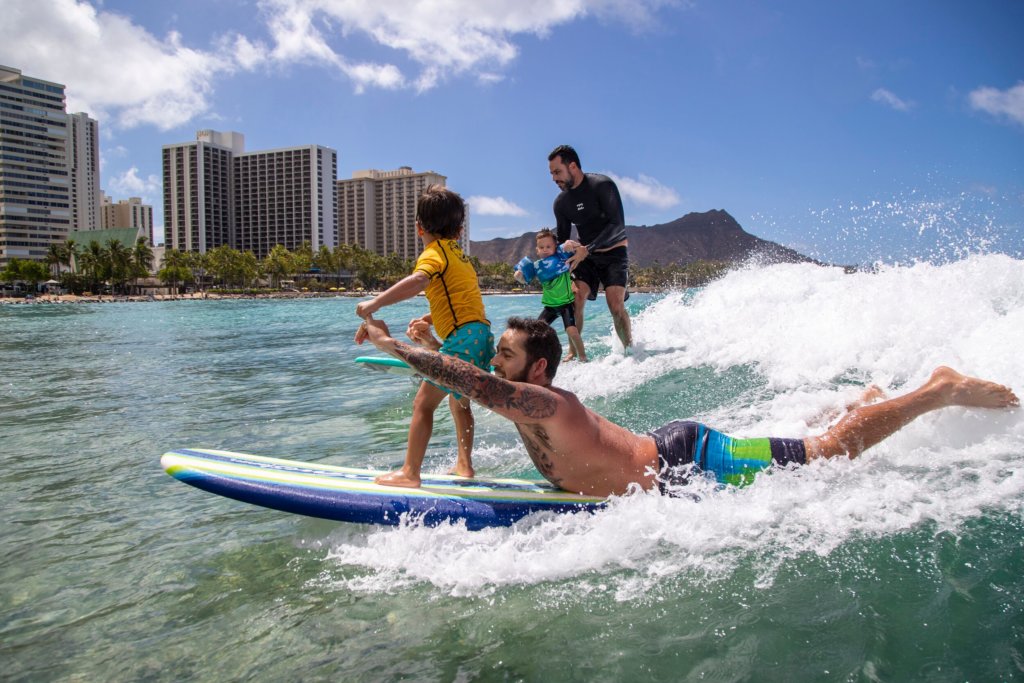 Sharing the ride! Billy all smiles…Image Heff
Joel Centeio, Sean Moody, Dino Miranda, and Board Stories TV host Chris Latronic and Keiki. In the end, the top spot was awarded to father and son team, Dino and Kaniela Miranda. Lunch was provided both days by longtime presenting sponsor, Chili's Grill and Bar and games were hosted by radio personalities "Krystilez" of FM 102.7 DaBomb and "Bruddah Brian" of FM 93.1 Da Paina.
Sunday's competition concluded with finals in all twelve divisions. Every finalist walked away stoked with a goodie bag full of great prizes from event contributing sponsors Dakine, Vans, RVCA, Vertra, and so many more. A portion of the event proceeds goes to benefit our non-profit partner The Boys and Girls Club of Hawai'i.
At the end of the fun-filled weekend, the biggest rewards are the kid's smiling faces from the pure joy of sharing waves and the relationships that are built around the ocean that last a lifetime. Some parents have been coming for years and some for the first time.
Former professional surfer Sean Moody exclaims, "This was my son's first surf event, and it could not have been a better one. Amazing family vibe at the beach that started it all for surfing. Waikiki is a special place with the incredible young talent coming. And it's great to see one of the biggest surf brands in Hawai'i give back to the people that have supported them over the years."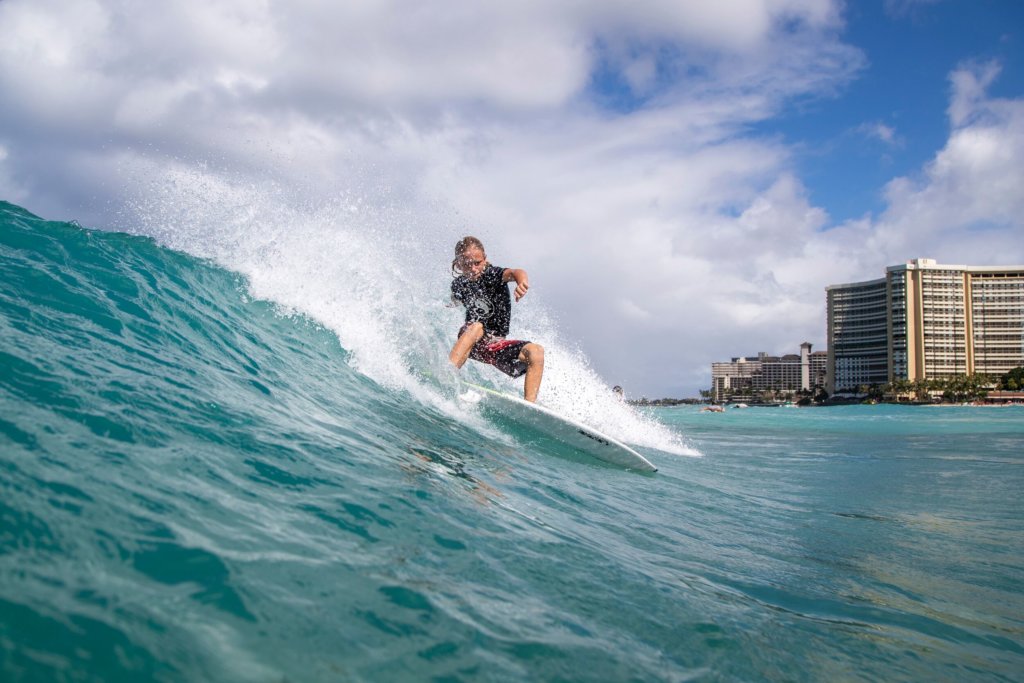 Cutting back into the juice…all rail…all fun….Image: Heff
Grom mom, Sunshine Topping has been attending the T&C Grom Contest for quite some time. She adds, "This year was our 12th consecutive year. We absolutely love this contest, it has become a tradition in our family. It is special because we made some of our best friends at this contest, and Waikiki means a lot to us because our ancestors grew up surfing these beaches. We usually make a fun weekend out of it, even when the kids aren't surfing in a heat, they are surfing with friends at Babies or Canoes or participating in the fun games."
T&C founder Craig Sugihara also remarks, "My favorite part is watching the Kokua division with all the little kids being pushed into waves at Baby Queens, some for the first time. That gives them the most joy and the parents love it. The kids and parents have so much fun at this contest, they always want to come back again each year."
Results in all divisions are as follows: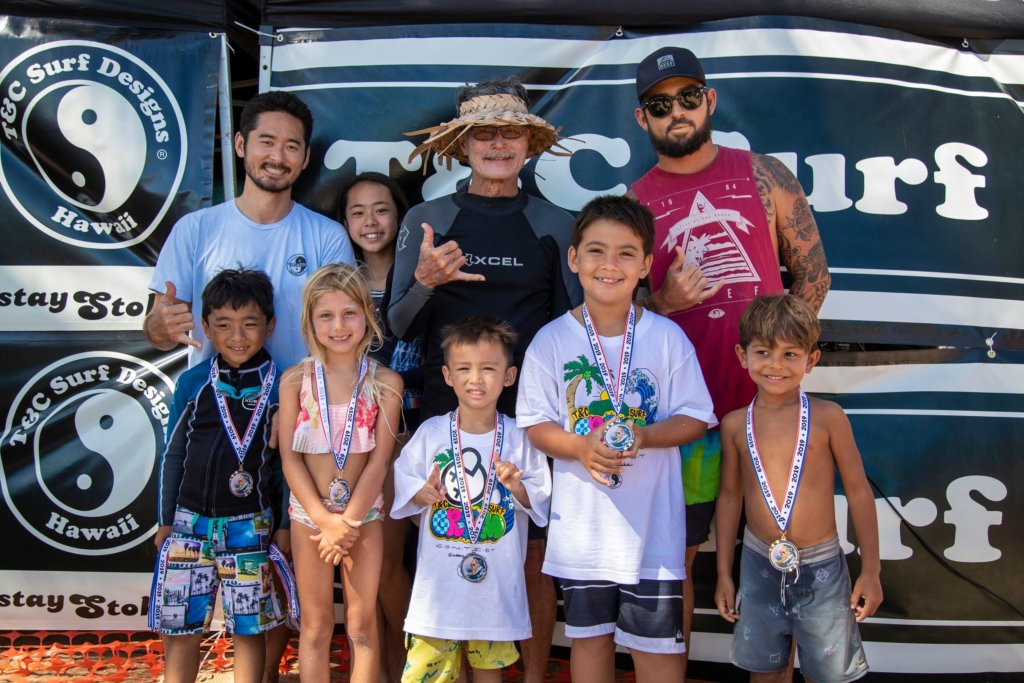 SHORTBOARD GIRLS (6-8)
Ruby Stringfellow
Kylie Oshiro Kaneshiro
Lucia Veith
Emma Colandrea
Maya Wong
Remi Neider
SHORTBOARD GIRLS (9-10)
Gemma Gause
Addison Murphy
Elliana Schiffner
Kona Flanagan
Noelo Wong
Peyton Prouty
SHORTBOARD GIRLS (11-12)
Kiana Mertz
Haven Ingbino Francisco
Malia Deodato
Beni Iinuma
Kaylee Mara
Aina Chiba
LONGBOARD GIRLS (6-9)
Cash Hoover
Chloe Colandrea
Taylor Kini
Kula Blomfield
Lala McMahon
Olive Cody
LONGBOARD GIRLS (10-12)
Hanako Dougherty
Sheadyn Friel
Tiana Lagestee
Sarai Dodson
Piper Linke
Najahine Fukumitsu
SHORTBOARD BOYS (6-8)
Merrick Mochkatel
Kodin Wau
Tama Pere
Kaua Cabral
Wesley Beavers
Kiran Satterlee King
SHORTBOARD BOYS (9-10)
Olan Kokoro Johnson
Kielan Jardini
Inti Rey Guiteirrez
Mikala Tejada
Toa Pere
Nikoa Fernandez
SHORTBOARD BOYS (11-12)
Waimea Star Aliku
Kilian Rosskopf
Kai Fernandez
Nolan Senn
Ale Yasui
Zander Satterlen King
LONGBOARD BOYS (6-9)
Aleipoipono Tomas
Moses Kaleopaa
Makani Enoka-Miramontes
Manu Ferguson
Mars Shuman
Jerry Iwankiw
LONGBOARD BOYS (10-12)
Ezra Clark
Beau Spradlin
Jeremiah Chun-Riveria
Kelii Kauhane
Braden Kauhane
Jeremiah Dale
BODYBOARD COED (6-9)
Joaquin Hancock
Isreal Kuamo'o
Lawakua Inso
Titan Kane
Caydian Respicio
Zachariah Smith
BODYBOARD COED (10-12)
Caleb Powell
Kainalu Shim
Alyssa Awana
Heaven Palakiko
Audriana Leedy Maldonado
Makaialii Carrol
FREESURF EXPRESSION SESSION
Dino and KanielaMiranda
Christopher and Luke Latronic
Tristian & Koa Leedy
  About T&C Surf
Founded in 1971 by surfboard shaper Craig Sugihara, T&C Surf operates three divisions: surfboards, retail and licensing. The surfboard division operates from a state-of-the art shaping facility in Wahiawa. It provides our highly skilled board shapers with the best tools for designing and producing some of the world's most sought-after surfboards. The retail division includes seven locations on Oahu; Ala Moana Center, Haleiwa Store Lots, Kahala Mall, Ka Makana Ali'i, Pearlridge Center, Ward Centre and Windward Mall. The brand also has licensees around the world, including Australia, Brazil, Japan and New Zealand. Visit us online at TCSurf.com.