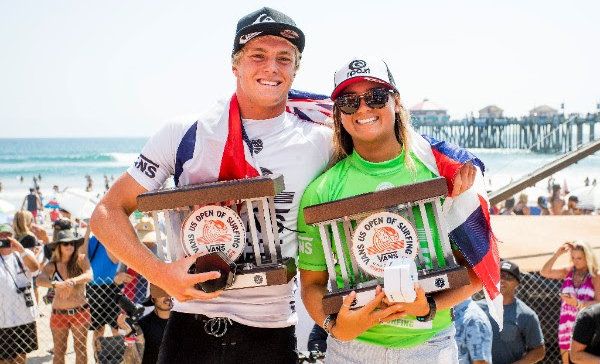 YOUNG AND HENNESSY WIN VANS US OPEN OF SURFING PRO JUNIOR
MEN'S QUARTERFINALISTS DETERMINED AFTER INCREDIBLE BATTLE

 Cody Young (HAW) and Brisa Hennessy (HAW) won the Vans US Open of Surfing Pro Junior event today.
Credit: © WSL / Morris
HUNTINGTON BEACH, California/ USA (Saturday, August 5, 2017) – Cody Young (HAW) and Brisa Hennessy (HAW) have won the the World Surf League (WSL) Vans US Open of Surfing Pro Junior in consistent three-to-four foot (1 metre) conditions at the southside of the Huntington Beach Pier. In addition to the action today, tomorrow will see elite performances with the conclusion of the Women's Championship Tour and Men's Qualifying Series (QS) 10,000 events. 
 
Hennessy continues to be a threat on the international level with her first-ever Vans US Open win in defining fashion. The 17-year-old South Shore, Oahu local showcased her talent to find her way into the Final where she blasted an excellent 8.67 on her first opportunity. Hennessy battled with two-time event winner Caroline Marks (USA), last year's CT event wildcard Meah Collins (USA), and current European Pro Junior Tour No. 1 Teresa Bonvalot (PRT). But, the 17-year-old Hennessy backed up her excellent ride with a 6.33 to regain the lead from Bonvalot and secured her victory. 
 
"All the girls in that heat are amazing and I've been pushed by them for so many years to better my surfing," said Hennessy. "I'm just so happy right now. I think the level of women's junior surfing is getting pushed higher and higher, and I'm excited to see what happens. There's just no words that describe how I really feel right now, this is so incredible and will never forget this. I can't thank my family and everyone back home enough for all their support, I couldn't do this without them." 

Brisa Hennessy (HAW) flew through the Final to take her first Vans US Open of Surfing Pro Junior event. 
Credit: © WSL / Rowland
Action then shifted to the Men's Pro Junior Final and fireworks awaited right off the first horn. Kade Matson (USA) got straight to work with a near-excellent 7.67 on his opening wave, but eventual winner Young shadowed that ride with a brilliant 8.33 to open his account. Matson then earned the lead back with a 5.90, but once again was overtaken by Young with a 7.13. Reef Heazlewood (AUS) made a late charge under the ten-minute mark, but fell short of the 8.63 requirement and earned an 8.10. Barbadian talent Che Allan's (BRB) final few attempts yielded no success and Young emerged victorious.
 
"To win this event in my last year as a Pro Junior is the best thing ever," Young said. "I've done good on the juniors this year, but haven't gotten a win yet and this is my first major  win of my career so far — I'm just so stoked on this right now. This will give me a lot of confidence going to the back half of the year and especially trying to get back to the World Junior Championships since all these guys are there. For Brisa [Hennessy] to win this event as well is super special and bring back two wins to Hawaii. We're excited to have that opportunity and showcase what we can do. I'm looking forward to the rest of this year and hopefully carry this momentum into Kiama next year."

Cody Young (HAW) showcased his powerful surfing to claim victory at the Vans US Open Pro Junior event.
Credit: © WSL / Rowland
Ahead of the Women's and Men's Pro Juniors Finals, the Vans US Open of Surfing Men's QS 10,000 completed their Round 5 head-to-head match-ups to determine the Quarterfinal draw for tomorrow's finish.
Hometown hero Kanoa Igarashi (USA) is back into another finals day at his beloved Huntington Beach after a dominant performance over fellow CT competitor Stuart Kennedy (AUS). The 19-year-old's local knowledge is nearly unmatched at this event and Igarashi continues to utilize it to advance through each heat.
"I just wanted to make sure I stayed in the lead and when that south wind started kicking up I knew it would make conditions tough, so I'm glad I got those first two waves," Igarashi said. "Even though the wind is light, this lineup gets super sensitive so I knew the opportunities would become more scarce and that I had to capitalize on the ones that came. I'm excited to be in finals day again for the third year in a row. Huntington's just that special place for me and I love the feeling of being at home. It's great to just see and hear all that support from the beach so I always look forward to seeing them on finals day."
Defending event winner Filipe Toledo (BRA) nearly met his match in a relentless Davey Cathels (AUS) that witnessed the two exchange leads numerous times until the final buzzer. It was no easy task for Toledo against the fighting spirit of Cathels, whose power-surfing edged out the Brazilian's air-game on a critical exchange that earned him a 7.00 over Toledo's 6.87. The exchanges continued as the five-minute mark drew closer and Toledo's 6.07 put him out front, but Cathels' 6.00 earned the Australian another lead change. But, Toledo wasn't done and found a critical forehand snap before two quick maneuvers on the inside to earn a massive victory.
"That was a really close heat against Davey [Cathels], he's just such a good surfer and I felt my scores were a little low, but I'm stoked to make it through after that last right got me the score," Toledo said. "There were some close priority calls that are part of the game so you just have to stay focused on your own surfing and I'm so stoked to be down here with all my family and friends, along with all the fans cheering me on. It's just an awesome day to get back into finals day and I'm looking forward to it tomorrow."
Ricardo Christie (NZL) began the day with a big performance over 2015 event winner Hiroto Ohhara (JPN) as he looks to requalify for the Championship Tour (CT). The New Zealand representative is searching for his best result at a QS 10,000 since 2015 where he earned an equal third. But, Christie's momentum may be something to help carry him against the in-form Igarashi in a rematch from Round Three earlier this week.
"Every heat I make just gives me that much more confidence because everyone here could win this event," Christie said. "Coming up against Hiroto [Ohhara], I knew he was going to be one of the standouts just with all the speed he can generate out of nothing. I'm just such a fan of the sport — I watch all the CTs and it'd be so cool to be back there with my mates. They really help push my surfing and I'll give it my best go this year once again."
Michael February (ZAF) is on his way to another big QS 10,000 finish with his Quarterfinal berth today. The current QS No. 4 has room to move with both QS ranked No. 3, Yago Dora (BRA), and No. 2, Willian Cardoso (BRA), out of the event. February's explosive surfing continues to impress at Huntington Beach with his signature style — earning a huge win over Dusty Payne (HAW) with the round's only excellent score of an 8.00.
"It was definitely a bit more tricky than it's been the last few days with some smaller conditions and a higher tide this morning, but the wind was coming into the rights so I took advantage of that," February said. "I knew Dusty [Payne] is crazy in the air as well and I knew I had to do something different, and luckily it paid off when I landed that air. This has been one of my best years and just thinking about what's different, we usually have a big gap between events after Australia, but this year we had about four or five events in South Africa. Just to be able to surf a lot of heats has been nice to get that practice in leading up to Ballito, getting a result there, and really just enjoying surfing, which is always great."
Former CT competitor Patrick Gudauskas (USA) dispatched Italo Ferreira (BRA) on a buzzer-beater 6.70, needing a 4.90 heading into the dying minutes. But, Gudauskas' fellow San Clemente surfer Griffin Colapinto (USA) was not as fortunate with Brazilian threat Tomas Hermes (BRA) taking a big win.
Carlos Munoz (CRI) continues to keep his hopes of a major breakthrough alive here in Huntington after taking down CT competitor Jadson Andre (BRA). Seasoned veteran Josh Kerr (AUS) is also onto finals day of the Vans US Open of Surfing QS for a chance at his first-ever win in Huntington
The Vans US Open of Surfing will see its final day of competition tomorrow with the Women's CT and Men's QS Finals Day called on. The Men's QS will start the day at 7:30 a.m. with the Quarterfinals.
The Vans US Open of Surfing will be broadcast LIVE from July 31 – August 6 via VansUSOpenofSurfing.com, WorldSurfLeague.com, the WSL app and on Facebook LIVE via the WSL's Facebook page. Also check local listings for coverage on CBS Sports Network in the U.S., Fox Sports in Australia, ESPN in Brazil, Sky NZ in New Zealand, SFR Sports in France and Portugal and as part of the EDGEsport Network.
For more information, check out WorldSurfLeague.com and for continued updates and scheduling for the Vans US Open of Surfing visit VansUSOpenofSurfing.com.

Vans US Open of Surfing Women's Pro Junior Final Results:
1 – Brisa Hennessy (HAW) 15.00
2 – Caroline Marks (USA) 13.73
3 – Teresa Bonvalot (PRT) 10.40
4 – Meah Collins (USA) 9.17
Vans US Open of Surfing Women's Pro Junior Semifinal Results:
SF 1: Meah Collins (USA) 11.00, Teresa Bonvalot (PRT) 9.60, Macy Callaghan (AUS) 9.54, Tiare Thompson (USA) 9.24
SF 2: Caroline Marks (USA) 15.57, Brisa Hennessy (HAW) 14.16, Samantha Sibley (USA) 11.40, Alyssa Spencer (USA) 7.40
Vans US Open of Surfing Men's Pro Junior Final Results:
1 – Cody Young (HAW) 15.46
2 – Reef Heazlewood (AUS) 14.93
3 – Kade Matson (USA) 13.57
4 – Che Allan (BRB) 10.50
Vans US Open of Surfing Men's Pro Junior Semifinal Results:
SF 1: Reef Heazlewood (AUS) 12.63, Kade Matson (USA) 11.17, Cole Houshmand (USA) 9.97, John Mel (USA) 4.83
SF 2: Cody Young (HAW) 14.20, Che Allan (BRB) 13.10, Elijah Fox (HAW) 11.10, Crosby Colapinto (USA) 9.93
North America Junior Women Top 4 (After Vans US Open of Surfing):
1 – Alyssa Spencer (USA) 2,145 points
2 – Samantha Sibley (USA) 1,470 points
3 – Kirra Pinkerton (USA) 1,280 points
4 – Caroline Marks (USA) 1,275
North America Junior Men Top 4 (After Vans US Open of Surfing):
1 – Ryland Rubens (USA) 2,030 pts
2 – Che Allan (BRB) 1,710 pts
3 – John Mel (USA) 1,220 pts
4 – Crosby Colapinto (USA) 1,095 pts
Vans US Open of Surfing Men's QS10,000 Round 5 Results:
Heat 1: Ricardo Christie (NZL) 10.76 def. Hiroto Ohhara (JPN) 9.66
Heat 2: Kanoa Igarashi (USA) 14.50 def. Stuart Kennedy (AUS) 11.60
Heat 3: Josh Kerr (AUS) 12.57 def. Adam Melling (AUS) 12.27
Heat 4: Filipe Toledo (BRA) 14.00 def. Davey Cathels (AUS) 13.20
Heat 5: Carlos Munoz (CRI) 13.66 def. Jadson Andre (BRA) 7.90
Heat 6: Michael February (ZAF) 13.10 def. Dusty Payne (HAW) 10.16
Heat 7: Patrick Gudauskas (USA) 13.37 def. Italo Ferreira (BRA) 11.57
Heat 8: Tomas Hermes (BRA) 14.03 def. Griffin Colapinto (USA) 13.66
Vans US Open of Surfing Men's QS10,000 Quarterfinal Match-Ups:
QF 1: Ricardo Christie (NZL) vs. Kanoa Igarashi (USA)
QF 2: Josh Kerr (AUS) vs. Filipe Toledo (BRA)
QF 3: Carlos Munoz (CRI) vs. Michael February (ZAF)
QF 4: Patrick Gudauskas (USA) vs. Tomas Hermes (BRA)

Vans US Open of Surfing Women's CT Semifinal Match-Ups:
SF 1: Tatiana Weston-Webb (HAW) vs. Coco Ho (HAW)
SF 2: Sage Erickson (USA) vs. Courtney Conlogue (USA)