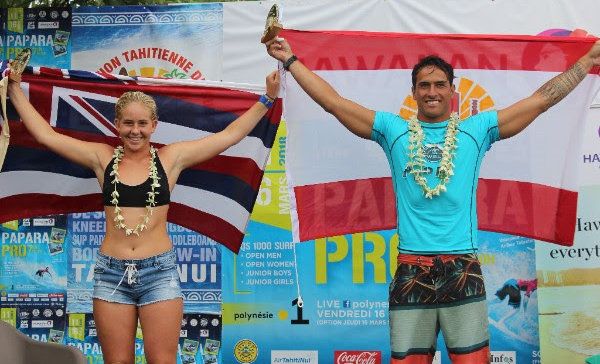 OCEAN MACEDO AND KEALA TOMODA-BANNERT FINISH RUNNER-UP
BRYAN LEADS WOMEN'S REGIONAL PRO JUNIOR AND QS RANKING
 Gabriela Bryan (HAW) and Taumata Puhetini (PYF) raise their country flags during the closing ceremony at Taharu'u Beach. Credit: © WSL / Rolland
| | |
| --- | --- |
| Location:    |   Papara, Taharu'u, Tahiti |
| Event window: |   March 11 – 16 |
| Rating: |   Men's and Women's QS 1,000 |
| Conditions: |   SSW, 3-5ft. waves, light offshore winds |
PAPARA, Tahiti, French Polynesia – (Thursday, March 15, 2018) — Taumata Puhetini (PYF)and Gabriela Bryan (HAW) were victorious today at the Papara Pro Open Tahiti, a World Surf League (WSL) Men's and Women's Qualifying Series (QS) 1,000 event, after stomping the field of competitors and absolutely dominating their respective final heats against Ocean Macedo (HAW) and Keala Tomoda-Bannert (HAW).
The Papara Pro Open Tahiti featured four divisions of competition, including a Men's and Women's Pro Junior, which Bryan earned runner-up in earlier this week. Today's win was sweet redemption for the Kauai surfer and she now leads both the Pro Junior and Women's QS WSL Hawaii/Tahiti Nui regional rankings.
Puhetini is one of Tahiti's most talented athletes and earned an even bigger name for himself after today's win. He went against Macedo in an exciting Hawaii versus Tahiti clash and opened the man-on-man Final with an excellent 9.50 for a backside full rotation air. The projection from Puhetini combined with creative surfing was unparalleled and he ended the competition with a 17.50 combined heat total.

Puhetini had a unique approach and combined maneuvers to earn the top scores of the event. Image: WSL/Rolland
"It feels pretty good, to win at home and represent all the Tahitians, my family and friends, it's amazing," said Puhetini. "I know Ocean is a good surfer, he is still pretty young, he's only 15 years old, but I knew that I had to choose the best waves during the heat and that's what happened."
From Papeno'o, the Tahitian has earned a place among the world's best, competing in the Billabong Pro Tahiti Men's Championship Tour (CT) event for the last four years.
"I feel blessed. Everywhere I go surf, like Taharu'u or my home break Papeno'o or Teahupo'o, I feel blessed every day," Puhetini said.
Macedo tallied a 7.13 and 7.00 in the first few minutes of the Final and fought hard throughout the 30-minute heat, however Puhetini displayed the entire repertoire of judging criteria wave after wave. After earning an 8.00 to backup his near-perfect score, Puhetini combed Macedo, meaning, Macedo needed a combination of two scores to take the lead.

Macedo won his Semifinal heat against Noa Mizuno (HAW) with an 8.33 and 8.50. Image: WSL/Rolland
"It was definitely tough going against someone who knows the break like the back of their hand, but it was really fun," said Macedo, who won the 2017 Hurley Surf Club Pro Junior at Turtle Bay Resort in October and a slot in the World Junior Championships.
In the women's division, Bryan was on a tear in the Final, which saw a battle between two hard-charging Kauai surfers. Bryan took off on multiple long, right-handed waves to highlight her impeccable frontside surfing and ended with a 17.33 to take out Tomoda-Bannert.
"It was my goal coming over here to win the QS, and of course the Pro Junior, but I'm so stoked to win my first ever QS and it was super cool to win it here in Tahiti," said Bryan. "Keala and I have had a lot of heats together and we're constantly back and forth. She's a great friend and we surf all the time together, so it was really cool to surf a Final with her."

Bryan (left) and Tomoda-Bannert both live and surf on the North Shore of Kauai. Image: WSL/Rolland
Bryan is off to a powerful start to 2018 after winning the Sunset Pro Junior in January, placing second in the Papara Pro Junior Vahine earlier this week and now earning the Papara Pro Vahine women's QS 1,000 title.
"I had a list of goals this year and both of them just got ticked off," Bryan continued. "One of my goals was to win a Pro Junior, one of them was to win a QS. I've just been working really hard so it's cool to finally have all the hard work pay off."
Tomoda-Bannert was not far behind Bryan's excellent scores and earned an 8.20 and 7.50 in the Final with excellent wave selection and committed, above the lip surfing. This is the 16-year-old's best competitive result and first Final appearance in a QS.
"Runner-up feels great, me and Gabi have been competing for a really long time, we live on the same island, we surf the same place every day and I had fun out there with her," said Tomoda-Bannert. "For the QS, this is my first time going into the Final so I'm happy. I'm real excited for the Pipe Pro. I hope that we can go to Teahupo'o while we're still in Tahiti to practice."

In the Semifinal against 2018 Papara Pro Junior Vahine winner Leila Riccobuano (HAW), Tomoda-Bannert scored a 9.00 and 9.10 for committed attacks like this. Image: WSL/Rolland
The next event in the WSL Hawaii/Tahiti Nui region is the Wahine Pipe Pro QS 1,000 and Pipe Pro Junior, which has a holding window from March 27 – April 3 and takes place at the famed reef break of Pipeline on Oahu's North Shore.
RESULTS
Athletes listed in first through fourth, all surfers from Hawaii unless otherwise noted.
Men's Final
1st – Taumata Puhetini (PYF), 17.50
2nd – Ocean Macedo, 14.03
Women's Final
1st – Gabriela Bryan, 17.33
2nd – Keala Tomoda-Bannert, 15.70
Men's Semifinals, 1st advances, 2nd = 3rd place
SF1: Ocean Macedo, Noa Mizuno
SF2: Taumata Puhetini (PYF), Ariihoe Tefaafana (PYF)
Women's Semifinals, 1st advances, 2nd = 3rd place
SF1: Gabriela Bryan, Karelle Poppke (PYF)
SF2: Keala Tomoda-Bannert, Leila Riccobuano
Men's Quarterfinals, 1st advances, 2nd = 5th place
QF1: Ocean Macedo, Noah Hill (USA)
QF2: Noa Mizuno, Robert Grilho
QF3: Ariihoe Tefaafana (PYF), Vehiatua Prunier (PYF)
QF4: Taumata Puhetini (PYF), O'Neill Massin (PYF)