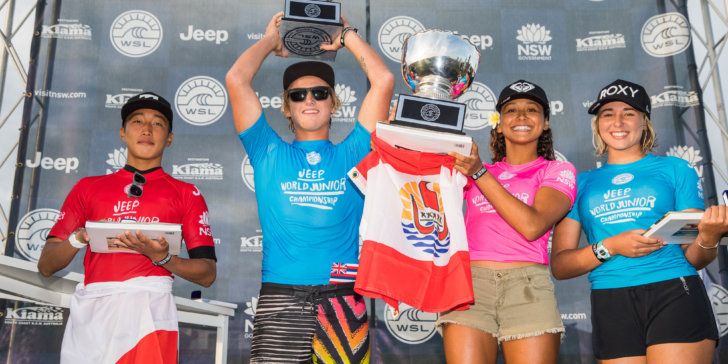 FINN MCGILL AND VAHINE FIERRO TAKE OUT THE 2017 JEEP WORLD JUNIOR CHAMPIONSHIP IN KIAMA
– THE TWO BECOME WSL WORLD JUNIOR CHAMPIONS FOR 2017
SUMMER MACEDO (HAW) & JOH AZUCHI (JPN) FINISH AS MEN'S AND WOMEN'S RUNNERS-UP 
The 2017 WSL Jeep World Junior Championship finalists from left to right: Joh Azuchi (JPN) Finn McGill (HAW) Vahine Fierro (PYF) Summer Macedo (HAW).
Credit: © WSL /  Matt Dunbar
Location:              Bombo Beach, Kiama NSW/Australia
Event window:     January 4 – 12, 2018
Today's call:         Event Over – Congratulations Finn McGill and Vahine Fierro
Conditions:          Wind affected 3-to-4 foot waves
Kiama,  NSW/AUS  (Wednesday, January 10, 2018) – Finn McGill (HAW) and Vahine Fierro (PYF) have taken out the 2017 WSL Men's and Women's Jeep World Junior Championship in Kiama NSW. The final day saw 28 heats run and history made with bumpy 3-to-4 foot waves on offer at Bombo Beach.
Despite suffering an ankle injury and some incoming flight errors prior to the start of the Jeep World Junior Championship, Finn McGill managed to rise above to claim the coveted 2017 title. Surfing against a blisteringly inform Joh Azuchi (JPN), McGill showed little signs of slowing down, putting together an electric performance to post two excellent wave scores, an 8.00 and an 8.90 to bring his accumulative total to 16.90. McGill linked together a chain of giant backside turns in the final heat, which saw Azuchi requiring a combination of two-scores to take away McGill's lead.
"I can barely talk right now it hasn't really sunk in just yet," McGill said. "After coming off an injury I wasn't expecting too much of a result at this event. I was never feeling in much of a rhythm and seemed to just be sneaking through heats. It all changed in my Quarterfinal and all of a sudden I began to build and feel the flow. Then once I was in the Final I knew I had just one more heat to surf, so I knew I just had to wait for the good ones and surf them well."
The 2017 WSL Men's Jeep World Junior Champion Finn McGill (HAW) is chaired to victory at Bombo Beach.
Credit: © WSL /  Matt Dunbar
McGill was not only being willed by the energy at Bombo Beach but also by a friend at home who was recovering in hospital. Former CT competitor and fellow Maui local Dusty Payne had a horror wipeout at Backdoor Pipeline yesterday and was at the forefront of McGill's thoughts as he went into Finals Day.
"Dusty is a surfer I have always looked up to and I was so rattled to hear what happened to him yesterday," McGill continued. "He has been in my thoughts all day and was with me in every heat. I want to dedicate this win to him and I'm just so stoked he is okay. I can't wait to get home and see him and know that he is still with us."
Finn McGill (HAW) on a tear on Finals day at Bombo Beach.
Credit: © WSL /  Ethan Smith
Vahine Fierro had a rocky road to the final that started in the middle of this season when she missed out on qualification by three spots. After an amazing showing in other regional Juniors, the young Tahitian was awarded a Wildcard into the WJC and didn't let the opportunity go begging. Fierro built on her performances through each round and saved her best performance until the final where she met good friend Summer Macedo. Fierro took a commanding lead early with a 12.83 heat total awarded for a silky smooth approach in the trying conditions. Macedo failed to find a rhythm leaving Vahine to become the first ever WSL World Champion to come from Tahiti.
"This is such an amazing way to end my Junior career and kick off my 2018 season," Fierro said. "This is the first time I have been to the World Junior Championship and to win is so special, especially when I was so close to missing out on the event. Today was crazy with a lot of heats to surf but after a few lay days we were all so excited to surf which made it easier. That was my third Final with Summer which is so cool as we are great friends. I'm really speechless at the moment, I just can't believe it."

The 2017 WSL Women's Jeep World Junior Champion Vahine Fierro (PYF) is chaired to victory at Bombo Beach.
Credit: © WSL /  Matt Dunbar
Joh Azuchi is no stranger to success, bagging himself an ISA under 16 World title earlier in 2017. The young natural-footer was on a tear at Bombo beach, posting big scores and lighting up the small difficult surf in each and every Round and was a deserved finalist. Unfortunately for Azuchi he came up against a rampaging Finn McGill who put him in a combination situation straight off the bat. Azuchi will leave Bombo with his head held high as he became the first ever Japanese competitor in a WSL World Junior Championship Final.
"I'm really really happy to have made it to the final," Azuchi said. "My goal coming into this event was to make the final which I did but to make it that far an not win is a bit disappointing. I have one more year in the Junior division so my goal is to come back next year and go one step further."

Joh Azuchi (JPN) on his way to a historic second-place finish at Bombo Beach.
Credit: © WSL /  Ethan Smith
Summer Macedo looked destined for a spot in the final taking down some of the event favourites with consistent searing performances. Like Azuchi in the men's final, Macedo failed to get going in the last heat of the day coming short of the win but was stoked to have a final with her good friend Vahine.
"Obviously I really wanted to win the final but being there was still such a great achievement," Macedo said. "This may be my last World Junior Championship and it has been such an awesome experience. I'm here with a lot of family and friends and to end it in a final with my good friend is really awesome. I'm so happy for Vahine and her achievement today, she really deserves it."

Summer Macedo (HAW) taking second place at Bombo Beach.
Credit: © WSL /  Ethan Smith
The 2017 WSL Jeep World Junior Championship wAS be held from January 4 – 12, 2018. For more information, highlights and images, head to www.worldsurfleague.com  or check out the WSL App.
Jeep World Junior Championship Men's Final Results:
Heat 1: Finn McGill (HAW) 16.90 def. Joh Azucho (JPN) 11.00
Jeep World Junior Championship Women's Final Result
Heat 1: Vahine Fierro (PYF) 13.83 def. Summer Macedo (HAW) 6.36
Jeep World Junior Championship Men's Semifinal Results:
Heat 1: Joh Azucho (JPN) 11.50 def. Yuji Nishi (JPN) 5.00 (interference)
Heat 2: Finn McGill (HAW) 11.17 def. Joao Chianca (BRA) 11.00
Jeep World Junior Championship Women's Semifinal Results:
Heat 1: Vahine Fierro (PYF) 11.67 def Taina Hinckel (BRA) 9.00
Heat 2: Summer Macedo (HAW) 9.17 def Minori Kawai (JPN) 7.53
Jeep World Junior Championship Men's Quarterfinal Results:
Heat 1: Joh Azuchi (JPN) 10.17 def. Rio Waida (IDN) 6.56
Heat 2: Yuji Nishi (JPN) 9.67 def. Cody Young (HAW) 6.83 (interference)
Heat 3: Finn McGill (HAW) 16.03 def. Barron Mamiya 8.46
Heat 4: Joao Chianca (BRA) 13.54 def. Samuel Pupo (BRA) 13.07
Jeep World Junior Championship Women's Quarterfinal Results:
Heat 1: Vahine Fierro (PYF) 12:00 def. Kirra Pinkerton (USA) 8.10
Heat 2: Taina Hinckel (BRA) 9.93 def. Macy Callaghan (AUS) 9.30
Heat 3: Minori Kawai (JPN) 12.00 def.  Zahli Kelly (AUS) 8.83
Heat 4: Summer Macedo (HAW) 13.74 def. Zoe McDougall (HAW) 9.33