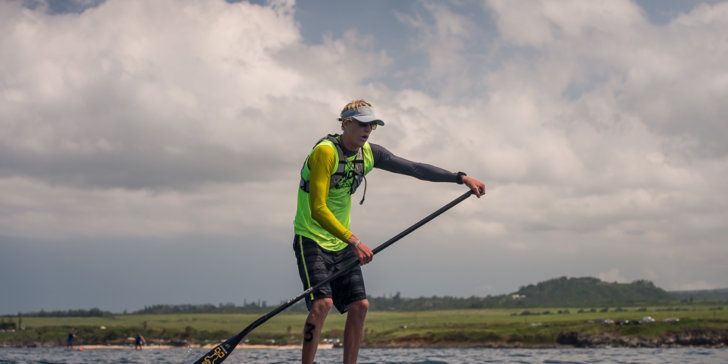 …2017 APP WORLD RACING CHAMPIONS
North Shore Oahu, Hawaii: October 2017
Connor Baxter secures his 3rd World Title, successfully defending his 2016 World Title to go back to back on the APP World Tour
SURF NEWS NETWORK: North Shore Oahu, Hawaii, 27th October 2017 – Connor Baxter (Starboard) continues to assert his dominance in the Stand Up Racing scene by defending his World Title in 2017 in a fiercely fought out affair with the increasingly dangerous, Mo Freitas, who went blow for blow with Connor throughout the 2017 season.
In the end, they finished just one spot apart in what turned out to be the decider for the Title this year at Red Bull Heavy Water that culminated in San Francisco last week. It is ironic that both of them had a worse race than they had hoped for in the dramatic conditions that were faced in San Francisco last week, but true to the rest of the season, ended up right on each other for the finish, with Connor just getting the edge to take the Title.
With 3 Racing World Titles now under his belt, Connor has equaled Kai Lenny's tally and will be looking to build on this into 2018 and beyond, to further the impressive mark he has already made on the sport of Stand Up Paddling. One thing is for sure, Connor is always the 'man to beat', regardless of the playing field and has shown himself to be a true Champion that only gets better as time goes by. We look forward to seeing him back in action to defend his Title in 2018!
Stay tuned for more on Connor's path to his 3rd World Title at www.appworldtour.com and across our social media channels @appworldtour

Terrene Black secures her maiden World Title with a dominant performance in 2017, with wins in Maui and Japan
Terrene Black had a stellar season in 2017, starting with a strong showing at the Sunset Beach Pro, the season Opener for Surfing on the APP World Tour, and moving onto Maui, where she backed up a strong finish in the distance with a dominant win in the surf sprints to take the overall win.
Likewise in Japan, while she wasn't able to capture the victory in the distance race, her sprint prowess was able to secure the overall win for her for the event, making it two bullet wins and positioning her as the most consistent overall athlete on Tour.
As we now wrap the season on the 2017 APP World Tour, we are proud to announce Terrene as the all-new 2017 APP Racing World Champion, following in the footsteps of previous World Champions on the APP World Tour that include Fiona Wylde (Starboard), Candice Appleby, Lina Augaitis and Annabel Anderson (x2), stretching back to 2012 when the racing Tour was launched.
So congratulations to the new World Racing Champ, Terrene Black from Australia, and stay tuned for more on her path to victory in 2017 at appworldtour.com and across our social media channels @appworldtour.

Mo Freitas battles to the end of the dramatic Red Bull Heavy Water event to take down Connor Baxter but has to settle for 2nd

If anything is 100% clear from the 2017 season, it is that Mo Freitas from Haleiwa on the North Shore of Oahu has only just got started. His ability in the surf has long been documented stretching back to 2012 and his unprecedented win on the APP World Tour in Ubatuba, Brazil. However, over the past few years, Mo's performance on the race course has gone to a whole other level, and in 2017, he has been looking more dangerous than ever.
Mo started off the season on Maui with a groundbreaking win against Connor Baxter (Starboard) in Connor's backyard on Maui. Granted, the victory was by way of a tiebreaker that weighted the surf sprints heavier than the long distance, but his performance in the long distance also turned heads amidst the very best distance athletes in the world.
Move onto Japan, and Mo once again pushed Connor to his physical and mental limits, in what was one of the most dramatic and well-documented finishes of the year, where Mo hit the sand first, but stumbled on the run up the beach, just allowing Connor to squeak through for the win.
This meant that coming into Red Bull Heavy Water, it was going to be a battle for the ages in more ways than one, as Connor and Mo would be going head to head, one last time. For Mo, it wasn't to be in 2017, but there is no doubt that he is one of the most formidable threats on the APP World Tour and a serious Contender for years to come. Stay tuned for more on Mo at appworldtour.com
Sonni Honscheid puts on a stellar display in 2017 to finish in 2nd overall for the year, with dominant Long Distance performances

Sonni Honscheid (Starboard) from Germany proved herself to be nothing short of dominant in distance races this year on the APP World Tour, with bullet wins in both Maui and Japan. And while her Sprint and Surf Racing ability didn't allow her the win in 2017, she did enough to secure 2nd place overall at the end of the season, an impressive performance from this impressive talent.
Not a stranger to the surf, sharing her time between Maui, the Canaries and the North Sea (Sylt), Sonni is a perfectionist, and will doubtless use the offseason to hone her surf racing and sprint skills to be able to take a real run for the Title in 2018.
One thing is for sure – Sonni knows how to win, with some of the sports' most famous long-distance wins under her belt, inclusive of the Molokai to Oahu to add to her performances on the APP World Tour. We, therefore, expect great things from Sonni in 2018 as we look forward to an all-new season. Stay tuned to www.appworldtour.com and social media channels @appworldtour
Casper Steinfath capped off the year with a dramatic win at Red Bull Heavy Water to secure his 3rd place overall in 2017
Casper Steinfath has already proved himself as one of the greatest Sprint Racers in the sport, with unprecedented victories across the globe in all forms of conditions, from flat water in Japan and Germany to the powerful surf on Maui's north shore. However, Red Bull Heavy Water was always going to be the greatest challenge for this determined Viking, with so many elements to contend with and a selection of amongst the World's greatest Waterman stepping up to do battle in San Francisco.
While he wasn't necessarily the favorite, as we now know, Casper won through at Red Bull Heavy Water and capped off a great year on Tour, with a podium finish (3rd overall) and bringing him to within 2,000 points of #1, Connor Baxter (Starboard) and #2, Mo Freitas.
With victory at what is arguably the toughest race in the sport now under his belt, his established track record in sprint racing and his grit determination and skill, there is no doubt that Casper is a major Title Contender and will have his eyes on the prize in 2018: calm and collected, Casper will take the time during this offseason to prepare physically and mentally for a World Title campaign next year and he will certainly be one to watch out for.
Stay tuned for more on Casper at www.appworldtour.com and across our social media channels @appworldtour
Fiona Wylde secures a podium finish overall in 2017 and continues to position herself as one of the World's leading paddlers

Fiona Wylde (Starboard) has put together another stellar year on Tour, with strong finishes in both Racing and Surfing that started with a stand out performance at Sunset Beach in February to kick off the year.
Defending a World Title, Fiona was up against a tough challenge in 2017, with the likes of 2015 World Champion Candice Appleby, long distance powerhouse Sonni Honscheid and a new face on the APP World Tour, Terrene Black. With solid distance finishes in Maui and Japan amidst the intense competition, Fiona kept herself very much in contention, coupled with podium finishes in the sprint races to keep her overall position on the leaderboard in a good spot.
However it was not enough to take down our new World Champion, Terrene Black, whose consistency was insurmountable, leaving Fiona to settle for 3rd (behind the dominant long-distance Champion, Sonni Honscheid (Starboard). A podium finish is still incredibly impressive given the caliber of the racing fleet and we look forward to an even more competitive 2018 and to watch Fiona gunning to regain the Title on the APP World Tour. Stay tuned for more on Fiona and all the girls at www.appworldtour.com and across social media channels @appworldtour